I always find it funny when people comment or say how much they "prefer the way Swim Bike Mom used to be."  I have to stop and think for a minute on that one.  Do they mean ME, personally? Or the blog? Or what?  And what does that even mean, anyway?
"Hey you're okay, but I liked you better before…"  Really? Who says that?  [Oh, I have a list of people, actually.] SO for those of you who feel that you miss the Swim Bike Mom train wreck, today's post is for just for you!  Ding ding ding!
Today's post is something like a throwback Thursday post. Except it's like Throwback Train Wreck.
Yes, I have been pretty darn good about my nutrition and not boozing, and doing the healthy things.  I have a countdown clock of time with my new way of eating and life and it's been pretty consistent for 425 days, give or take, along with my ever-growing sobriety of 191 days.
I credit my nutrition getting through a stress fracture for 12 weeks and actually losing a pound versus the old way of injury meaning: now is time to eat all feelings and gain copious amounts of weight.  I credit the nutrition with giving me a purpose behind eating and learning about my emotional triggers and stopping the insanity. I credit my raised RMR (resting metabolic rate), the semblance of a strong core (hidden by a fine layer of blubber), and smaller pants—yep, I give all of the credit to the food (or focus behind it).   And actually, I will even give the start of my sobriety credit to SBF… because going through the program, made me SEE the issues. I couldn't ignore them anymore.  [Sidebar: I think there are many ways and paths to sobriety–whether it's AA or the Hip Sobriety way.  There's a million ways to skin a cat, as the Southern folks will say. (Who came up with THAT saying, by the way?). I am not a nutritionist myself or an addiction counselor–these are just my thoughts.]
So yes, I have done "great" and I am "proud" of my progress.
But deep down in my soul, I am a rebellious person.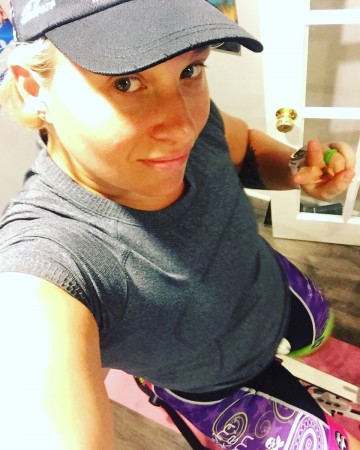 As a kid, I grew up with a thumb over me.  So when I could rebel, secretly and behind the scenes, I would take every chance.  But not publicly rebel–I was still some form of the "good girl."  Perhaps why food and alcohol became such a problem for me–it was something I could do behind the scenes, and no one would really know much about it.   This rebellious tendency undoubtedly led to a not-so-private alcohol problem later in life–an acceptable, public rebellion of sorts. I could do something "bad" (drink like a fish) in public, and it was "okay."
But no matter what, I always felt like I was being judged.  I was, I guess. It's probably pretty shocking to watch a 36 year-old woman put down an 8 ounce steak filet, baked potato, salad, one or two martinis, bottle of wine and dessert–and still be standing ready and poised to go for a 100 mile bike ride the next day.  I mean, I guess I was a bit of a novelty.
The way Swim Bike Mom used to be.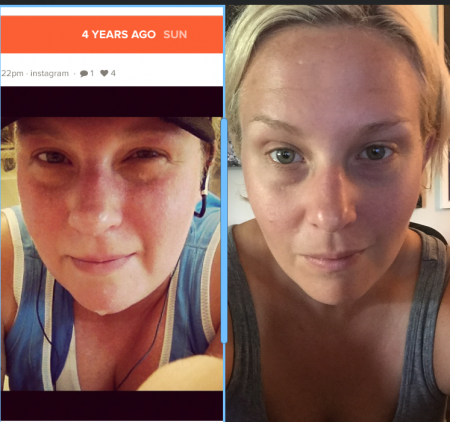 So, in the spirit of the way I used to be, I had a bit of a rough day yesterday.
I haven't eaten great for the past few days… but the slip-ups were more along the lines of "healthy junk food"–things like gluten-free pizza and too much dark chocolate.  Not any large-scale tragedies by any means, but for me, I must be careful.
After dinner, I declared that I was heading straight to the grocery store and I did.  And I bought a half gallon of Breyer's Reese's Cup ice cream.
I rebelliously and shamelessly had two VERY large bowls (why I even bothered with the bowl, I don't know). The Expert looked on, not with sheer horror, but rather a face of amusement.  He hasn't seen this behavior in quite a while.  I figured it would scare him.  Didn't appear so.
I ate wildly, with a purpose, and with a clear head. With a sense of accomplishment, and almost duty.  I washed out my bowl, then promptly threw the 1/3 remaining into the trash (after pouring soap into the container—any other food addicts reading, well, you know why…  #truth).
The conversation afterwards with the Expert went something like this:
Him:  It's okay to have ice cream, you know.
Me:     Yes, I know that.
Him:   Do you?
Me:     Yes.
Him:   You've made really great progress. It's okay to have ice cream.
Me:      I know that.
Him:    It's okay.
I was nodding.  Until, I really thought I might lose it.  And I felt like that scene in Good Will Hunting.
It's not your fault.
Yeah, I know.
It's not your fault…
Of course, only I would made a bridge of physical abuse and my current state of ice cream.
[Give me a break I was an English major. You're lucky I didn't find the Christ figure in my Breyer's.  Although I totally can…]
But, it's funny how much I can get absorbed and wrapped up in these minor things. My other life food has been sort of sucking lately… my stress levels have been far too high.  And I am obsessing about things like ice cream.
Yes, I ate about 2,000 calories in ice cream. Yep, I had the farts like I have never had before until the wee hours of the morning. My stomach was pissed.  My face was puffy as all hell when I woke up.
And guess what?
And by this morning, I had moved on.  Beating myself up was not not part of my script.
We miss the old Swim Bike Mom.
The old Swim Bike Mom would have woken up and said, "F*&@ you. You worthless, fat woman.  Why can't you hold it together? You suck."
This "new" Swim Bike Mom acknowledged the massively puffy eyes, and said, "That's what 2000 calories of peanut butter dairy sugar equals: puffy eyes."  She acknowledged that the ice cream made her feel rotten…but not that she was a rotten person. She is not useless. She is not disgusting.
Some of you may miss the old Swim Bike Mom… but I sure as hell don't.

She was so sad.  So self-destructive.  So miserable.  Swimming, biking and running away and away to try and make sense of it all.
And thankfully, I appear to have done enough swimming, cycling and running to come to a semi-place of love… with myself.
[Okay, maybe not LOVE… but LIKE.   And hey, Simply LIKING someone can sometimes be better than loving them. ]
For those of you who were born with an innate love for yourself, you may think of me: "Oh poor woman who thinks so poorly of herself."  Sure, feel free to criticize me for it. (As usual, I await your blog comment about how you have your act together. #sigh ).
But working with and coaching women, I'll tell you there are FAR more of us than you'd ever imagine. The self-loathing epidemic for us as women I think is shockingly massive… it's so terrible and sad, and it has been a part of my script for so long.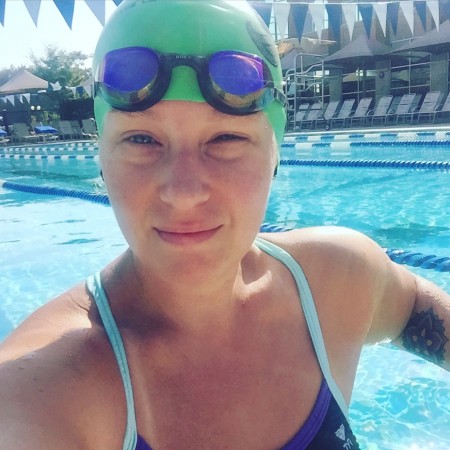 So… the reason I shared this post today? I was elbow-deep in ice cream at 9:00 last night, and this morning at 9:00am, I was buying wild cod at Fresh Market and eating it for breakfast.  I enjoyed the feeling of the hot Georgia sun on my shoulders in walk from the parking lot.  I enjoyed sipping my cold-brewed coffee as I started my work day.
I didn't hate myself for something as simple as ice cream.
For me, the difference between growth and stagnation is directly proportional to my ability to acknowledge and move on.
When I acknowledge things as they are– even when they are hairy and ugly, but acknowledge them–and I move on, move forward to do better, to change what I can, with the grace I can give myself… that is when I have seen real, seemingly permanent changes (food, sobriety, health, job).
When I ignore the facts, when I beat myself up, and when I give myself no grace–that is when nothing happens, and the old Swim Bike Mom shows up.
So even if you are elbow-deep in a half gallon of ice cream right now, it's not a permanent state.
None of us actually live in a Breyer's factory (thank God).
So making things better for ourselves is sometimes just as simple as acknowledging the status of things–really looking and accepting–and then taking the baby steps necessary to just keep moving forward, in a good way, with good intentions and kindness towards ourselves.
#HappyMonday