The funny thing about "Ironman" training (and I put in quotes so as not to be misleading—yes, I am training for an "iron" distance race, but not an "IRONMAN" branded race. Sneaky lawyers…) is exactly how crazy it is.  Like the mental talking-to that's always going down in my head.
Then I started to write this post 100 times, but I am SO STINKING SLAMMED at work right now.
Just when I decide to go part-time, it's proven to be an impossibility.  Go figure. I seriously have no idea how I am going to get anything accomplished, in any real space or time.
After a 14 hour work day yesterday, I was sure I would miss my workout today.
BUT I didn't.
Fartlek. #NailedIt  Wahooo!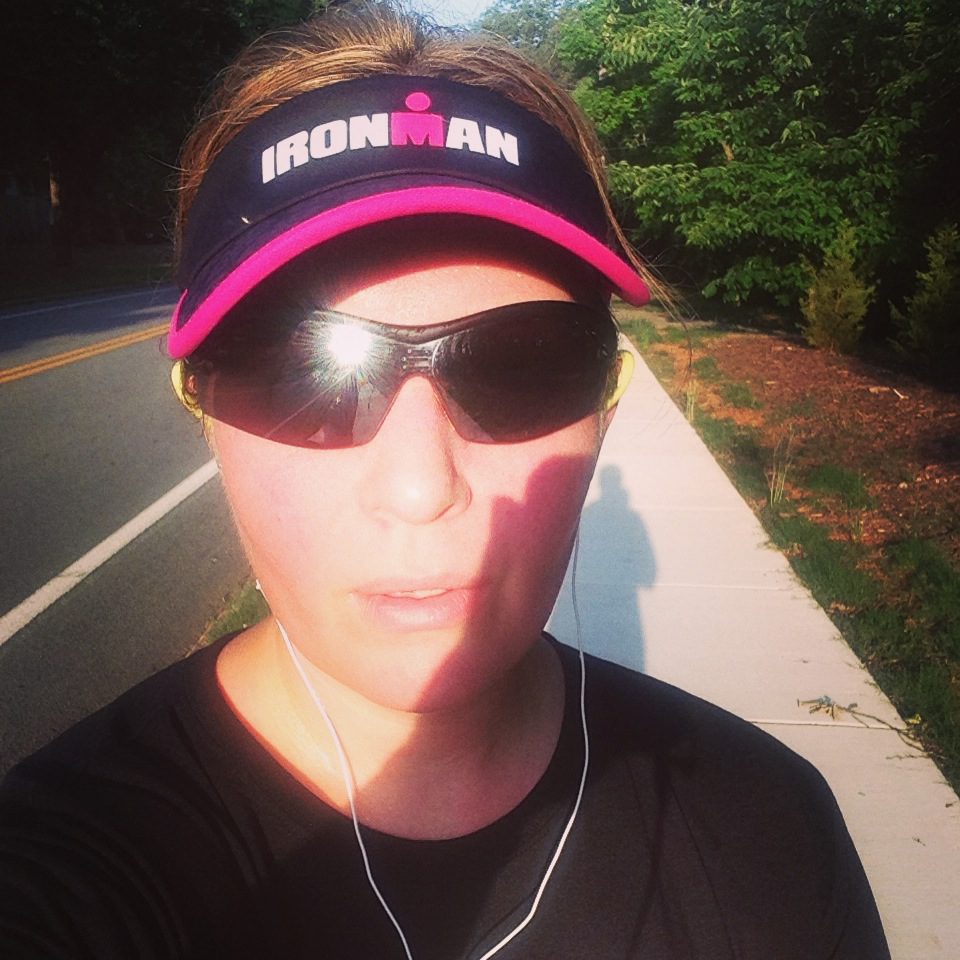 That's also a nice thing about the beast of 140.6–you are very well aware of the danger of missing workouts. That each workout is part of the building process, and you gotta do it. I like that pressure. That pressure is good for me. Without a 140.6 looming in the distance, my bed would have been way to cozy this morning.
So what has happened since the last post (where I decided that I was a starfish…and most of you decided I was crazy and fled the blog…. #onlykidding)?
Well, let's see.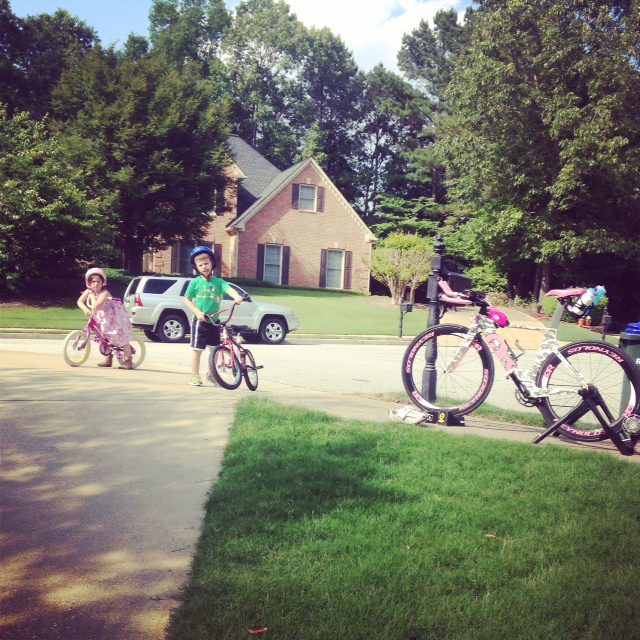 I rode my trainer in my front yard while the kids played.
The neighbors were a tad freaked, I think… but they are getting used to me.  Oh, all prolly thought I was totally nuts except for the one directly across the street. She's completed Race Across America.  She came out of her house cheering and took this picture of me, and we are likely riding soon.
"You can use it for the blog," she squealed.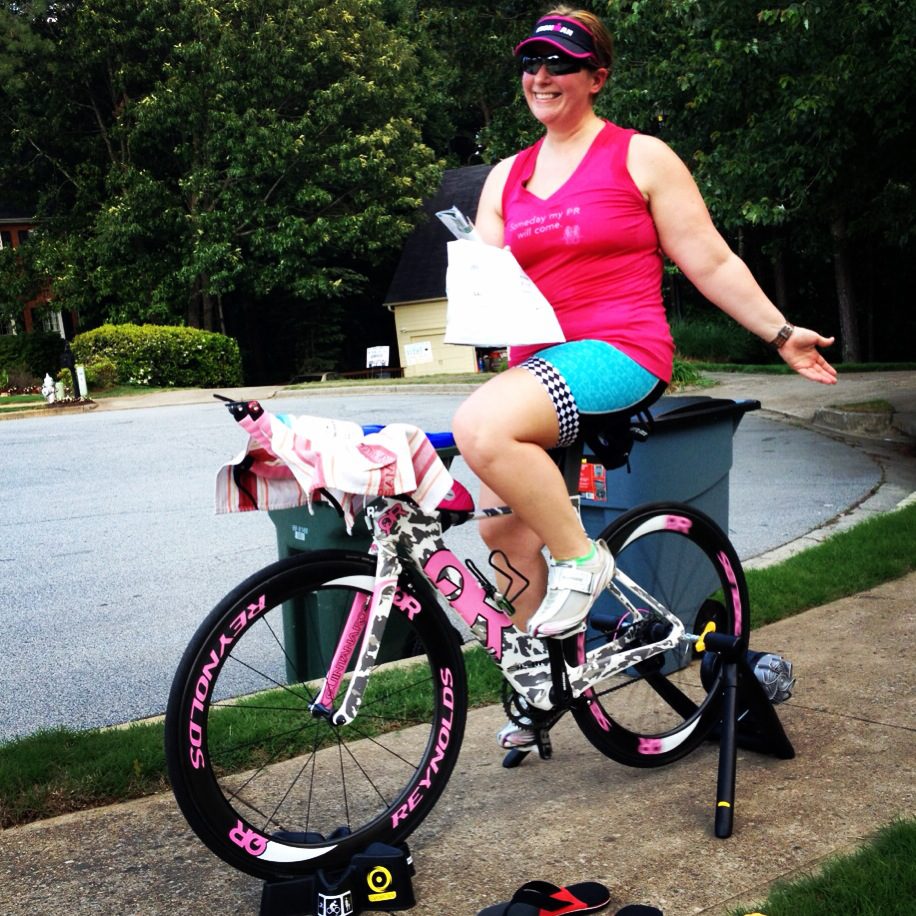 It is  a really great 'hood.
Next, I commemorated a new chapter of my life, and the journey to why I may never "find" myself in a way that I have grown accustomed.
Ink!
(Sorry family.  I know you are shaking your collective heads.)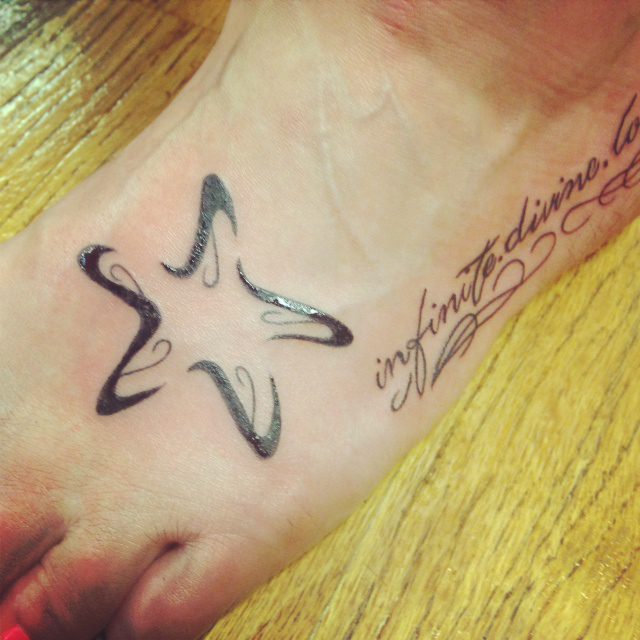 (And yes, the foot was painful).
Oh, and because some of you are bound to ask… "how can you swim after a tattoo" or "you're not supposed to swim for 2 weeks"  …Well, I give it 4-5 days without swimming, and then I lather Chapstick on it… keeps a barrier. It really works. Chapstick is still there at end of swim… though I usually do reapply at least once.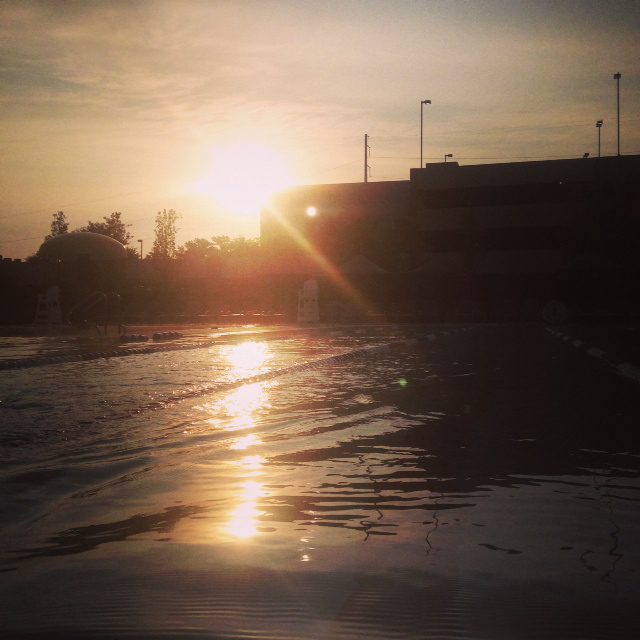 I have been hitting my workouts.  Nice 8 mile run on Sunday last week.  In my new "moon shoes".
I was super suspicious of these things. Hoka One Stinsons.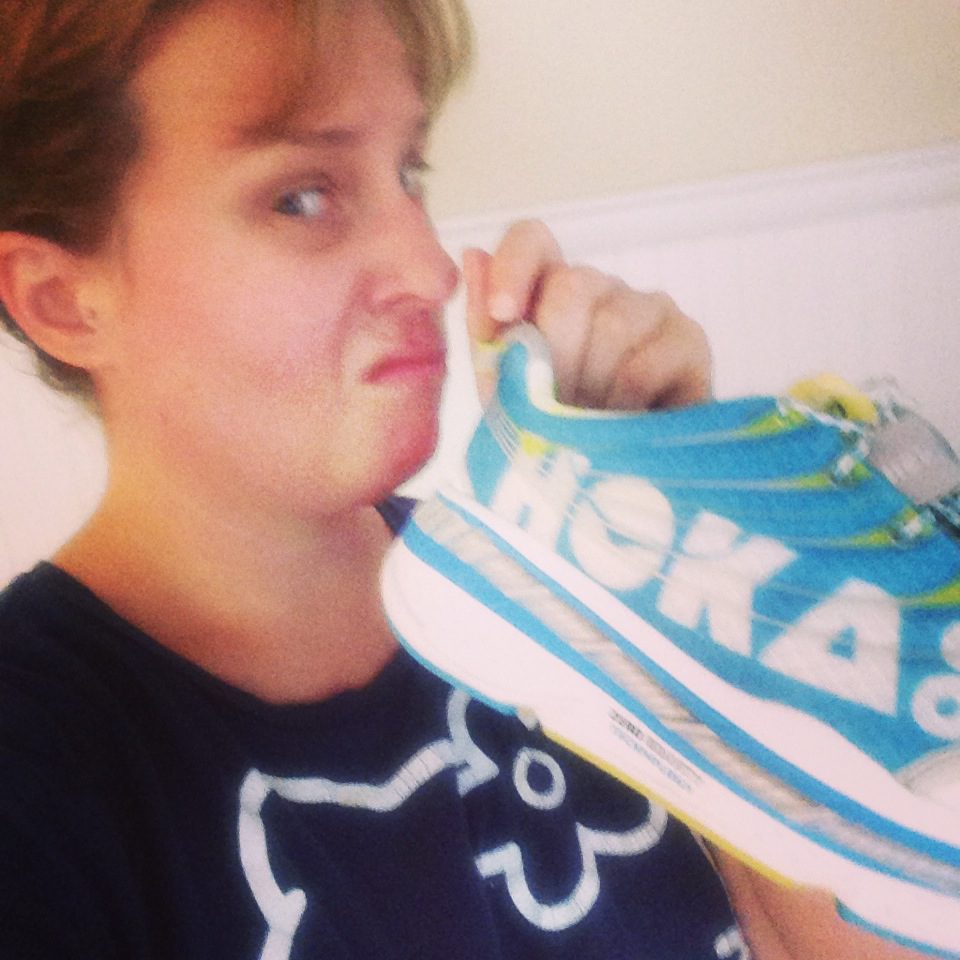 But I tell you, I think I am a convert.  Really comfortable 8 miles. No pain.  How I usually feel after four miles–I felt after 8.  I think the impact absorption factor is just so great–I am a fan. I can't wholly recommend them yet, but I can tell you–I was looking forward to my run today.
And today, did a 4 miler FARTLEK and it went well–still had some nice 8:30 intervals–even in the giant shoes.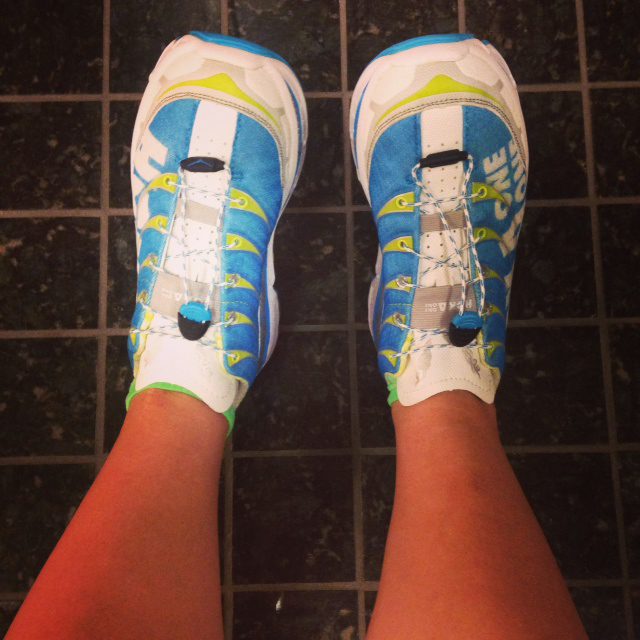 I am getting back on the road with a metric ride this weekend with Yoda.  She and I did what we called a "Tour of Centuries" last year–where it felt like we rode every century ride in Georgia preparing for our respective Ironmans (Me= Couer d'Alene;  Yoda = Louisville).
[Sidbar: for some funny posts and recaps of our antics–and some centuries that never were–check out:
The Queen Cemetery,
66.6 Miles of Fun,
When Plans Get Dicked, and
The Last 100 Miles (the post where I was "Ironman thin")]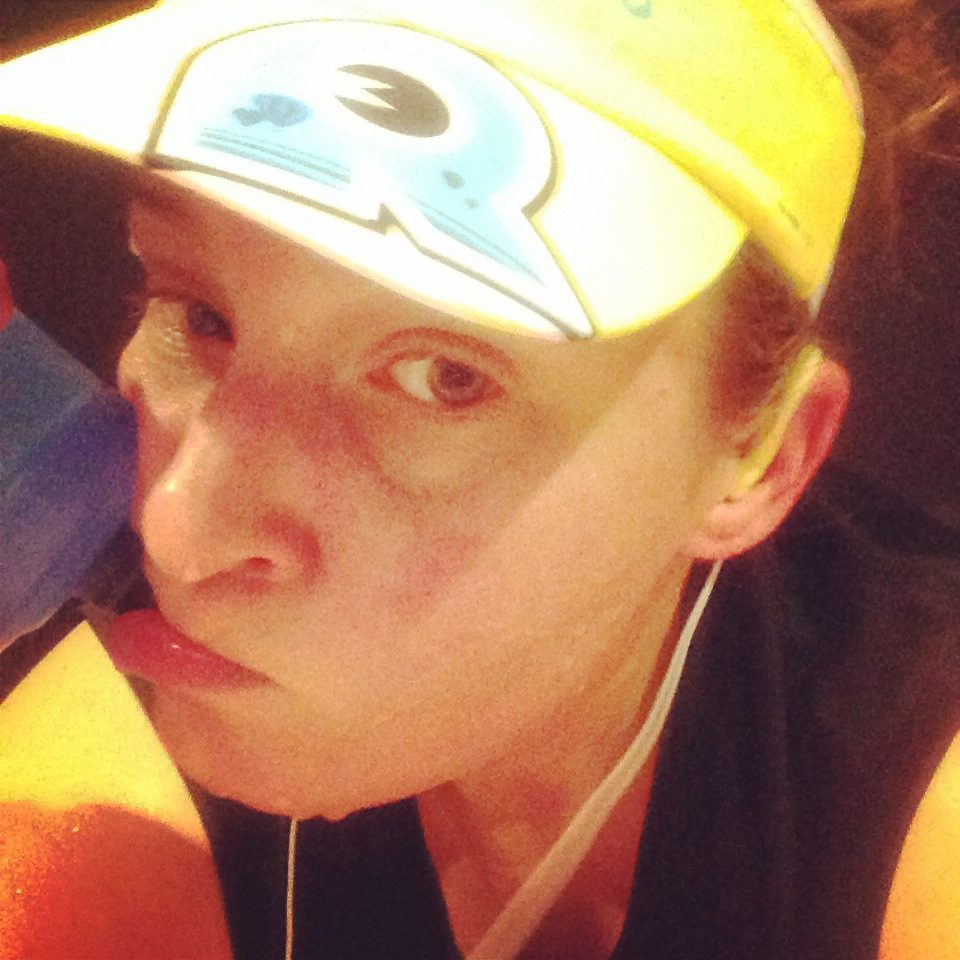 So anyway–getting back in the saddle with my favorite century riding buddy, Yoda, and I know that will motivate me to no end. So that's on the agenda for Saturday, followed by a nine mile run on Sunday.  Sprinkled in between is the "Swim Bike Mom" part of the story–a couple of kiddo "graduations" from preschool/kindergarten and a fabulous ballet recital.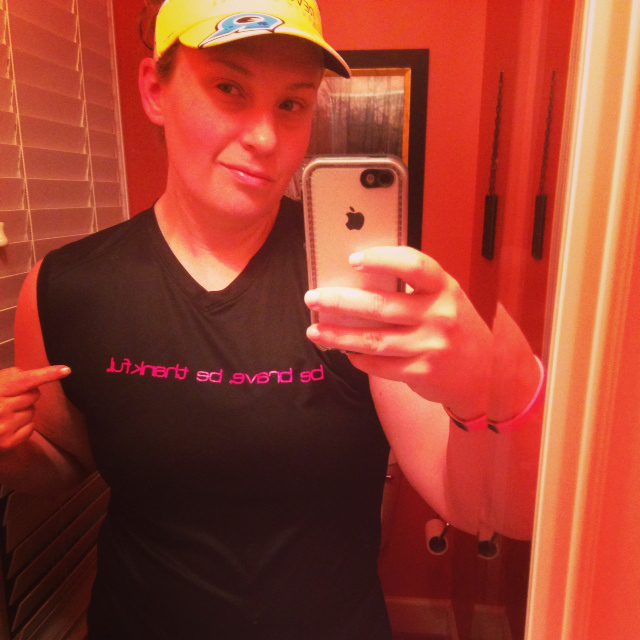 So everyone knows that I am a hot mess.
But I can tell you the secret to surviving all tri training… and it's on this shirt.  And unless you have mirror eyes, you might have trouble reading it. But essentially, it's what I wrote on my hand before Ironman:
Be Brave. Be Thankful. Just Keep Moving Forward.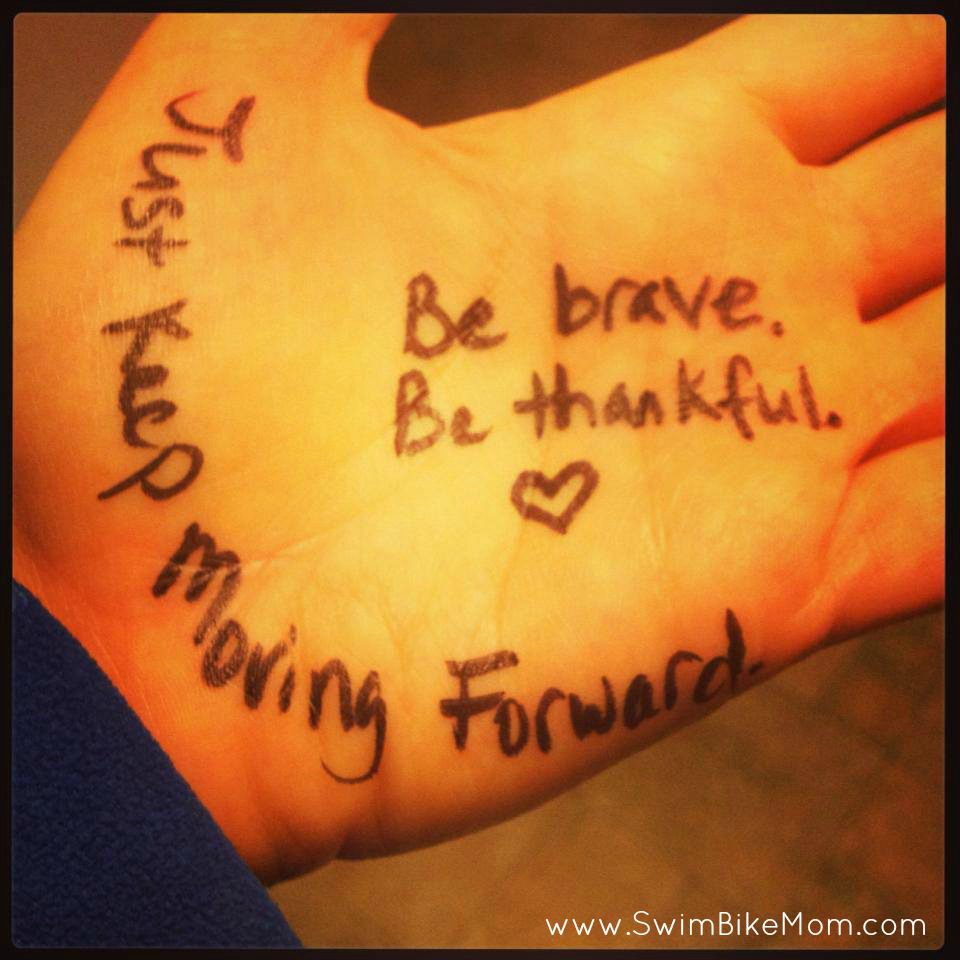 If you train and race with bravery and a happy, thankful heart–things fall into place.  Days will not be perfect. But they will be better and better than you can imagine… if your head is in the right place.
I am glad I decided to make the leap and take on 140.6 again this year. Yes, it's crazy.  But I love the challenge. The routine.  And the Expert needs a routine–just like the kiddos–and putting momma on a massive routine helps everyone else fall into place too.  Even though it's hard. It requires compromise on everyone's part. I think it's worth it.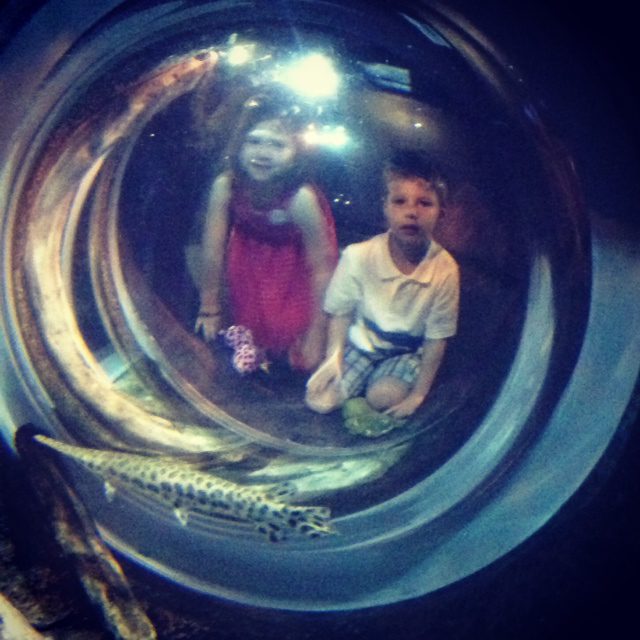 The Swim Bike Family is looking for a nice, quiet summer.
For once.
#justkeepmovingforward