Like many things lately, yesterday did not go as planned.
The plan?  Ride 100 miles on the Challenge of the Centuries ride…  also known as "Assault on Dick's Hill."  (You can imagine the jokes and fun we've all had with that one. Oh man.)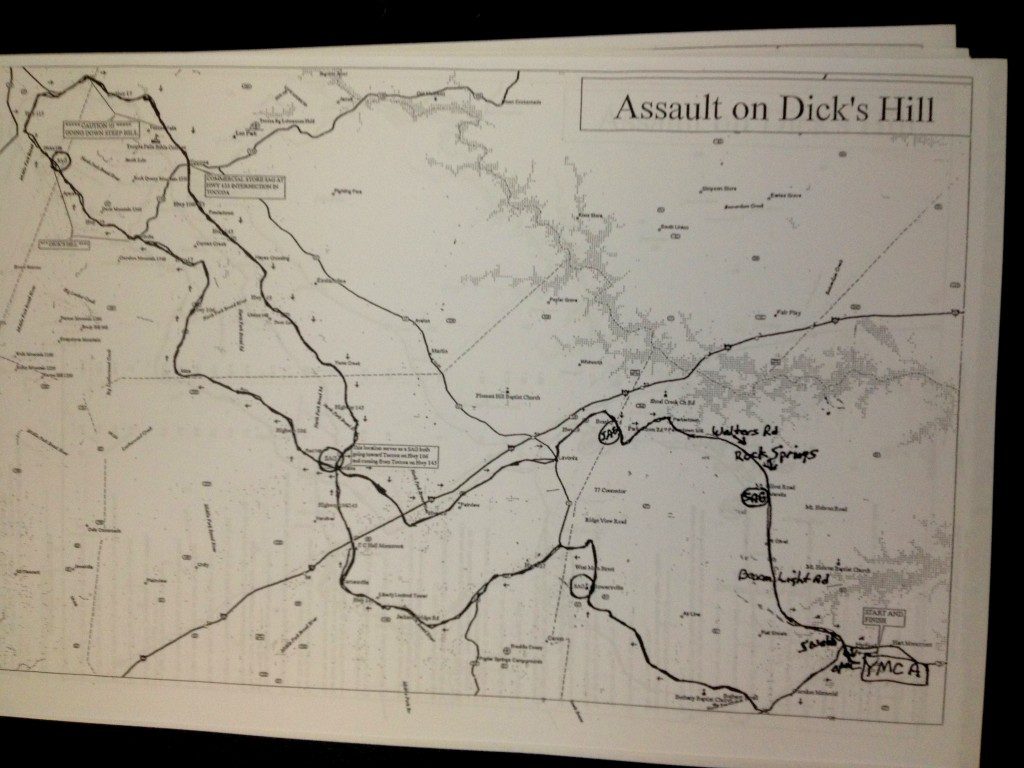 My parents had the kiddos for the weekend, so the Expert and I were going to get some training in together.
He planned on the 65 miler, where Yoda and Columbus and I planned to assault 100 miles of Dick together.
I didn't sleep well the night before, and the Expert and I both appeared to have woken up on the wrong side of the bed. (He more so than me. Just saying.)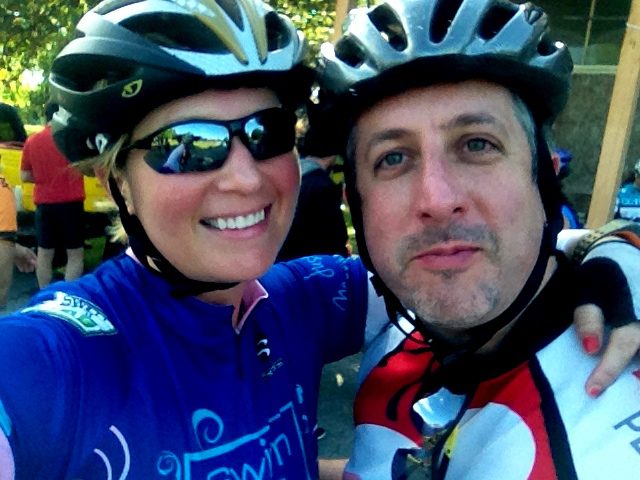 We started off the ride together.  Columbus is only in this one picture, because he was (zoom) g-o-n-e!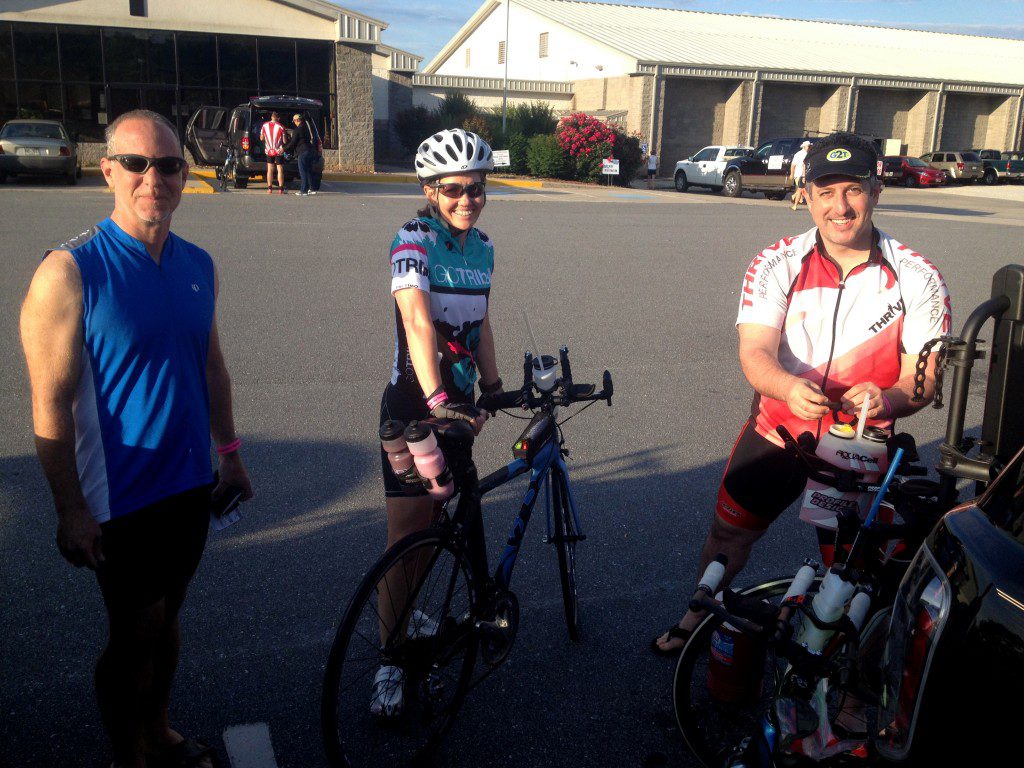 At the first rest stop, we were having a good time, averaging a nice 15 MPH—controlled and slow pacing. We had to be rested for Dick and his hill.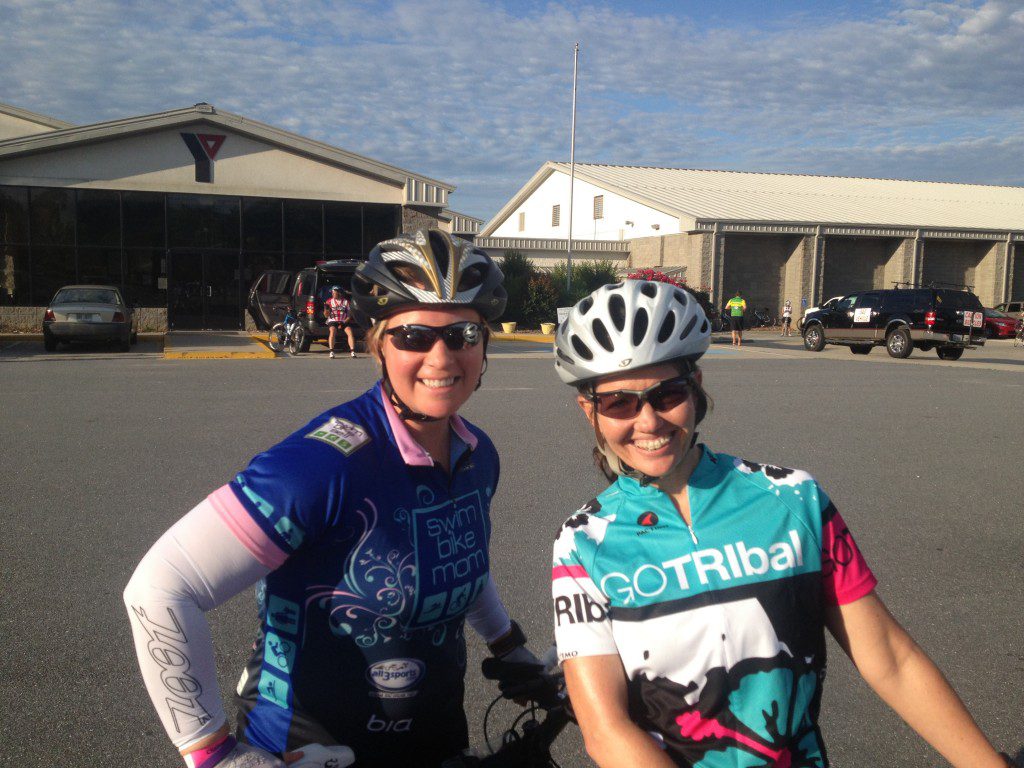 At Mile 14.22, the Expert had a flat tube.
And then he lost his mind.
He threw a full-blown MANtrum.  (He says he's going to blog about it tomorrow on SBD!)  It was righteous.  That is all. His CO2 dispenser was stuck.  The tires were worn out.  It was just a bad mechanical situation, and he was over it.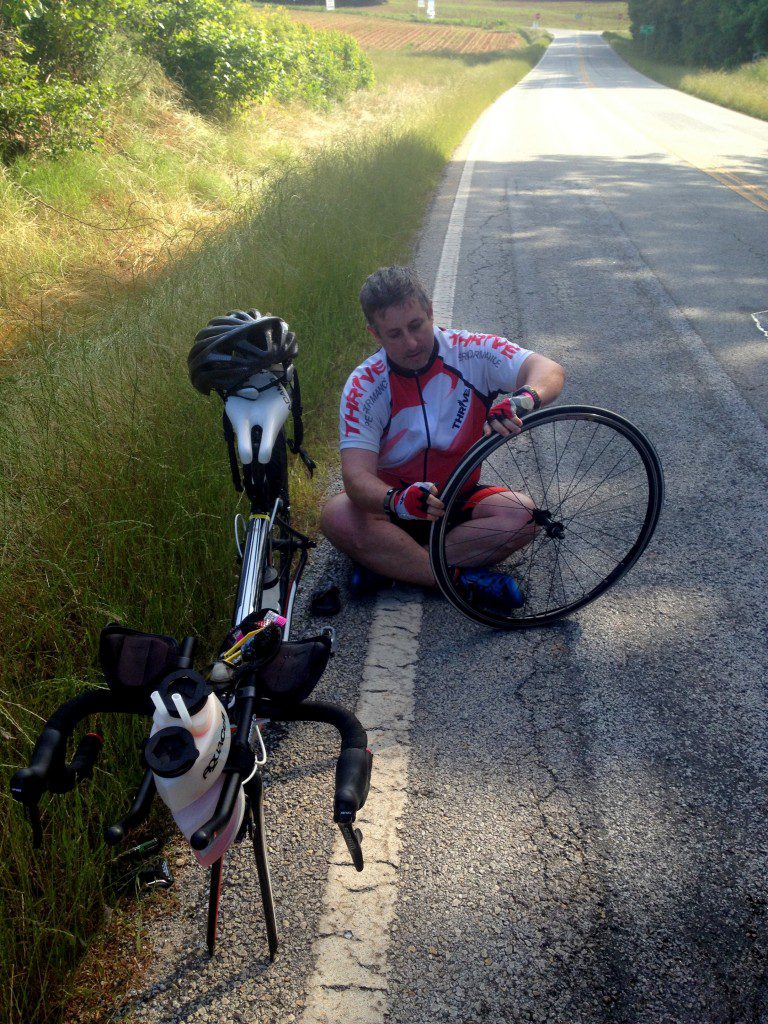 After we phoned the sag wagon, he told Yoda and I to ride on…. that he would find a place with Wi-Fi and wait around.
So we did.
I called him at the next rest stop, around Mile 28.
And he was not happy.  At all.
I met a new SBM friend, Kathy, who I told, "I was doing the 100 miler, but if I want to save my marriage I think I better turn right and head for the 65."
She said, "Oh, I like that about you. Putting your marriage first. That's in your book!"  She was so sweet, and I thought to myself, Well, I might kill him when I get my hands on him. But for now, I'll put him first.
Yoda was left to assault Dick and his hill on her own. I felt terrible. I had talked her into that ride, and I was abandoning her. Then I was mad because I was going to cut a key workout in half.  And I was mad because I was left without getting to assault Dick.  It was just bad all around.
I rode the next 10 miles at Mad Pace.  You know, the pace where you think you are flying, but really, you are just steaming mad and wasting energy of all kinds.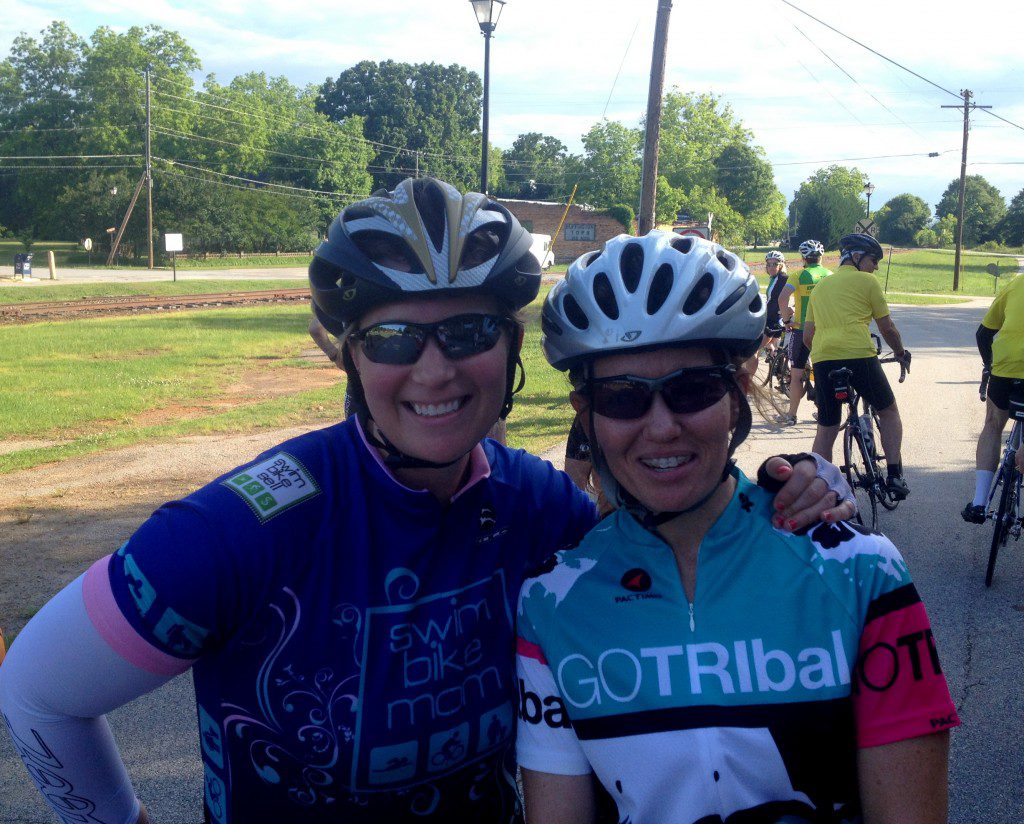 Then, at Mile 40, I had enough.  I knew the Expert was mad. I was mad that I had been demoted to 65.
So, I thought, screw it. I called the Expert to come pick me up.  I sat on the curb at a Zaxby's and waited. When he showed up, I opened the door and kissed him.  Then we proceeded to fight for the following six hours, off and on.
The airing of the Ironman grievances, I suppose.
One of his main complaints was me blogging about everything. (I have no idea what he's talking about…)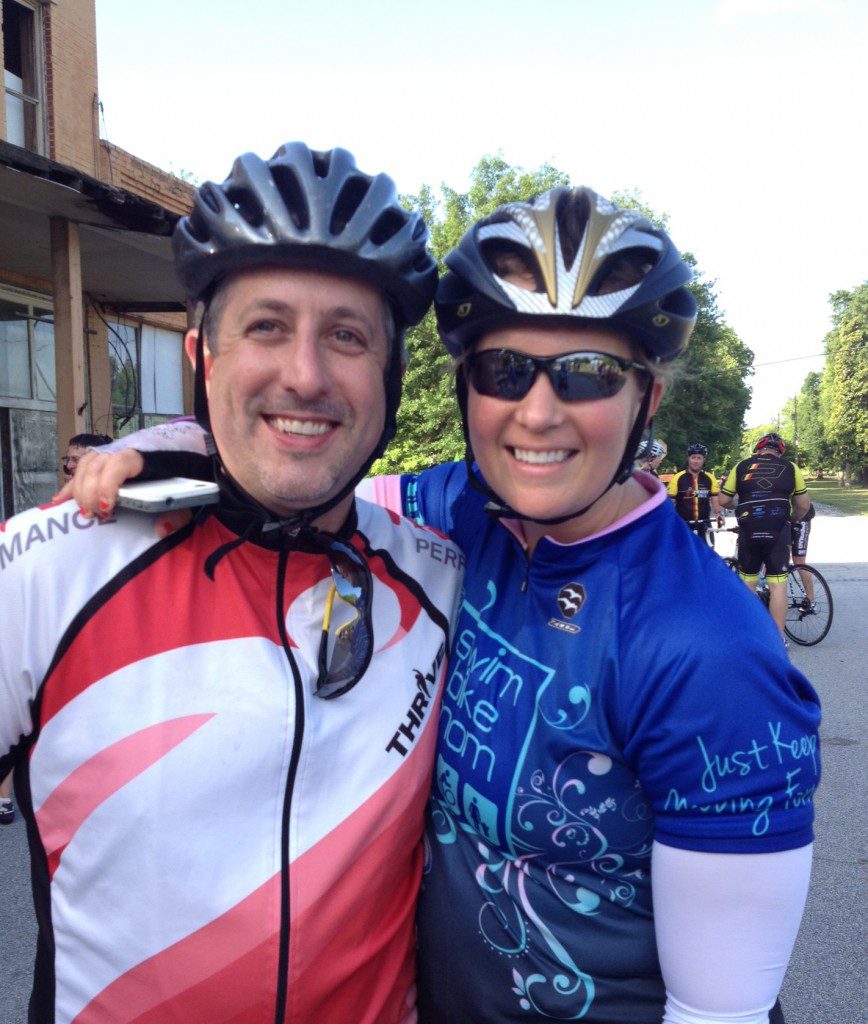 And other than that… he had many valid points.  And so did I, for sure. 🙂
Ironman has taken a lot out of us. It's all I can think about right now—and he's tired of hearing and thinking about it. I understand that. But the thing with triathlon and marriage… it's a push and pull, and you have to improvise and roll and change with it.
Including workouts, and key ones, at that.
So I finished two additional hours on the bike trainer in between the airing of the Ironman grievances. Then we made up and went out to dinner.
And now, the Expert is planning his blog about his Mantrum.  And I expect it to be good. Because he was doing P90X today with Stella.  When P90X comes outs, he means business. That is all.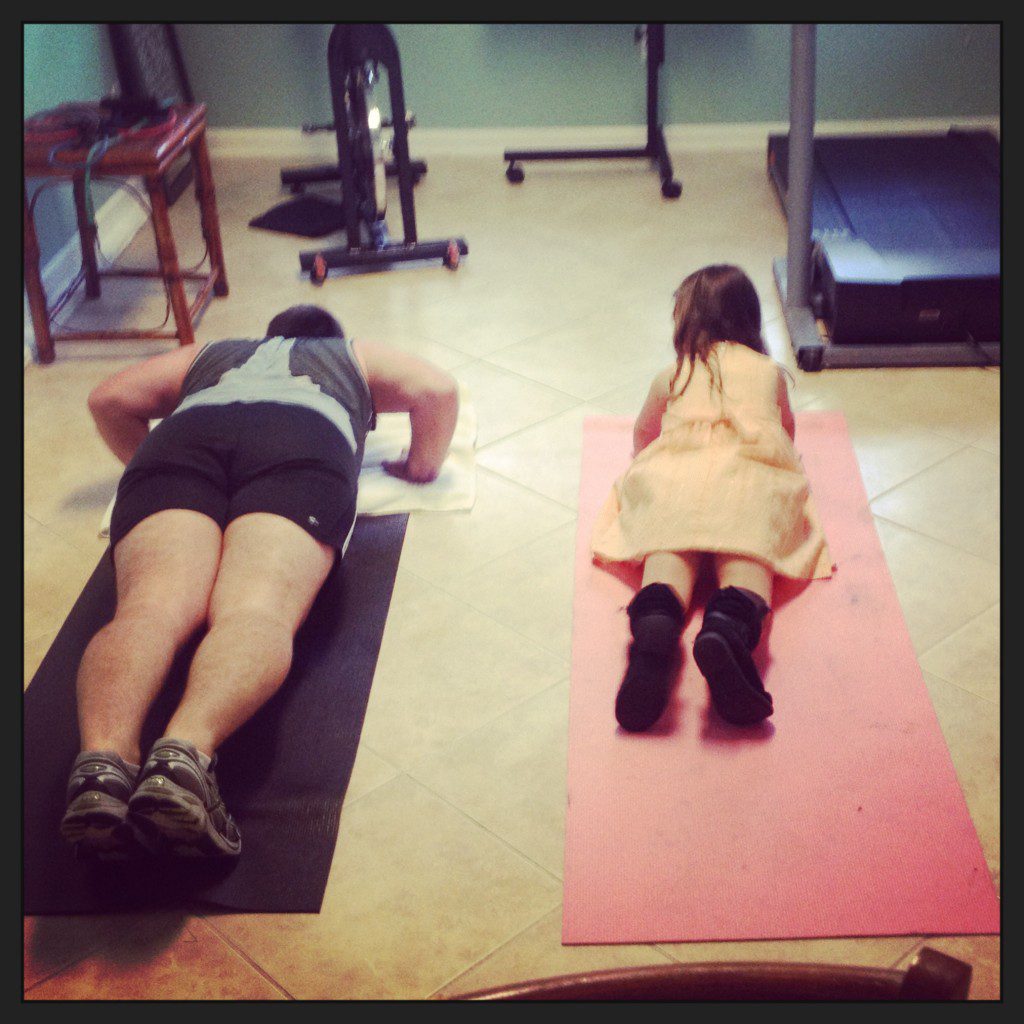 The Expert drove 5 hours round trip to pick up the kiddos while I started my training day.  (See? We made up. My Iron Man is back.)
I took today (which was scheduled recovery day), and pushed out a 2 mile swim, 3.5 hours on the trainer, and a 6 mile run instead. Improvise. And it was a tough workout. Which leaves the thought about moving for 16+ hours in the race even scarier. But it is what it is.
The Expert and I seem good. And the kiddos are now home, and all seems right with the world.
The other Silver Lining?
Well, I took the bike out for a real ride after my swim this morning.
I went just a little ways down the street when I realized that I had NO rear brakes.  The cables were obviously stretched beyond working.
Which means… that the Expert's MANtrum… might've just saved my life yesterday.