….three days early.
Only 13 days until Ironman Coeur d'Alene… (cue "final countdown" music). This is a tad early.  But I think the circumstances have warranted it.
I have dedicated each ten day block of training to important  people in my life. I have written dedications to my Dad, my Mom, Coach Monster, Grandparents, YOU, my SBM friends, Yoda, Sweet Red and Mountain Goat, Dr. MMH, Ilana Katz and McBlessings, my girl, Stella, and my boy, James.
This is the final dedication.  Which means that almost 100 days has passed. And it means that the super taper is in effect. That the race is literally in ten thirteen days…
And best of all—-this final dedication means—that our marriage has survived Ironman training!  That's right, this dedication goes out to the Expert. The husband. My baby daddy. My partner in crime.
Most of you know all about the Expert at this point. He has a real name, but really, the Expert is more fitting.
How We Met
The Expert and I met when I was 14 years old and he was 17.  No, we did not start dating then.  I walked into a weightlifting gym with my dad, and began my 7+ year journey as an Olympic style weightlifter.  The Expert was the first person to say hello to me at the gym.
This was the dude then.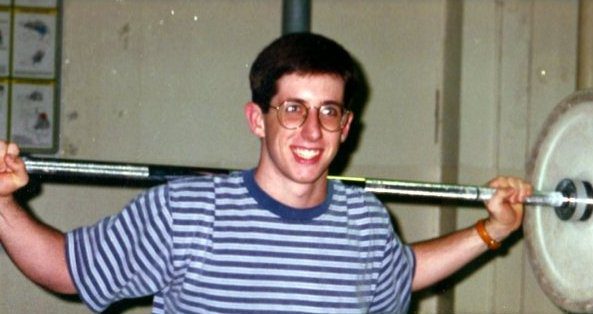 Fast forward a few years, and the Expert and I were decent friends—we traveled on weightlifting trips together. We shared our Cranberries, Michael Jackson and Lenny Kravitz CDs on trips.  He dated people, I dated people.
We would NEVER have dated each other.
We were pals.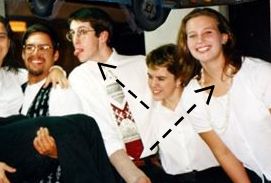 We were always around each other.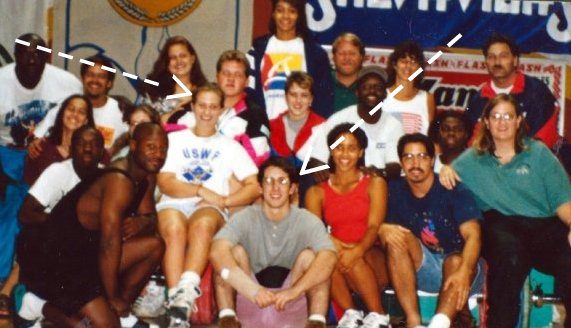 But again… I would have NEVER dated him. Mostly because I thought he was such a know-it-all.  He knew "everything" about nutrition.  And lifting. And life. And work.  Such a smarty pants.
And well… there's this:
An incident in the middle of the winter… on a van… in Arizona.  I'll let you guess what this picture is about. Enough said.
So, we were friends.  Actually, almost frenemies. Only he didn't know that his know-it-all attitude drove me crazy. It did. Crazy.
But he was growing on me.  And he was part of the cult I knew.  Weightlifting.
Our First Date
The Expert went off to Colorado to train at the Olympic training center when he was 21.  I was headed into my last semester of high school.  He had a going away party on New Year's Eve, and he invited me.  I was like, "Okay fine."
And he was like, "You're gonna kiss me at midnight."
Ew. I so was not going to do such a thing. No way.
Well, the party happened and on New Year's Eve—-the clock struck twelve and I so did such a thing.  I kissed that Expert kid.  And the next day, he left and went to Colorado and that was that.
Until…
The following New Year's Eve… when I get a random phone call.  The Expert was back in town, and he wanted to meet for coffee.  At Denny's. Denny's was our first "date," really.  Though I don't think either of us knew it then.
Fast forward a few hours… and for the second New Year's Eve in a row, I kissed that guy. Again. On New Year's.
And… FIFTEEN years later. Here we are.  Married. Two kids (one of them born on… you guessed it… NEW YEAR'S EVE!)
The Way We Were
We have been through it all.  We were both in graduate school at the same time.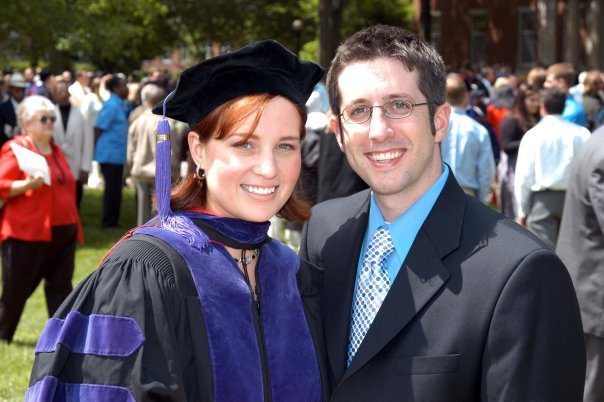 We have moved over 11 times in our relationship. Job gains, job loss, financial issues, heartbreak, pregnancy & childbirth. And we've been here… in sickness and health.
In thinner…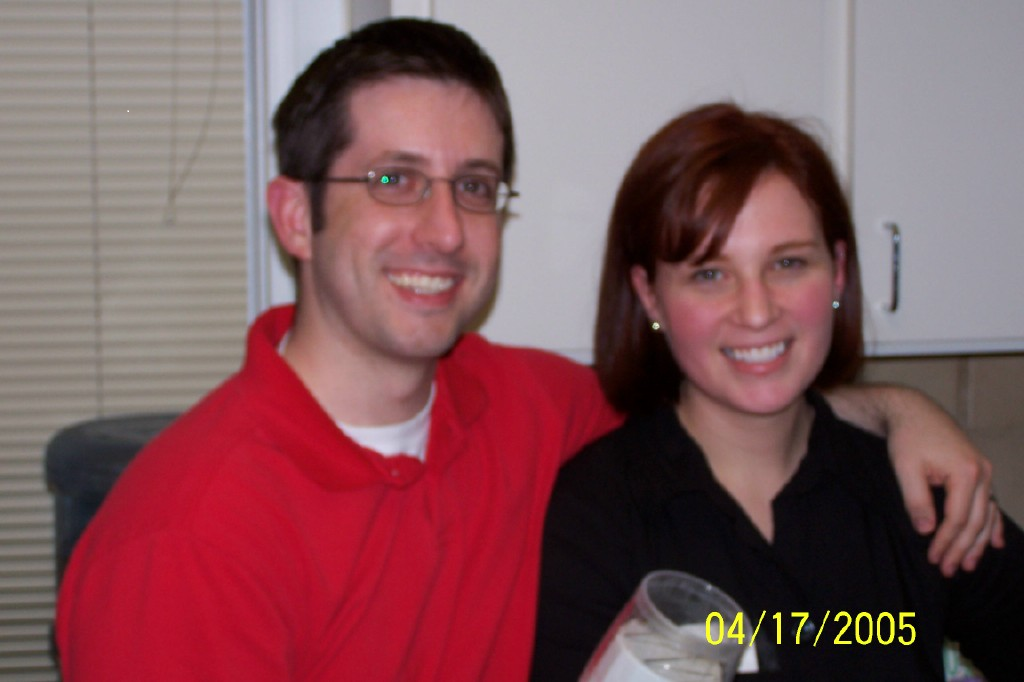 In getting chunkier…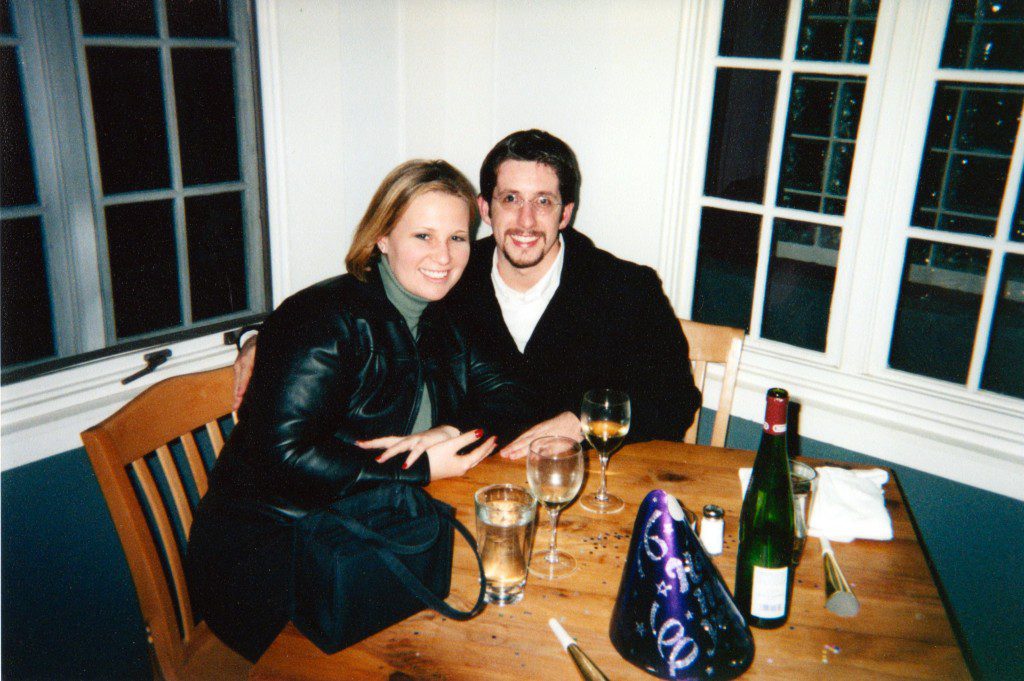 And in super fatness (me).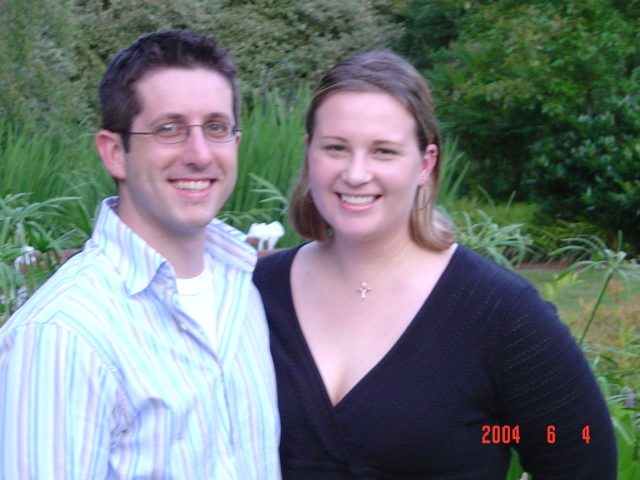 And in kids… and more fatness.
We have been through it all in the past 12 years of marriage / 15 years together.
Most notably, we have become a tri-ing couple.  Which I will say we have been together in sadness …and in triumph.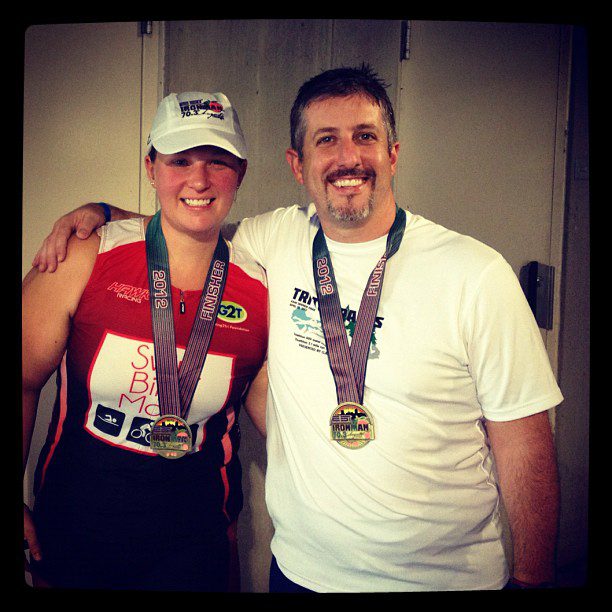 He is THE Expert
The Expert is my best friend… and sometimes my biggest enemy.  Sometimes, I find myself screaming at him, "I am not your employee! Stop cracking the whip on me!"
And he's like, "Whatever sweetheart! You are a PARTNER on board this crazy train. Buck up and do your job!"
I have flashbacks to the weightlifting days. The Expert.  Knows everything.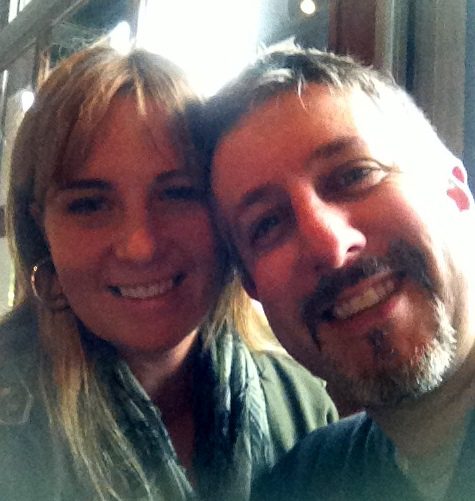 My point being… the Expert and I really are partners.  We don't let each other off the hook—ever.  And I am equally as hard on him. We push each other constantly.  And we push each other's buttons.
We love each other fully—even if we don't 100% feel it.  And anyone who's been together 15 years knows what I mean by this. Love like that is not felt as much as it's just…THERE.
And we work together to keep the children alive and breathing.
We have each other's backs.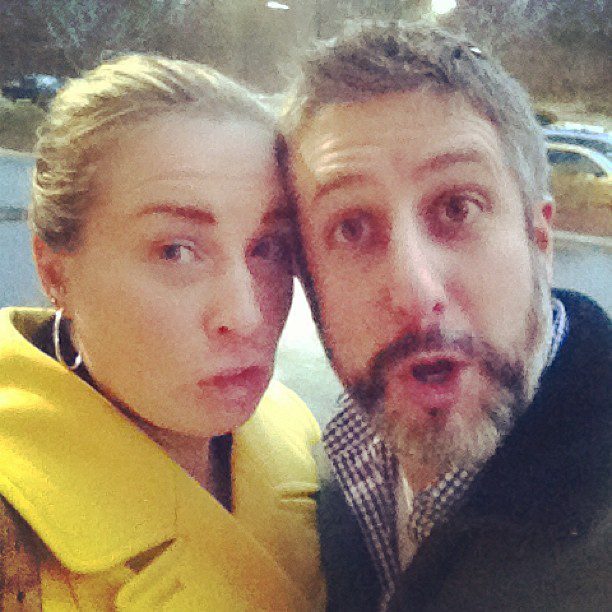 He's made me a better, tougher person. I grew 100% over the last year trying to juggle a full-time job, writing a book and training for an Ironman.  It would have literally driven me crazy and I would have quit under any other circumstances… but he believed in me.
I take that back—-he's expected it of me.  And that may sound harsh, but it's meant to be a compliment.  He has believed greater things in me than I ever could believe in myself.  He just believes them. Like they are facts.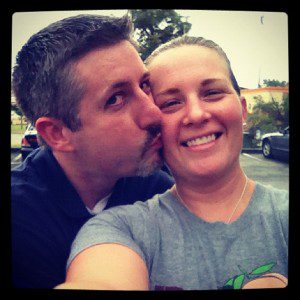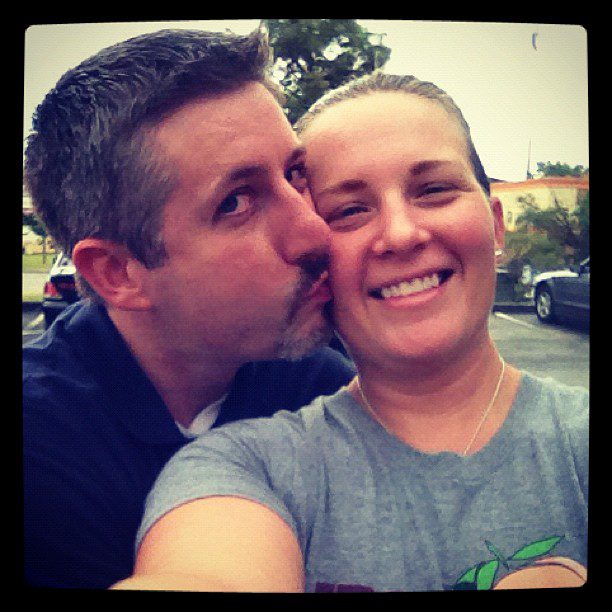 You signed up for the Ironman. So get your butt on the bike and leave me alone and stop complaining about it.  Then in two months, you'll finish. It's that way. Go.
He's just like that.
He's seen me lift 230 pounds over my head in weightlifting. He's seen me birth two babies. And where sometimes he turns his back and I make a stabbing motion with my arm… I know that he loves me, and that's just the way it is.
He knows I have more strength in me than I do.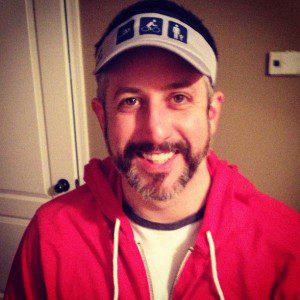 Swim Bike Dad
He's the original Swim Bike Dad.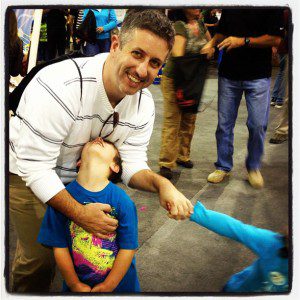 And I really cannot say enough about him as a father.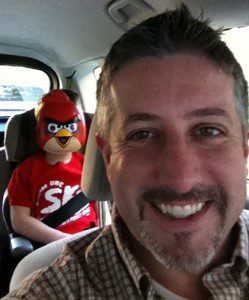 He's an amazing dad.  He fights for his kiddos.  And his kiddos love him.  And he's funny with them. I mean look—he rode the Angry Bird to school.  He has taught those kids more things than I ever could. He's adventurous and silly.  And I'm often the "Fun Police," and kill the rowdy fun that is happening at the house.  But one of us has to be the "bad guy," and that's okay.
He can be the good guy.  Because he is.
Oh—one of our biggest jokes comes from talking about what would happen if we divorced.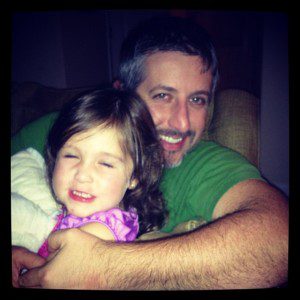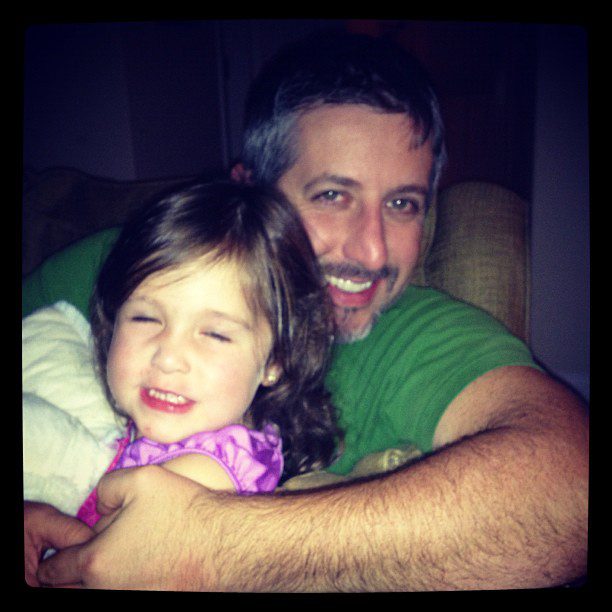 "If you get a divorce," he said one time, "I am going to move right next door to you."
"Why? That's the whole point. I don't want to see you anymore!" I screamed at him.
"Well, those are my kids and I want to see them. And it would be easy to coordinate.  And it would drive you crazy, me living next door. Which would be a bonus. Especially when I come into the house and have coffee with Steve."
"Steve!?" I yelled, "Who in the hell is Steve?"
"Your new husband."
"Oh, good grief."
"'Oh hi, Steve! It's a great day, isn't it Steve? Mind if  I pour a cup of coffee, Steve?  Oh, we should have a cookout with the kids tonight, Steve. ….oh, good morning, Meredith!"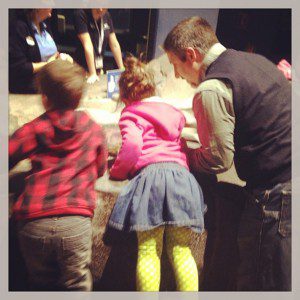 OMG. And I laughed so hard. Because I believe him. He would do that. He drives me crazy.  He really does. (And I don't even really know anyone named Steve.)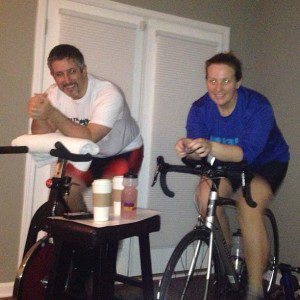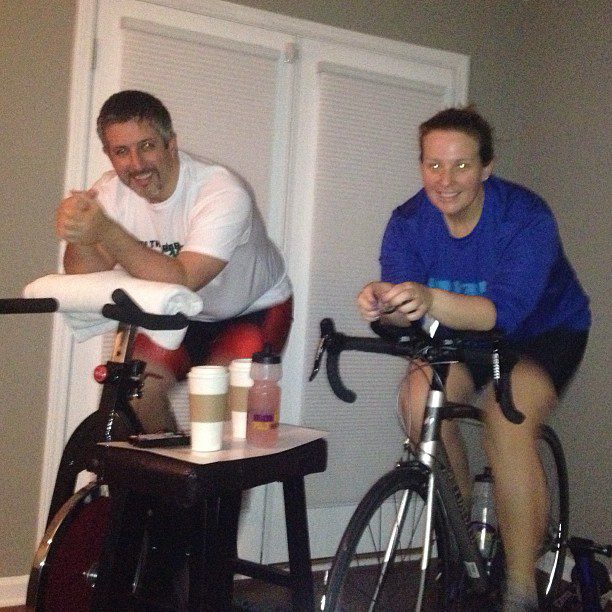 Iron Partner
Since the beginning of Ironman training, he's been behind me and doing a whole lot of childcare.  Daddy Day Care, as he calls it. The coordinating and the time and financial investment has not been easy.  But he's towed the line with me, and I could not have made it this far without him.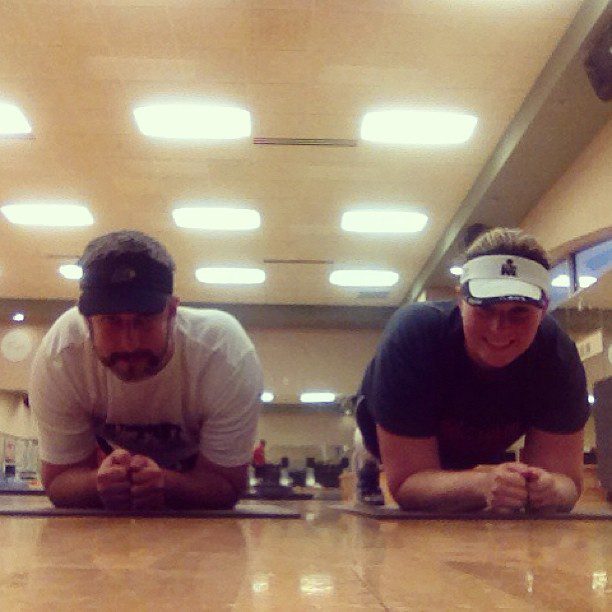 He's my Iron partner, and I am grateful.  It's not been easy. But I hope it will be worth it.
Because no Ironman is worth losing my Iron Man.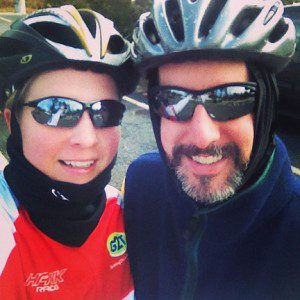 Dear Expert of Mine,
Thank you for coming along on this adventure. And for teaching me how to ride a bike. Really. 
The next 10 days of training aren't hard, but they are a taper—a crazy time. And it's only fitting that you get the dedication during the time where I am probably losing my mind the most. I am advance apologizing.
I know that I can do this—if I have you on the race course telling me "get moving" and screaming, "no mercy!"  Like from the Karate Kid. You're my Mr. Miyagi. 
Thank you for being such a remarkable partner, father, friend and neighbor (you know, when I am married to Steve).
I love you,
M
P.S. – I really do know I am so very lucky to have you. I want you to feel the same about me.  I want you to be at the race.