I've spent most of my life perfecting the fine art of "people-pleasing ."
Which is a major reason that I like having a coach.  I like to make people (specifically authoritative figures in my life – parents, coaches, bosses) happy.  The benefit of a tri coach and people-pleasing is that I do the workouts. I did my swim this morning for the sole reason of making my coach happy. (And it did make him happy, and he sent me a nice text).
I told him that it didn't make me happy.  [And that's okay, too. I did a workout. Winning.]
The downside of people-pleasing and having is a coach is that when you don't do the workouts–you can swing wildly to the other side of the spectrum: the "I am worthless" and "I will never amount to anything in this sport" side.
I think there is a fine line between healthy people-pleasing , and making yourself absolutely miserable.
I was talking with my fellow people-pleasing friend, Becky.
During our conversation, one of the fine folks in the LifeCafe brought over a half of a smoothie to the table–excess from another smoothie that someone bought–and gave it to me.
He said, "It's whey protein powder, but it's really good. Don't know if you do dairy… but here you go!"
And I smiled at him and I said, "Well, thank you so much!"  And I took a sip.
Okay. So pause for a minute. Several things going on here.
1) The guy was nice to think of me.
2) I showed my appreciation and was polite–accepting the smoothie.  EVEN though he gave me an out – I could have said, "No I don't do dairy" (even though I do) and that would have been it.
All is good until the next part… where I drank the smoothie that contained the protein that I avoid because I am allergic to it.
People pleasing at its finest. And stupidly unnecessarily. I could have accepted it and not drank it, or whatever. Then I would have been polite AND stuck to my reasons for avoiding the protein powder.  I could have turned it down, politely.
But clearly, I operate on a large-scale, Wal-Mart-sized people pleasing mission.  I people please on the major things (like my profession) and the minor (like a stupid half of a smoothie that will make my throat itch, like all day).
Dumb.
Which is why not being a pushover and standing up for myself lately has been a big deal. Because I have realized that I don't have to make people happy. I only have to try and do the best I can for myself and my family.
Being a pushover and a people-pleaser is totally related.  If you are a people-pleaser, this often stems from the fact that you can't really stomach being disliked.  Being disliked stings.
So it's easy to gravitate towards pushoverness.  Easy to find yourself putting up with toxic people and situations, because you are averse to being disliked by these people.
And how does that make anyone happy?
Dumb.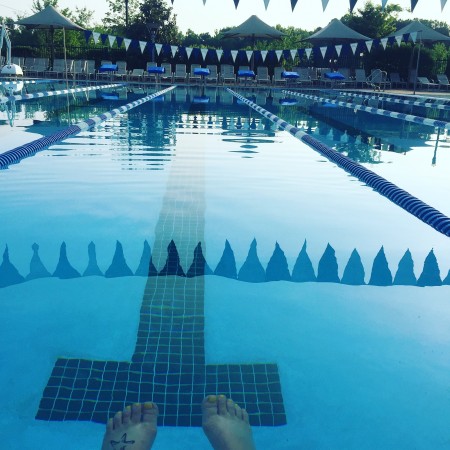 Right now, triathlon does not make me happy.
Right now, triathlon is the proverbial "people" in my people pleasing world.
I love triathlon–as a general proposition.  But right now, I do not love doing triathlon.  I do not love training for triathlon.  (Maybe because I can't run. I dunno). But, really,  I am people-pleasing through a sport that I want to quit (at the moment).  Or maybe just saying I am burned out is accurate.
Because I ran myself into a stress fracture in search of PRs and "I am a real runner status" – which is total bullshit, because who determines THAT status anyway?  Because I have spent four seasons chasing huge triathlon goals that were way out of my league–and achieving them—but then thinking, "Wow, I really don't want to do that again. At least not under those circumstances."
After having the best ending possible to a crazy season (bike crash, car crash) last year with a 15:28 at Ironman Louisville, and a fabulous half marathon as an opener this season, I thought I loved every thing about it…
In asking myself what makes me happy 
in this sport
, I have really had to think.
I started this sport for a few reasons.  I was miserable. Out of shape. Sad. So full of self-loathing, it's incredible. Addicted.
Triathlon training and racing has been a massive gift to me… it has allowed me to find so many things. I have said it time and time again–this sport allowed me to see the world and my blessings through another lens.
So much is good. But there are so many parts of the sport and this world that do not make me happy right now.
And that's when it's time to take a step back.
Right now, I am really enjoying doing other things, too.
Getting my push-ups on.  Swimming.  Some riding. Still can't run, but I do the StairMill for hours… so I'm not the next candidate for my 600-lb Life.
In fact, it's the opposite, really.  My health and nutrition is the best it's ever (ever…like ever) been.  That makes me really grateful, too. To have worked through many of the food and alcohol issues.
Of course, I still struggle… but I am empowered. I am grateful. I am in control.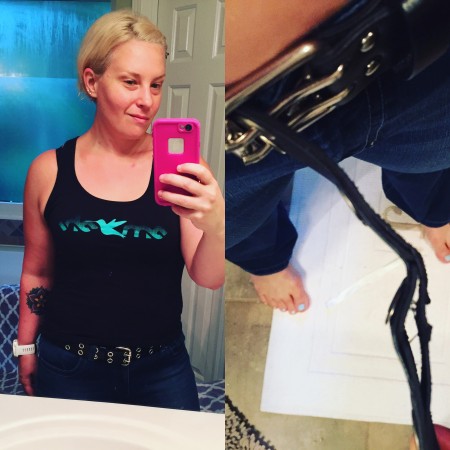 But that's not triathlon. That's pure and simple—self-care and health.
A major component I was lacking for my whole life.  It's funny that I found triathlon first.  And over the last five years, I have very slowly, through major trial, hurt, heartache and error, learned to love and care for me properly–so I can then love those around me properly.
So I'm still here. I'm still working out.  I'm still traveling to triathlons where my girls are racing: Ironman Texas, Ironman Choo 70.3 (the Expert–not one of my girls, though he is one of my athletes…), and Ironman Lake Placid.  And because I do love this sport in general, I'm still very much doing many triathlon things–cheering, coaching, writing, etc…
…but I will not be people-pleasing my way through the 2016 season on my own two feet or wheels just for the hell of a it. Just so I have something to talk or write about.
I may change my mind once I get off the injury. But probably not.
Part of being the best me possible (my main goal for this year, if you'll recall) is about being open to change.
Whatever that means, and in whatever form is required. Listening to my heart.  Listening to my family's needs. To my kids and their feelings. And right now, my kids want to crawl in bed with mom in the morning and snuggle, and not talk to me from my perch on the bike trainer… so I've been doing that more lately.  
I've been sleeping. I've been joyfully sitting at baseball games instead of swimming thousands of meters.
And throwing pitches. "Mom, you really are a terrible pitcher…"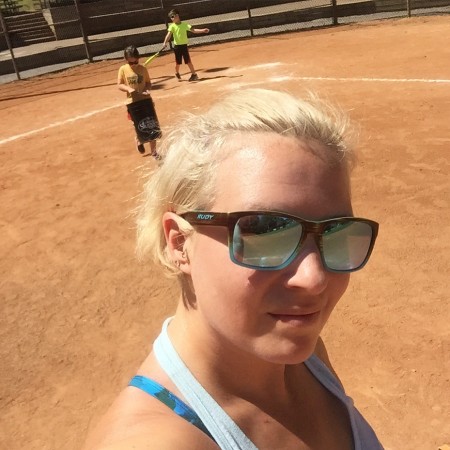 I have been allowing myself the grace to recover from injury without rushing back and fretting and panicking about the future races and the endless time-bomb ticking timelines…
Because this sport also doesn't feed my family, I am listening to my precious baby birds–and I am going to feed them.  And feed them on my terms, mind you.  [Not the way the people-pleasers or fakers or haters or whatevers tell me I should too.]
So this triathlon race season? What season?
To be honest, it just doesn't matter a lick to me right now.
And that is okay.
#JustKeepMovingForward