I never know when it's going to hit me.  I can be talking, and then I just burst into tears.  This morning, I was paying my insurance bill, and I lost it, just weeping. My sweet grandmother (who everyone knew as "Mombow") left this life on Saturday morning at 5:25… with my mom holding one hand, with me holding the other.  And I can't believe how much I am lost, knowing that she's no longer here. That I just can't call or hug her.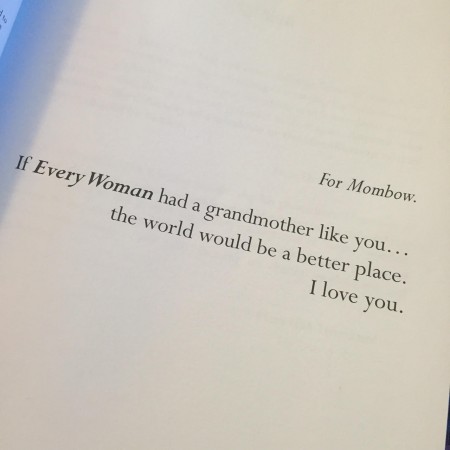 As (technically) an only child, I grew up with FOUR parents.  My mom, my dad, my grandmother (Mombow),  and my grandfather (Papooh).  
When I was born, Mombow told Papooh:
"I am moving to Savannah to be with my new grandbaby with or without you."
Papooh went. (Smart man. 🙂 )
And I was lucky and blessed to have four of them with me growing up. At every school event, basketball, softball, volleyball, weightlifting event… they were all there.  Cheering. [Totally embarrassing me (ah, Middle School).]  My childhood friends all knew Mombow.  Because she was such an integral part of my life.
In a sense, I was telling the Expert this morning, I feel like I have lost a mother.  I have a mother, but I also had a grandmother.
I have always been very scared of death–especially bodies and the death process.
Funerals? Forget it…  I couldn't take it. It's a terrible thing to fear, because it's so selfish.  But I swear, it has been a very real fear for my whole life.
When my dad called me with the news on Friday afternoon that Mombow had a stroke and had fallen… and the doctor said she "would not make it," I didn't know what to do.  After a few minutes to figure it out, there was no question that I was leaving. And that meant hopping in the car in Atlanta rush hour, and driving the usually-four-hours to Savannah… in almost seven.
My mom said on the phone to me, as I was driving, "Prepare yourself."
At that moment, really, it was inconceivable to me that we were actually going to lose her.
I arrived at the hospital close to 10:00 pm.
I stepped on a fresh box of chicken wing bones as I got out of the car. (Ah, Savannah). And I went into the hospital room, where my grandfather sat.
Prepare yourself.  That was impossible.  This kind of prep.
I saw her last weekend, as we were in town for the half marathon. I hugged her tightly as we left–because I knew it was the last time I was going to see her. I knew it. I could feel it in my bones.  She was heading towards Alzheimer's, and I just had a feeling… that even if she was here in body, that it was the last time I would have her–as she was.
I didn't know that my Spidey sense was leaning towards this–that I wouldn't have her at all.
Mombow, after the fall, never regained consciousness.  "She will not survive this," replaying over and over again in my head.  My mom, in the ER, received hand squeezes from her… but by the time I got to Savannah, well over nine hours after her fall, she was unresponsive, and breathing hard.
I'm not going to write about how if you are mad at someone, you should make amends now.  Or that you should take the time to say, "I love you." Because (well, you should), but it's so much more than that.  Those are things to make yourself feel better.  How do you make someone else, the person who is dying, feel better?  That was where I was helpless, and confused.
I learned very quickly exactly what you do when someone is dying.  Or at least, what made sense to do.
You sit. You love. You speak quietly. At one point, Mom was touching her face, and she started squinting her eyes really hard– "she's probably aggravated at us petting on her face," I said.  And Mom said, "Yes, let's pet her arms for a while."  So that's we did.
Then, it's okay when you get the uncontrollable giggles, then the uncontrollable tears.  You talk to them, knowing that they can hear you. That's what you do.
And that's what I learned on Friday…into the wee hours of Saturday morning.  Just to love someone to death… I wonder if that's where the phrase came from. Because that's what Mom and I did… loved her right on.
Being with some as they are dying, as they take their last breath… that is something so precious, so beautiful, and I can't describe how proud and thankful I was of Mombow, and all the fight she had in her–her whole life, really–up until the end.
We are SO busy now in this day and age. Life is literally flying by, and I don't know which way is up or down most of the time.
But as my mom and I spent the last of her seven continuous hours, loving on Mombow as she left the world, I could not think of anywhere else I wanted to be… it was a such an amazing blessing to be right beside her as her breathing changed, as she went through the process… and finally, as the air went out of her lungs, softly like a small balloon, and we could see her pulse slow, slow slow and then stop through her paper-thin skin.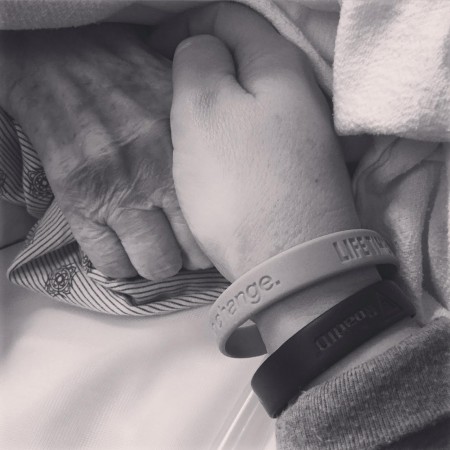 Yes, I had been so terrified of the death process, of funerals until Saturday. Because in her death, Mombow continued to give, so selflessly. She gave me a new strength, and a new love and a new willingness to be someone who can step up and do the "hard" thing in the future. I will never, ever (ever) hesitate to be there for someone during this process.
For those of you who don't know the right things to say in a time like this, I'd like to share this article. I read it about a month ago (although the article is from 2013), and it has been really fantastic and integral over the past week for me… and making sure that I take care of those right in the circle–my grandfather and my mom.
"Remember, you can say whatever you want if you just wait until you're talking to someone in a larger ring than yours. And don't worry. You'll get your turn in the center ring. You can count on that…"
Because that's how life goes on.
I can't believe the range of emotions right now… from exhaustion to sadness back to exhaustion. I want to sleep. I want to cry, run, and then eat (oh, the eating. I can't even…)
In times of grief, no one wants to hear that "everything happens for a reason" or "she's in a better place."  But in this case, I know those things are true…
I just wish someone would tell my heart. <3