After the "I quit" day I had last weekend, I was determined not have a repeat this weekend. I talked to Coach Monster on Friday, and he helped me realize that all I can do with my IM training…is to take each day as a new day, and take each mile at a time.
That really helped yesterday during a 10-mile treadmill run. Taking 1 mile at a time, that is. There's not much that can help a 10 mile treadmill run.
He also reminded me to "set myself up for success"…. meaning to 1) eat well, 2) get rest, and 3) mentally prepare.  Also a good reminder.  Oftentimes, I eat badly on Friday nights and don't get enough rest—which leads to terrible weekend workouts. I did much better this time.
Saturday was a long swim and a long run… and I managed both without much incident…other than a nasty blister on the right toe… because I forgot my liquid powder.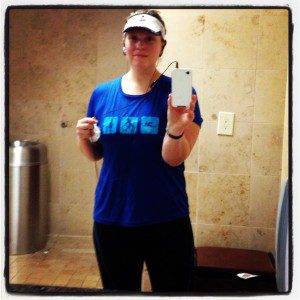 And the weather here in Georgia promised a freezing 25° bike ride with high winds, so I decided to play it smart and ride the trainer. For four hours.
Just me and Antonia on the trainer. Andy gets to stay in the garage and have a weekend off.
Plus, it's somewhat symbolic that Antonia and I have the rough tough training rides together. She's been with me since the beginning.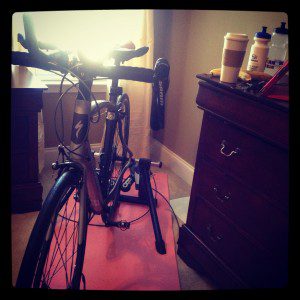 The Saint Expert had the kids at Stone Mountain, for a snow day.
He really does get the Saint award for that. Except he drove off with my cycling shoes in the car, and I had to summon him back. Luckily he was not far down the road ….or I'm not sure if my improvisational skills extend to that kind of scenario (riding on a trainer without shoes).
I put myself in a good frame of mind for such a long, boring ride.
But I tell ya… it was a looooooooong time on the trainer.
Four hours, two potty breaks, two bananas, some cashews and 1/2 of a dark chocolate bar (ooops), along with two episodes of American Horror Story, and endless texts with my SBM friend, Katherine, about Kevin Bacon and Ryan Gosling… well, it was still, long time to be on a bike.
Four hours on a bike… and you begin to realize some things, too. You find out things about yourself.
For example, today I realized that I have a really weird crush on Kevin Bacon.  Never really liked the guy before.  Now?  On my bicycle? I love him.  I also really wanted some fried shrimp. No correlation, I don't think.
Then…it's funny the things you begin to tell yourself after a few hours on a bike trainer (or after a few hours of any long workout).
I say things, ridiculous, like "you can do it….only an hour to go " or "this really doesn't hurt."
But what I like about these ridiculous comments? I see growth. For example, when I first started running, 30 minute anything was hell. Now, I find myself telling myself, you only have 30 minutes remaining.  It's proof of the progress.
But four hours on a bike trainer? As much as I #suckeditupbuttercup, that was just pure hell.  It was lunacy. It was wonderful, and yet another deposit I made into my Ironman bank.  As Coach Monster says, as long as I am squirreling away meaningful workouts and making swim, bike, run deposits each day… I'll have enough to withdraw come race day.
I just hope I'm also insured by the FDIC.  🙂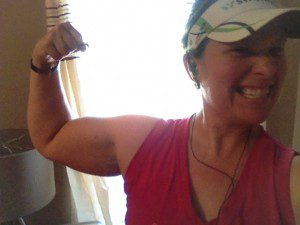 Have a great week, friends!  Don't forget to order your SBM 2013 Tech Gear…. it's only available for a short time.