Ew.  Bet you didn't even want to click on this post, didya?  🙂
Today, I woke up super early and I actually had enough time to get in both my long swim and a thirty-minute hill interval run before work.  I was excited. Usually, I'm awake and running out the door, losing time with each second, and figuring what has to "give" so I can make it to work on time, and maybe put on mascara too.
Well, as I unpacked my bag, grabbed my goggles, I realized that I forgot my sports bra for my run… crapola!!!! And I have more than enough time to run today!  Bollocks. 
I was having flashbacks to the time I brought the Expert's pants to the gym...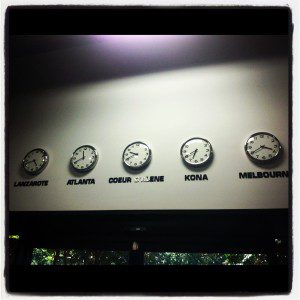 Long ago I quit wearing underwear when I run… but as for the sports bra… I can't get away with running sans boulder-holder.  So I resigned myself to the fact that I wouldn't be running.  BUT… as I was swimming, though… it occurred to me that I was actually wearing a sports bra, of sorts—my swimsuit.
So I swam my 3800 meters, which was a complete butt-buster and took me slightly longer than I thought…  so I scrambled to the locker room, dried off quickly.
Then I proceeded to pull on my gray, stretchy capris and shirt… over my wet swimsuit... and then my socks and shoes.  And I just traipsed my big ole buns right over to the treadmills.
And I pitied the fools who ran behind me…
Because I was rocking out…. not only a giant panty line… but a giant wet one.  Hair dripping wet, running at a 5% incline, huffing and puffing, wet butt all poking out and jiggling—-and looking like one of the best hot mess versions of myself…ever…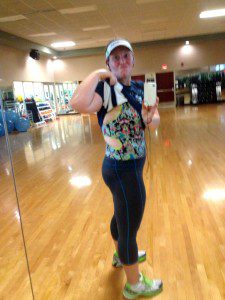 Between the very difficult swim, the ridiculous outfit, and the even more difficult three miles of hill intervals… it goes down as one of the best workouts ever.
Whaaaaaaat?
Well, because for the first time, I truly cared more about getting the workout done than what I looked like getting it done.  I mean, I usually don't care much anyway.  But to run in my wet swimsuit? The wet gray pants? With a HUGE "panty" line?  I mean, yes, triathletes would "get" it if they saw me ("Oh, she just swam and clearly forgot her sports bra!") … but just the average Joes and Janes at Life Time Fitness? They were grossed out… I could see it… ("Oh. My. Gawd. Becky, look at her butt… it's just so big…")
And I 
didn't care!!!
In fact, I felt like giggling the whole time.  I listened to my Katy Perry (don't judge) and I ran like a child… free, sweating and not a care in the world… at least for those thirty minutes.
Liberating.  Gosh I love this sport (and these three people, below)…
That is all.
Oh wait… nope, it's not all. Some of you asked for my "Power Breakfast" recipe from this post yesterday.  It's easy as pie (because I really don't cook).
SBM'S "POWER" BREAKFAST
3 pieces of gluten-free bread (I like the one from Trader Joe's)
1 egg, whole, beaten with dash of vanilla extract, cinnamon, nutmeg
10-12 chopped almonds
1/2 banana, sliced
2 tbsp. honey
1/2 tsp. flax oil
Approx. 550 calories—but perfect before a long ride or run!
Instructions: Heat up a pan/griddle over medium heat.  Dip the bread in the egg mixture and place in hot pan. Cook each side about 4-5 minutes, until egg is cooked and bread is crunchy. Plate and top with almonds, banana slices. Drizzle honey and flax oil over top. Slice it up and chow down.