Saturday's workout was a bit of a slacker-fest. I was scheduled for a long swim and strength training workout, but instead, the Expert and I went and piddled in the gym. And I say, "piddled" because we wandered around and did what we wanted.  It really wasn't that "piddly."  My one-legged deadlifts are still showing the pain in the gluteus maximus. And I did some bench presses, mad core work and other things that have me hurting like crazy, even today.
Yesterday, the Expert and I went for a ride.  He's been dealing with a torn meniscus in his knee, but has been working on his miraculous healing with Dr. Sadri (a/k/a Dr. Miracle Man Hands)—who, yes, has performed many miracles on me–has now also performed miracles on the Expert as well.  The dude couldn't walk a month ago, and now he's out riding and getting on the elliptical.  (If you're in the ATL area and need help… call Dr. Sadri. Seriously. He's a miracle man. Mir-a-cle.)
Anyway, it was a great day to be on the bike.  The Expert did a 24 mile loop with me, and then headed home—I stuck around for another 26 miles.  We had a great time, except for the poor squirrel that the Expert took out on his bike on the first loop. (Horrible.)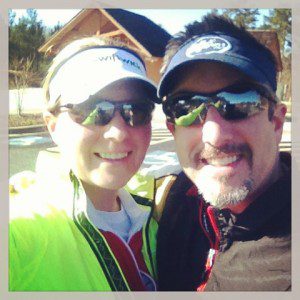 My Saturday weight training proved something very wise for my bike riding, though.
Because my buns were so sore, I was able to feel when I was hill-climbing and not using my glutes.. in other words, because my junk in my trunk hurt, I was able to ride stronger—because I could feel when I was riding propertly–using my glutes in addition to my quads. Very beneficial. It's a good reminder to shake what your momma gave you when you are in the saddle – and engage all those muscles that make the climbs so much more efficient.  And no, not your squenching jaw, tight shoulders and rounded back muscles… you gotta keep your upper body relaxed and use the legs and glutes to power up a hill.  That's the money.  Truly makes a difference… if you haven't read the post about learning to ride and climb on your bike, the link is here: https://www.swimbikemom.com/2012/06/how-to-train-your-bike-to-climb.html
Finished that, threw down a quick run, and another week of Ironman training in the books.  Today is a recovery, and tomorrow stars another big week–with just 17 weeks remaining until Ironman CDA.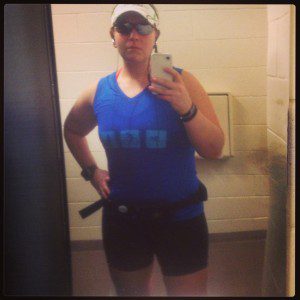 My nutrition has been good, but not perfect. My body composition, however, is improving a ton.
Check it out.
Last week: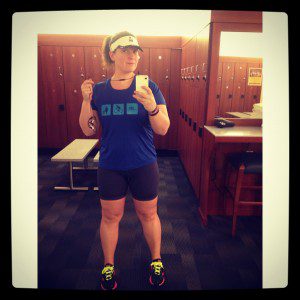 Last Fall: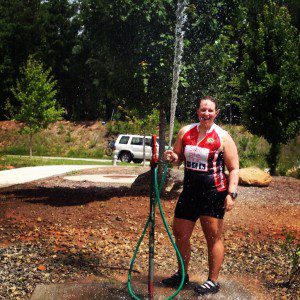 It's not a huge difference, but it is a difference, at the same time.  Between these photos is only a difference of 8-10 pounds. But I see a difference in my shape, my composition of my fat. 🙂 I'm still a work in progress, one that is still hovering just above 200 pounds… but every day is better and better. My choices are better.  For example, post-ride meal:  green smoothie instead of giant cheeseburger.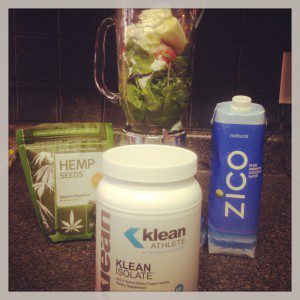 And for dinner? Tilapia lettuce wraps instead of Mexican cheese dip.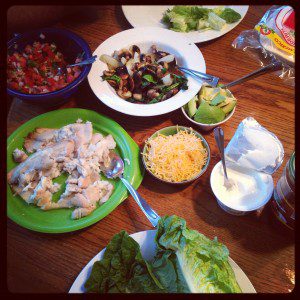 And a fruit basket in the kitchen.  (Okay, so that's not really proof of anything… well, yes it is… there is actually FRUIT in it.)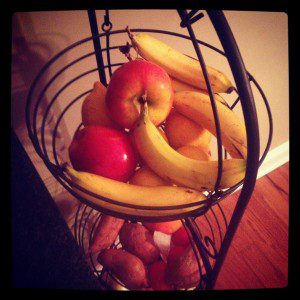 There's that saying that goes something like, someday you'll look back and realize the little things in life were actually the big things.
Of course, I know that means the little things like taking the kids to school, and birthday parties, and walks on the beach… But really, I can apply it to nutrition as well. The little choices over long periods of time–make a big difference.  I have been eating 5-6 meals regularly a day… if I leave the wagon, I fall down at dinner, but I am picking up quicker and staying on Plan more often, and for longer periods of time.
And I am thankful that I am able to take the little victories and appreciate them, especially in the wake of some serious drama.  Not only am I training for an Ironman, working and doing all the family things everyone else does,  but our little Swim Bike Family has been undergoing some extra stress (to be revealed later).. and to not eat pizza and Dairy Queen at every turn has been tough.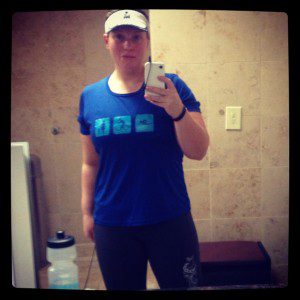 But simple realizations about what makes me feel better, what fuels my training better, what fuels a happier marriage and healthier kids— turning down the crap food is a little easier.
A little.
At least, I am learning how to put that Junk in my Trunk to good use–cycling.
* * *
*In other news, looks like Ironman Coeur d'Alene might be moving to a swim time trial start…  check out here:  http://www.cdapress.com/news/local_news/article_5eff2ba2-2989-548c-ac1c-2ae6cda6a864.html —-