I woke up today at 2:20am like it was freaking Christmas.
Today is PUBLICATION DAY, which means that the book–this first book that I have written, babied, and birthed (for the span of the pregnancy of an elephant if you also count the 1st edition)–is now available. In Bookstores–real life stores. Through all the major outlets, and some that are news to me–which is even more mind-boggling. Like Barnes & Noble. Target. Walmart. Books-a-Million. Powell's. Indiebound. Apple Books. Google Play. Kobo. eBooks.com. Of course, the giant that is Amazon.
But Books-a-Million. That one really hit me this morning.
I worked at Books-a-Million my junior year of high school. I was in customer service, and I helped place the New Release books on the shelves. I answered calls about "When is Cold Mountain available?" and "When is John Grisham's new book out?" ("The Partner?" I would ask.  "No, the other one," they would say, and I would proceed to explain that we had The Runaway Jury in stock, but the Street Lawyer was not out for another few months.)
I LOVED that job, but I quit because I was also on hot pursuit of a weightlifting goal–and running around on my feet all day touching books was bad for my afternoon squatting session. I didn't stay at the bookstore for more than a summer, but I look back on that job as my fondest–for the simple reason, I loved books.
I would go to the library as a kid and wander shelves. I liked the smell, though the dust would really mess with my fragile, allergic immune system.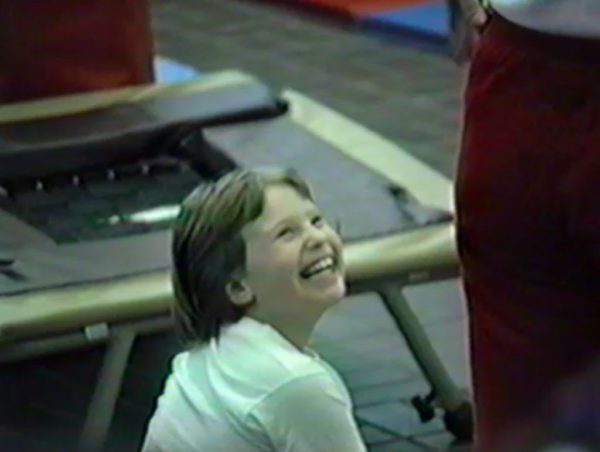 After the first publication of Triathlon for the Every Woman, I was excited.
I mean, I had written a book–and not only that, I was responsible for publishing that puppy myself. It was a huge task. I was proud of it. But it was a limited thing–the self-published book. My book was only in libraries when someone donated or requested it; the distribution of a self-published author is low, no matter how hard you work.  Still, Triathlon did well and I had some good numbers to show for my efforts.
The amazing part of 2018 was that Triathlon was picked up by a publisher: Da Capo Press, an imprint of the publishing giant, Hachette Book Group. Not only that, they gave me a contract for a new book (coming December 2019!).
I was tickled–that's really the only word for it–because the cosmic connection that led to it being acquired is so ridiculous, so gratitude-filling, I can't describe.
So the journey to get this book in the hands of any woman who needs it? That was a part of this realization of the dream. The book would have a greater shot to reach more women, to change lives, to spread the message that:  you are not alone. Sometimes I feel like I can't even dream any more either–but you can–and strangely, triathlon might just be the vessel to get you there.
I wasn't sure what to write about today, but I knew I had to honor Publication Day with a blog.
So I did what I did anytime I felt that I should say something: I opened my computer, sucked down a lot of coffee (lucky for you, it's 4:30am now, and I might be making a little more sense).
Here's what I want to say about Publication Day
Triathlon saved me.
I go back and forth when I write about where I am, what I am up to, and this journey that is life–and my relation to self in this sport of triathlon.  But here is simply where I land. My life was saved by this precious sport of swim, bike and run.
My subsequent drama and pain was born out of it. Quitting a vicious addiction was born from it.
When I think back on my biggest Childhood Dream…
It was to be an author.
I wanted to write books.
I wanted to have my book in Books-a-Million, in the dusty library.
But somehow, as a young adult, I began to believe I didn't have much to say. And writers have to say something.
By the time law school happened, the writer dream had all but died–and my body and soul had been abducted by a 250-pound drinker.
Little by little, I got worse.
Then I got better, and then worse.
Then I actually tried to end it all.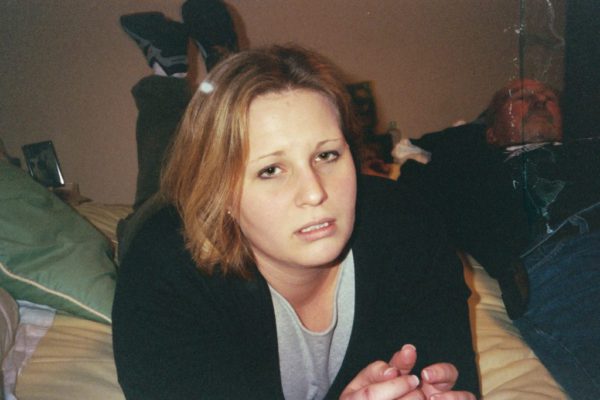 The truth is that somewhere along the way, I lost my dream.
I forgot about being a writer. I forgot about being anything really. As a new mom and lawyer, my entire existence was about survival. I felt like I was dying every single day–and I did what I needed to do to survive.
Only, I was looking for survival in all the wrong places: booze, food, shopping, crap after crap idea.
On that one day I walked into Spinning class for the first time, and Gerry Halphen breathed air into the room that I needed ("today is the first day of the rest of your life"), I changed.
I changed because someone gave me permission to change. The strange permission, I call it. The permission to change.
Someone gave me hope.
Eventually, I did my first run. Then a triathlon. Again, because that same someone, Gerry, told me I could.
Because I had a husband who said, "Yep. Go do what you need to do" no matter how crazy he truly believed me to be.
I had family who also thought I was nuts, but knew that anything was probably better than the path I was headed. Sure honey, go do a triathlon. (Just put down the wine bottle first, maybe?) 
So I did a triathlon.  I did not put down the wine bottle–for many, many more years. But I wrote about my adventures in swim, bike and run on this blog.  Not because I wanted to be a writer–I had forgotten about that dream–but because it felt like a normal thing to do. Not until after I did four IRONMAN races. Not until everything changed and I changed even more.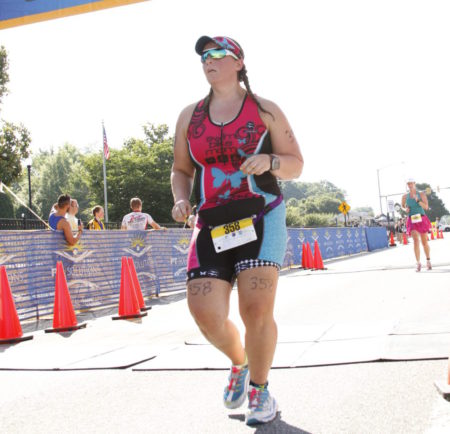 My whole point of this…
Is that the blessed sport of Triathlon not only saved my life and gave me direction, but it provided me a vehicle to start really writing again. I wrote about how ridiculous I was in Triathlon , and I kept writing. Then I wrote a book because my dear friend, Susan Wintersteen, said, "Write your damn book and quit talking about writing a book."  So I did. (Another permission giver–that Susan.)
Triathlon drove me back to my dream–the dream I had as a child: to be a writer.
It took me almost 10 years from starting Spinning class until now. 
Triathlon is bigger than a sport.
Learning to swim, bike and run is a cathartic act–a moving meditation that kept me asking the question: What do I really WANT? What am I doing? What is this and that and why?
During the quiet in the pool, the time on the bike and the pain of each and every run–I asked questions of myself. I breathed. I took time to prioritize. I wrote stories and blogs, I came up with ideas–all when I moved and trained.
So today, on Publication Day, I can recount the many, many FAILURES in my life. All you have to do is be a drinker for a few decades to come up with a laundry list of horrible regrets and failures. But even if you aren't a drinker, those failures and those regrets are loud.
Because we all have them.
I look at this picture and regret the mother I was then.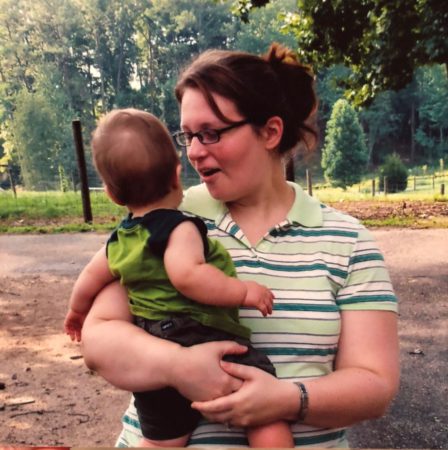 Why? Because I knew I was better than what I was doing. Lord knows, I was trying. But I just didn't know how to get out of the hole, the sadness, the fears.
Doing my First Triathlon, my first 70.3. my first IRONMAN, and all the things in between and past, did not solve my life issues.  Triathlon did not fix my problems or my life. Triathlon did not fix my depression, addiction, failures or pain. But it was the catalyst for taking those baby steps into what I wanted, asking the right questions, fixing a whole heap of shit, and moving forward in a way that was true to who I am.
It helped me learn my path to becoming a better person.
This morning, the book is #1 Best Seller in Triathlons. 
Not just new releases, but in the whole triathlon genre.
"Big fish, small pond" scream the haters!
Don't worry. "Big fish, small pond" screams the shitty little voice in my head, too.
But here's the thing.
None of those numbers actually matter. Because they will change by noon today–nothing stays the same, ever.  And actually, I am grateful for that. What matters is what is going on in our hearts, souls and heads. How we feel. Our health.
Those are numbers that count.
That's precisely why I wrote Triathlon for the Every Woman in the first place. Because I remembered whole-heartedly what it meant to have that sad, miserable voice in my head screaming horrible things at me.
Saying, "Who do you think you are trying to be an endurance athlete! You are a huge, lazy and crappy mom of 2–who is also in denial that you have a massive addiction problem–and a bit of a legal profession situation that is making you miserable."
I wrote this book because I wanted anyone who is lost, sad, trying to figure out a place in their very messy world–to simply try the strange thing that is a Triathlon.  Because that one act is life-changing.
Of course, you can also read the book if you just want to do a triathlon–because it's a great guide for that, too.
But I hold that Triathlon is bigger than that. Because Triathlon saved my life. I have made mistakes and big ones too. Finding this sport didn't fix anything, but it allowed me to grow–to know I had the tools within me to grow through some really painful periods of time. I had to learn to check my ego. I had to learn to let people and things and the way things were–those had to float away too.
But I learned.
Because Triathlon taught me how to step into my own–to feel pain, to learn joy, independence, and the truth of what truly matters to me.
Triathlon took me back home.
Triathlon was the vehicle that took me on the long course–right to my dream–the dream of being a published author.
I thought completing an IRONMAN was the dream. I thought being able to run a marathon was a dream. Or writing a book. But deep down in my soul, the biggest dream of my life was just this:  to be a published author.
Today, I have accomplished the biggest dream of my life. And I owe it to this sport. 
With this book, I hope that others can also realize their dream(s) that might have long been forgotten–through the vehicle that is the moving meditation, life-changing, and character-building force of: swim, bike, and run.
With immense gratitude on Publication Day.
Love to you ALL,
Meredith