"If you want real freedom in your life,
you must make a decision to stop
allowing external events to shape your happiness."
– Tony Robbins
Week 3 of official marathon training is done.
I started to write that don't feel any more accomplished than I did in Week 1 training. BUT, that's not true.  Often, I fail to see the forest for the trees.
Here's the trees:  I am wondering how I will do a marathon, within the cutoff, while pushing a human.
Here's the forest:  I finish everything I set out to do.  (Okay, that's a really BIG forest statement.)
Let's try:
This was my THIRD week in a row of running 10+ miles on my long run, which is a HUGE thing. That's the reality, call it pathetic or whatever.  An ultra-runner, I am not and have never pretended to be.
I can't remember running this many in-a-row long runs since probably 2012, when I was still a newbie.
Because my body likes to break apart (stress fractures, hip issues) when I put a lot of miles on the legs, I've always had to be strategic with running long.  So really, three weeks of a decent build to volume is a good thing. Coach Gerry is doing a great job keeping me in check and healthy.
[For those late to the party, I am running the Marine Corps Marathon in October as a pusher for this sweet boy, Logan, benefiting the Kyle Pease Foundation.  I am doing this marathon AND the training with the Galloway Method, as I mentioned in the Week 1 update.]
Scheduling Thoughts
I had the Peachtree Road Race on Tuesday, then long run Saturday. I missed a long elliptical Sunday for no other reason than I didn't do it. There is no reason to shift blame or complain—because, I don't deserve a participant's medal in training (or in life) right now.
I just need to keep my head down and work.
Nothing is anyone's fault.  I just have to do what I do, and keep moving forward. In running and in life.
Part of being real and honest is being real and honest. I thought I would get the elliptical done— get this, I was even AT the gym, fully dressed with my headphones in my hand.
Then the kids rolled in from the pool with the Expert, and the girl child wanted to go in the girl's locker room with me… and then I just left with her.  It's really funny when I write it all out, actually.
Just one of those days.  No excuses, just what it was.
Otherwise, Week 3 went mostly according to the plan.
| | | | | | | | | |
| --- | --- | --- | --- | --- | --- | --- | --- | --- |
|   | M | T | W | R | F | S | S | Total |
| Week 1 | 3 miles | Strength | 5 miles | 3 mile walk | 2 miles | 10 miles | Day Off | 23 miles |
| | | StairMill | | | Strength | | | |
| Week 2 | Yoga | Day Off | Yoga | Day Off | Strength | 11 miles | 3 miles | 14 miles |
| Week 3 | Yoga | 10k | Off | Yoga | Strength | 10 miles | Long Elliptical | 16 miles |
What I Ate on the Long Run:
I had a late breakfast of blackberries, nuts, coffee, almond milk and chia. I ran for 2:30 with Nuun electrolytes and 2 bottles of water.  Note: the run was LOW Zone 2 and I am using Metabolic Efficiency way of nutrition.
I still say that teaching my body how to be a better fat-burner has been the single-greatest nutritional gift.  It's not an easy or fast process for me, but it's been worth the journey.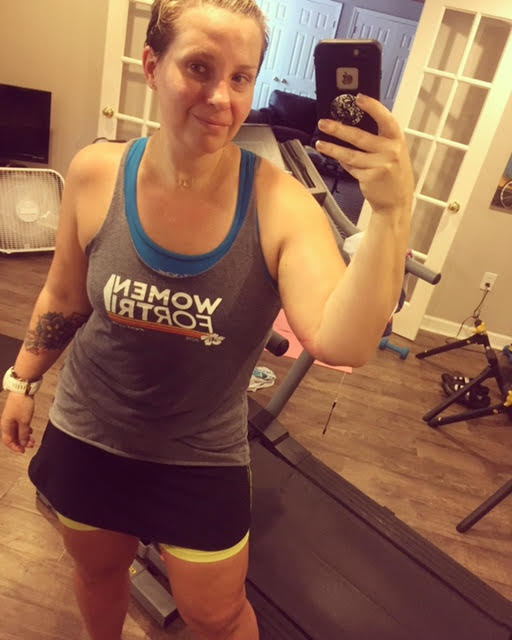 How Training Went
My sleep is for the birds right now. Incorporating yoga has been great.  The long run was fine, though I was surprisingly sore the next day in my lower back and ankles only – I am thinking because I haven't been on the treadmill in a bit for a long run.
Regardless, I am looking at a week of added volume, taking my overall mileage up to about 28 this week, which is starting to crank up the oooomph.
Until next week… 🙂
#TeamLoganSBM #KPFMCM2017
---
Giveaway! NEW with a Donation
If you make a donation to Team Logan, you can then enter the Team Logan MCM Fundraiser Mega Prizes Giveaway, where we have amazing prizes from Saris SuperClamp EX Four Bike Rack, Swiftwick Socks, Tailwind Nutrition, Huma Gels, Klean Athlete supplement bundles, cycling goodies from Cannon Cyclery, goggles from Roka Sports, jewelry from Athlete Inspired, and more.
All you have to do is make a donation (any amount) here, and you will be eligible to enter!  Simple as pie. (Mmmmmm, pie.)
To learn more about the race, Logan and more, please make a donation (no matter how small) to help reach our goal of $10,000 raised for the Kyle Pease Foundation.
Each child costs over $3000 to get to a race like Marine Corps. The good news is that in just two weeks, we have reached $3000! So THANK YOU all who have donated—-$7k to go!
With this fundraising, we will cover the cost of THREE children to have this amazing opportunity at this race OR in the future.  #stoked
Go here.