Spotlight for this post is on SBMAT Ambassador, Margi Stroh.   Margi is an inspirational athlete and a sweet friend.  With Ironman Louisville on the horizon, we wish her a safe swim, strong bike and fast feet all the way to that finish line. 


Margi Stroh
City/State: Boise, ID
Age Group: 55-59
Biggest Inspiration: My good friends, Steve and Julene Andrews who led me through training for my first Ironman.  Julene trained for and completed Ironman Canada while undergoing 6 rounds of chemo in 2012 and the month she returned, Steve was diagnosed with Stage Four cancer.  He completed Boulder 70.3 after 12 rounds of chemo and is currently on hospice.  They are the bravest, most inspirational people I have ever met and they always display a positive attitude in everything they do.  Their son is doing Ironman AZ this year in their honor and I will be travelling to AZ to volunteer at the finish line.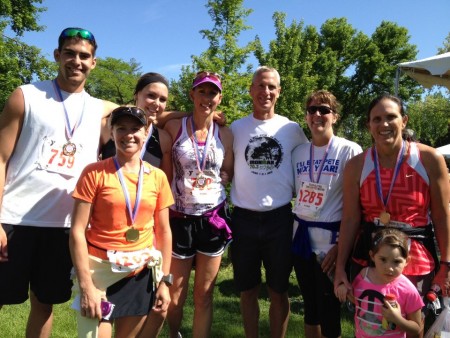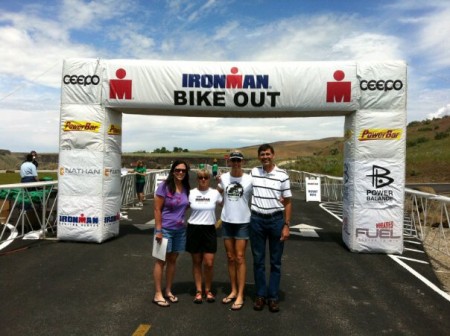 Scary 2015 Goal: (if any) To return to IMAZ and finish without ending up in the medical tent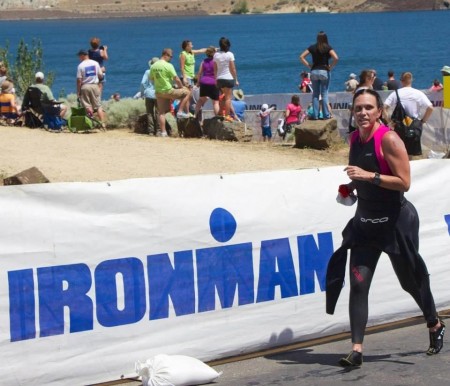 How Triathlon Changed Me:In 2009 I was 60 pounds overweight. I was severely depressed and unemployed. I had left an abusive marriage and my youngest child had just left for college. I had been diagnosed with multiple sclerosis and severe anemia and could barely climb the stairs. I seriously considered jumping in the river and putting an end to my misery. I found a flyer for a group at my local YMCA that was training for a beginner's triathlon and decided to sign up. I could run exactly 1/10 of a mile and hadn't been on a bike or in the pool for 15 years. Every day I showed up. Every week I went a little further. I completed that sprint, a few half marathons and then signed up for Ironman AZ 2011. 2011 was the craziest year of my life. In January I had a hysterectomy. Two weeks later I went back to the hospital with a collapsed lung. I remember shuffling a few steps down the hall telling my daughter, "I have to get out of here I'm training for an Ironman."   In April I spent a week in the hospital with gallbladder problems but talked my way out of surgery because I was, yep, training for an Ironman.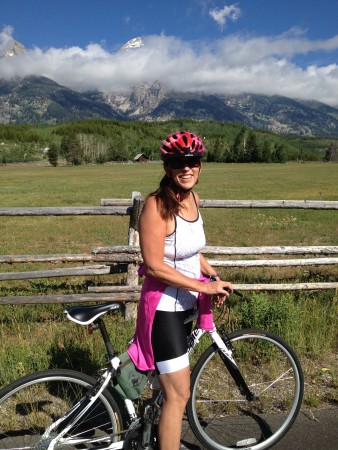 In June I did my first 70.3 despite never having gone further than 35 miles on a bike. I did another in July and started to feel amazing. In August I was hospitalized with a gangrenous gallbladder and underwent major surgery.  My doctor had to call in a second surgeon because it was so bad.  He told me there was NO WAY I could be ready for my race. I was determined to prove him wrong and within a week I was walking 10 miles a day. I made it to IMAZ and finished strong. I changed in ways I cannot even describe. I returned to school to get a Master's degree in Social Work and am back in school for a second Master's degree in Positive Coaching. I work at a job I love counseling people struggling with substance abuse and am introducing them to the sport I love. I am happy, strong and most importantly a BADASS who can do absolutely anything I set my mind to. Triathlon not only changed my life, it saved my life!!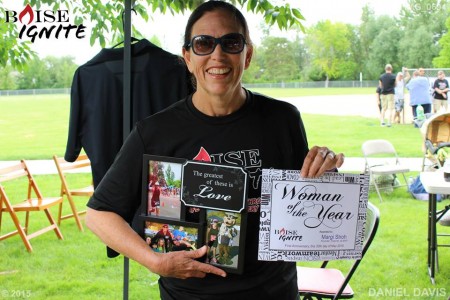 Favorite Piece of Gear: My Hoka One One running shoes.  I have always been injury prone and these shoes have allowed me to do that thing I love best.
I Race For: My mental health and to be an inspiration to my daughters, granddaughters and other women to follow their dreams.  I believe that ANYTHING IS POSSIBLE!!   I also race for my clients to inspire them to stay sober and to pursue their dreams.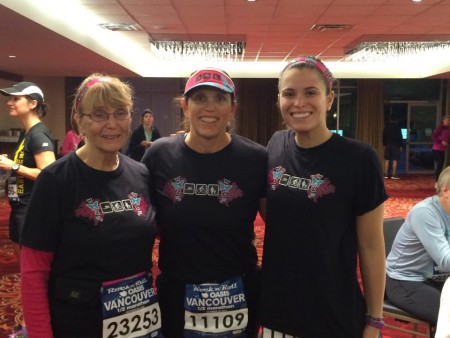 How I Pay It Forward: I have started a business for people in recovery from substance abuse.  This group volunteers at local races and other events in the community.  They are introduced to physical activity such as running, triathlon, hiking, bowling and biking in the hopes that they will learn to live a full active life.
What Else You Should Know About Me:  My greatest happiness in life is inspiring others to get involved in running and triathlon.  I want to be a coach when I grow up!  I am terrified on the bike.  When I first learned to ride a bike I crashed into the curb so many times I was bloody.  My dad tried everything a new seat, handlebars etc. but I still kept crashing.  I never gave up though and finally learned to ride but it still scares me!!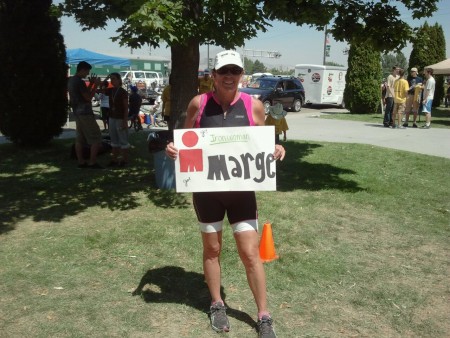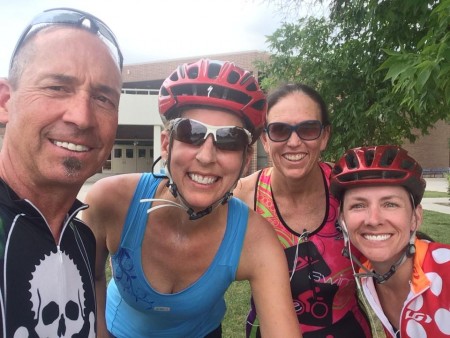 How to Follow Me:
Twitter: http://twitter.com/swimbikegram
Instagram: http://instagram.com/margistroh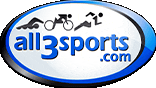 Use Code "SBM15″ to get 15% off through the end of the year at All3Sports!