Spotlight for this post is on SBMAT Ambassador, Sarah Fisk.  Sarah gave me a grand tour of Lake Placid last weekend, and was a finisher there in 2014.  (And yes, she signed up for 2016!). Thank you Sarah for being such a great ambassador and friend!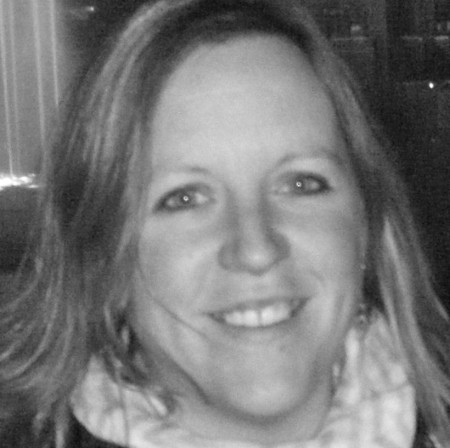 Name:  Sarah Fisk
City/State:  Loudonville, NY
Age Group:  35…. (I'm 34, but with a late year birthday, USAT forces me to age before my time.)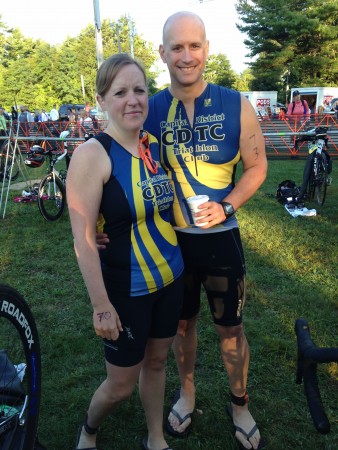 Biggest Inspiration:  This is a toughie… I hate to pick one thing as my biggest or best anything because it feels too definitive to me.  I guess that if I have to answer I will say that my son is my biggest inspiration.  He has such an excitement for new things and I wish I could harness that feeling.  I think as we grow and age we become a lot more cautious and unwilling to try new things.  I wish we could eliminate our fear of trying new things and go back to just being carefree and approach things more like kids do.  Just have fun!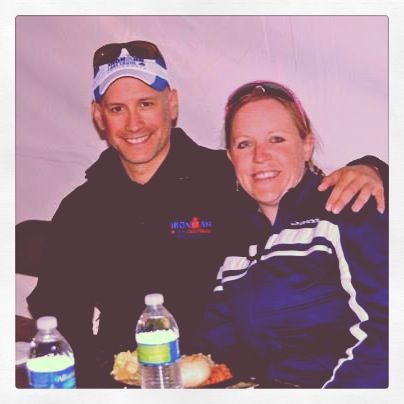 Scary 2015 Goal: My 2015 scary goal is to do a double.  I want to race back to back days.  I have a couple of different races that offer this opportunity that I'm looking at.  I have watched friends of mine do it for the past couple of years, but I never have the courage to sign up.  This year, I want to push myself out of my comfort zone and do it!   My other goals for next year are to really work on speed and power. I have consistently completed races near the back of the pack. I want to work on that over the course of the next year through improving my nutrition, working harder on focused workouts and see where that gets me. This is all going to be the groundwork for having a second go at Ironman. I just need to pick the venue.
[SBM NOTE: She signed up for Lake Placid 2016!].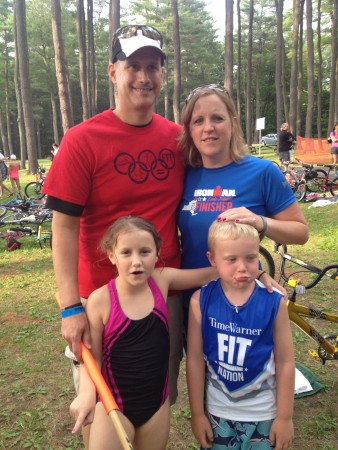 How Triathlon Changed Me:  Triathlon has changed me because it forced me to do something that was just for me.  When I first started running, I was a young mom who had spent all of her time and energy raising a little kiddo who was just around 2 at the time.  In the process, I had forgotten to pay any attention to myself and what I needed to be happy, whole and healthy in my own life.  I started running and I never looked back.  Taking on a triathlon forced me to trust in myself and know that I am capable of doing things that are hard all on my own.  Triathlon has taught me how to overcome setbacks – how to get better, how to put life in perspective, how to reach my goals and how to have fun.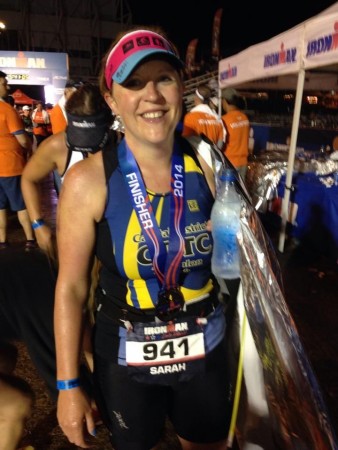 Triathlon forced me to be the one who was accountable at the end of the day.  If I quit, that's on me and if I succeed that too is on me.  I had to force myself way outside of my comfort zone in order to know just what I was capable of.  The sport has given me so much – it was a goal and an escape, it has introduced me to so many incredible people – in life and in the blog world.  I have witnesses some amazing examples of spirit possible – both as a volunteer and as a participant.  While triathlon seemed once like something that was impossible, now it is so possible and it helps to define who I am.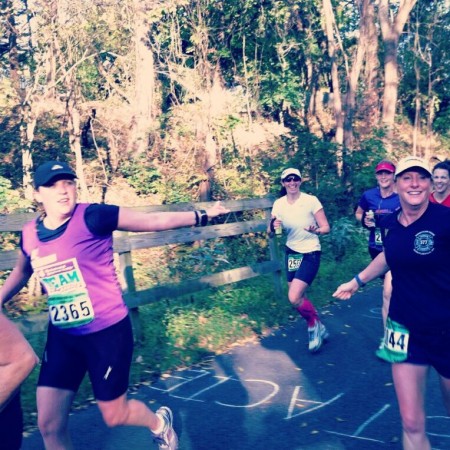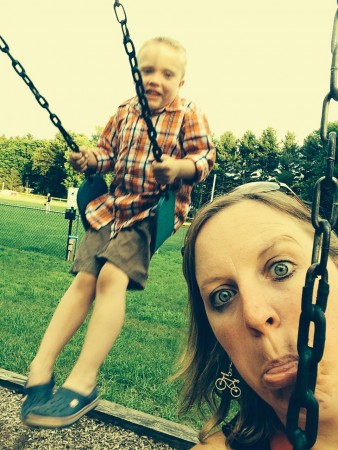 Favorite Piece of Gear:  My Bike… My boyfriend is going to laugh when he reads this.  Three years ago I would go out on bike rides and every time it got hard, I would threaten to throw my bike in a ditch and leave it there.  Luckily that feeling has gone away and I've learned to love my bike.  My bike offers me freedom to go as far and as fast as I want to.  I love throwing my bike in my car on all of our trips because it's the best way to explore a new place.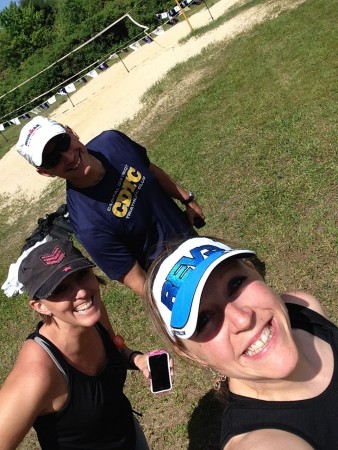 I Race For:   I race for my kiddo so he can see that no matter what your goals are, they aren't too big if you are willing to work for them.  But I ultimately race for myself.  I too need to see that I am capable of anything that I put my mind too.  That is, I am capable of anything I put my mind too if I show up and put the work in.  So I race to hold myself accountable and as a reminder that while I am a Mom, the household cook, dishwasher and more, I am also a dedicated athlete.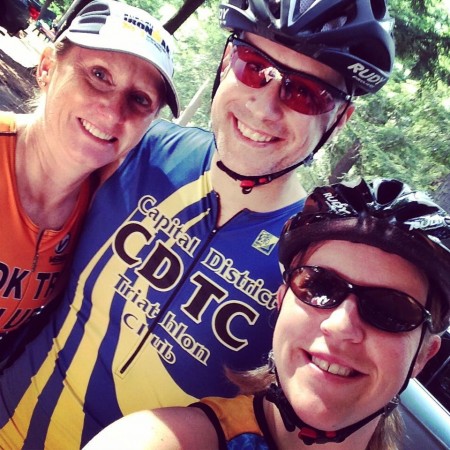 How I Pay It Forward :  I started this crazy adventure by signing up to race a half marathon with Team in Training and the Leukemia & Lymphoma Society.  Fundraising with a community and racing that event remains one of my greatest achievements and accomplishments.  I've since raced with Team in Training for a second event.  It's a great cause and a wonderful group of people.  Lately my way of paying it forward has been by volunteering on my local triathlon committee's board and coordinating things like clothing, sponsorship and next year help to co-race direct our little sprint triathlon.  I really am a believer that it takes a community of committed people to get these things done so we have to make a point to volunteer in addition to racing.  A good friend of mine also runs a difficult half marathon mother's day weekend to raise awareness for breast cancer.  After three years of manning an aid station, it's officially our family's spot on the course and all of the water and gatorade is handed out by our kids.  They love helping!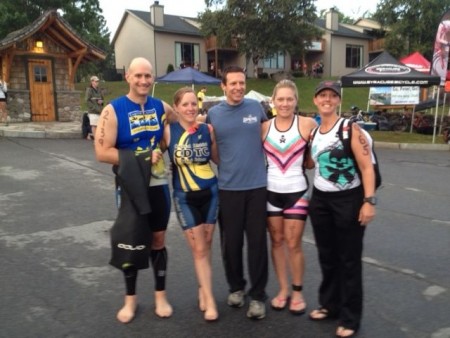 What Else You Should Know About Me:  Geez, what else should you know about me?  My son and I live with my boyfriend and his daughter and we are a crazy family of triathletes.  We frequently train for the same races so this requires a great deal of planning and juggling on our behalf.  With two kids that need our time and attention we have adjusted to doing a great deal of our training in the wee hours of the morning while the kids are sleeping and we've recruited a neighbor babysitter who is willing to come and babysit as early as 5:00 AM.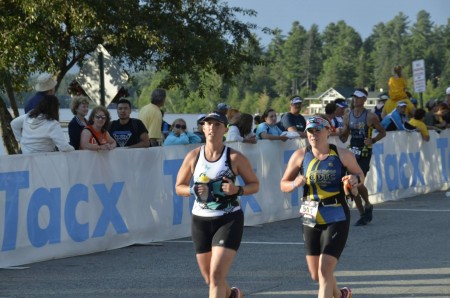 No matter how much juggling and planning is required I wouldn't change it for the world.  My boyfriend is my greatest training partner and the best champion that I could have in my corner.  Without him, I wouldn't have done any of the amazing stuff I've been blessed to be able to do.  In addition to all of the triathlon crazy, I love the outdoors and all sorts of outdoor activities like hiking, snowshoeing, cross-country skiing, etc.  So many people hate the winter, I say go out and play in it.  And lastly I love to cook good food!  I am pretty passionate about making real, good food and not buying crap from the store.  I would probably be a food blogger if I didn't spend so much of my time swimming, biking and running.
How to Follow Me:
My Blog: http://chasingdownadream.wordpress.com
Twitter: https://twitter.com/slfchasingdream
Instagram: http://instagram.com/slfchasingdownadream