So Campbell's apparently now has 33 new soups.  Hooray!  Or whatever.  🙂
I was rifling through the pantry, and found this on the Healthy Kids Chicken NoodleO's.  (No discussion, really, on if this is really healthy soup.)
But…
What was even weirder to me than that  "dehydrated methnically separated chicken" and maltodextrin was the rear label.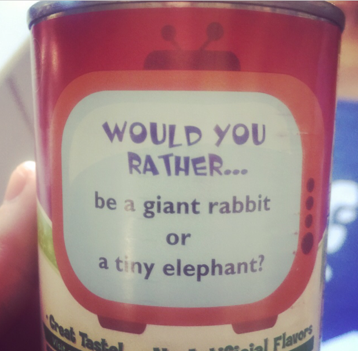 So. All of my educator and educated friends and people who must be clearly smarter than me…
Please tell me why this is a good idea on the back of a soup can for kiddos?
Is this really imagination-inducing?
Or is this drawing attention to the fact that rabbits "should" be a certain size and elephants "should" be a certain size… and therefore, to be a different size would be totally weird?  That to be a SMALL elephant (in a world of HUGE elephants) is laughable?  To be a GIANT rabbit (in a world of teeny animals) makes you gross or weird or silly?
What if the question was about a different shape? Or color? Or what about a rabbit with no tail, or an elephant with a shorter trunk?
Tell me that I am crazy… or that I am having a bad day and I am imagining something that isn't there…
I don't think I like this can 'o soup.
Discuss. 🙂