After seeing these two laidies at Ironman Augusta over the weekend, it just seemed "right" to put them together in one Ambassador Spotlight.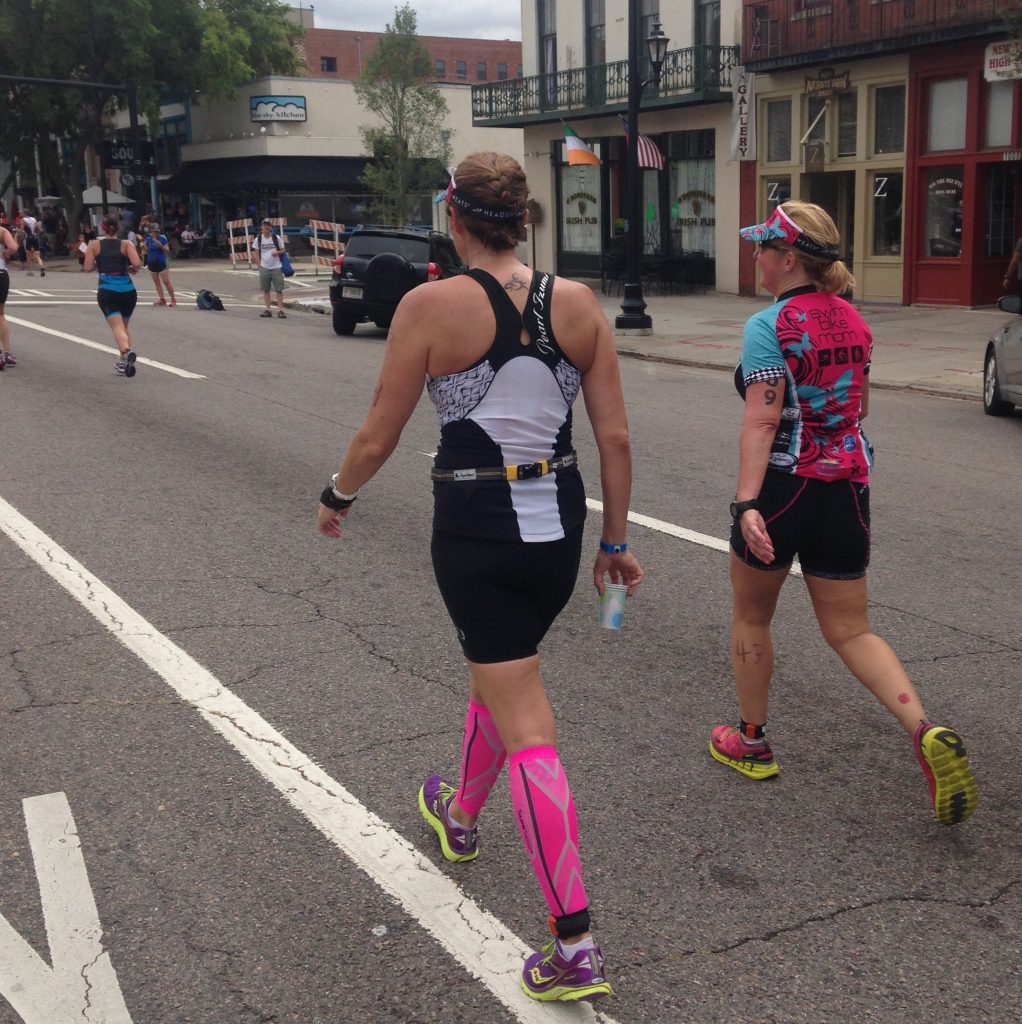 Spotlight for this week is on SBMAT Ambassadors, Cara Will and Margarett Ellison.
They did not meet until this weekend, but they seemed to be fast friends. From my post at the hot pink tent spectating, each time I saw Cara and Margarett they were together on the course.  Cara, having been very sick the week before, and Margarett with orders from her doctor to walk the half marathon due to just getting out of a boot–these two ladies found each other and pushed each other across 13.1 miles of fast-paced walking… straight to the finish line at 70.3!
Perservere. Never Stop. Just Keep Moving Forward.

Cara Will
City/State: Shelby, OH
Age Group: 35-39
Biggest Inspiration: Being the best mom I can be for my kids
Scary 2015 Goal: Complete 6 Sprint Triathlons in the FIT Family Series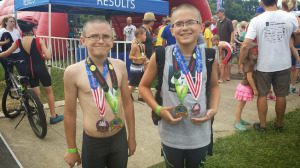 How Triathlon Changed Me: I have become a stronger person, physically and mentally because of triathlons and training.
I now know that the only thing that holds me back from ANYTHING are the limitations I put on myself.
I have always been a goal-oriented person, and triathlons keep me busy, competitive and going in a good direction with my life.
Favorite Piece of Gear: My bike – 'Storm'. I purchased Storm as part of some retail therapy during a rough patch (only triathletes go by bikes, not shoes and clothes). The time I've spent riding this summer has been very therapeutic for me, and I have literally ridden it through some big storms in my life. When I'm riding, I feel exhilarated and free – it's one of the only times I let myself feel that way.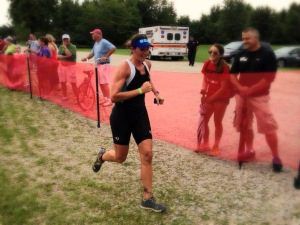 I Race For: I started out racing for myself. I needed something that was MINE. With 5 kids and a busy husband, I felt like I had lost myself. I was running and that was OK, but it was REALLY hard on my body. I needed some variety, so I thought maybe I would try triathlons? I started researching and found the book by our "Fearless Leader," Meredith Atwood. I read the book in one day and new it was what I wanted to do!
More recently, I lost my 16 year old son, so now I race for him. Every step, every mile, every stroke – it's all in memory of those he has taken and for those he will never get to take.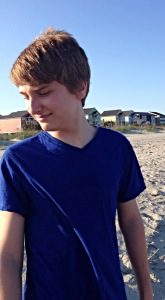 How I Pay It Forward: I talk about triathlons and SBM to just about everyone that'll give me the chance (and some people that don't). Often, I hear "I could never do that."  Well, 2 years ago, I thought I could never run 10 miles (then again, I had no desire to), swim over a mile or ride 56 miles – but here I am. Not because I am an amazing athlete, but because I set a goal and I "just keep moving forward."
I share this message with women in hopes that I will inspire or motivate them to become more physically active. I am hoping that next spring I can organize a Tri group for kids in my area to encourage the sport for future generations.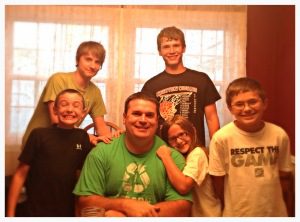 What Else You Should Know About Me:
Throughout my adult life I have struggled with depression, not lock yourself in your room with the lights out depression, but enough that it affected my life and my family. 4 years ago I started going to the local YMCA while my kids were in swim lessons or dance class. Then I started going by myself. There was a wonderful group of ladies that went to classes every day at 8:30am. I started going and got to be friends with the group – and that was it. That was enough for me to get out of bed every day, and once I got my adrenaline going, I was ready for the day. I have since become a fitness instructor at the YMCA and have a great network of friends. Exercising, working-out, training – it is what keeps me going when things are tough.
How to Follow Me:
Twitter: http://twitter.com/caracwill
Instagram: http://instagram.com/caracwill

 Margarett Ellison
 City/State: Atlanta, GA
 Age Group: 47 (45-49)
 Biggest Inspiration: My son just completed his Knob year at the Citadel! If he can get through that, I can get through whatever I put in front of me.
 Scary 2015 Goal: Ironman Louisville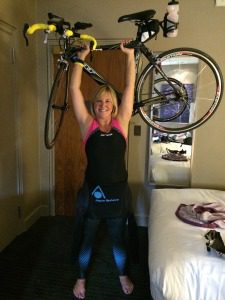 How Triathlon Changed Me: I have spent my life taking care of others and finally decided it was time to take care of myself.  I had been an education junkie and when I had finished getting my MD and board certification for my subspecialty, I continued on to get a Master's in Health Care Administation.
I was about a year and a half into law school (while working full-time with 3 kids at home) when my husband asked me what was I really going to do with a law degree.
Since I did not have a good answer, I gave up studying and started moving.
I cleaned up my diet, started spinning, started running, and then thought why not try a triathlon. I didn't realize that the swim part was the most critical. I floundered my way through a Sprint at Lake Lanier, GA and surprised myself that I finished!  The season was pretty much over but I found a HITS Sprint in Naples, FL in January. Yes, right after we had the worst ice/snow storm in the history of Atlanta, I was jumping into the ocean in sunny Florida. This was a near death experience for me.  It was very choppy, rough with a current in the wrong direction. Before I even made it to the first buoy I thought, "This is it. I am going to drown!" A man in the same race started having trouble. Whistles were blowing all around me and all I could think was that no one would be able to help me when I went under. I realized at that moment I needed to get with the program and get that swim over with. Long story short, I have never felt so great about getting out of the ocean or finishing a Tri. I realized this is no joke, I really need to train for triathlon. I couldn't just go out and "wing it" like I always had.
So Triathlon gave me the motivation to keep my training on track! When I ran the Peachtree Road Race [in Atlanta] this year for the first time I actually enjoyed it because I had trained for it! Imagine that! Triathlon gave me a reason to "just keep moving forward" in every aspect of my life. Somehow having more things to do makes me more efficient. I love having a race in front of me!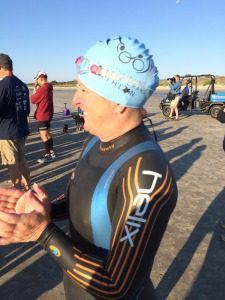 Favorite Piece of Gear: My Camelbak. Even though it is not high-tech, it keeps me hydrated!
I Race For:  To achieve my own goals that I thought were unattainable and to serve as a role model for my kids. And most importantly for all those who for whatever reason can not participate in such events. I think of my cancer patients and their determination to get through their treatment. I think about Marines who would never even THINK about walking. There are so many role models for me out there, I don't want to let them down!
How I Pay It Forward : I am a cancer surgeon, so every day I feel like I am paying it forward so that hopefully if/when my time comes I will be treated the way I have been treating my patients.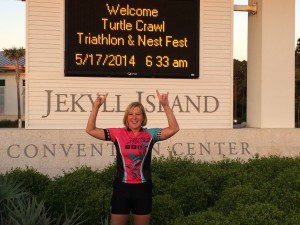 What Else You Should Know About Me:  I have 6 boys! And…when I did my first Sprint tri I said " this was cool but I'll NEVER do an Ironman". Ha Ha Ha!
How to Follow Me:
My Blog: http://www.swimbikedoc.com
Twitter:  http://twitter.com/swimbikedoc
Instagram: http://instagram.com/swimbikedoc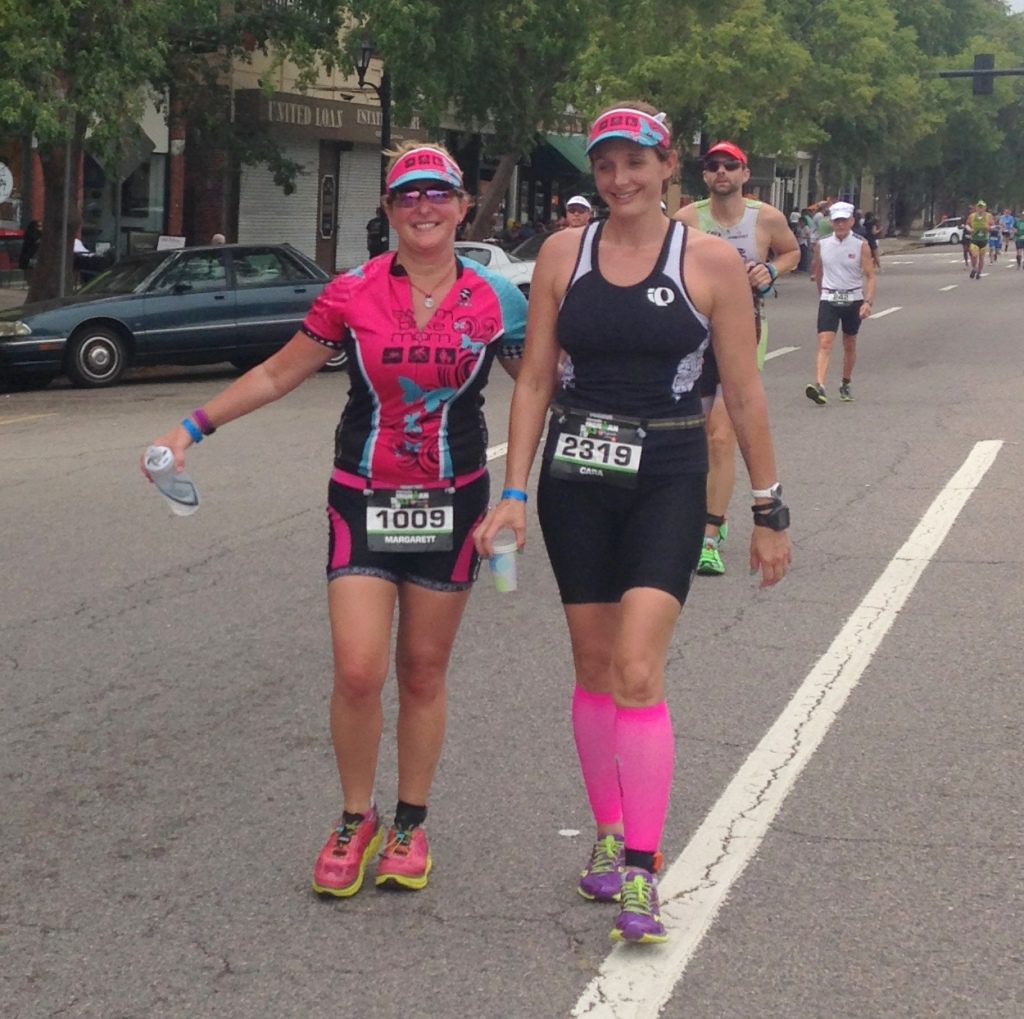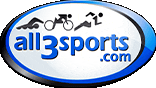 Use Code "SBM14" to get 20% off through the end of the year!