Everyone can understand the sheer panic of an open water swim.
Even my multi-Ironman coach says the mass start in an Ironman is enough to make him want to crawl out of the water. And he's been at it for over a decade.
Suffice it to say that everyone has experienced the fear of the open water, at some point in their triathlete life.
[Well, maybe not everyone. But I have discussed before that 10% of triathletes are actually aliens. If you have never been afraid of the open water, not even once, you are an alien. Period.  In most races, 90% of the people standing on the shore at the beginning of the race will have a pain somewhere on their bodies, a doubt in their heads, and a fluttering in their stomachs. The other 10% (who feel awesome) are actually aliens. See how this works?]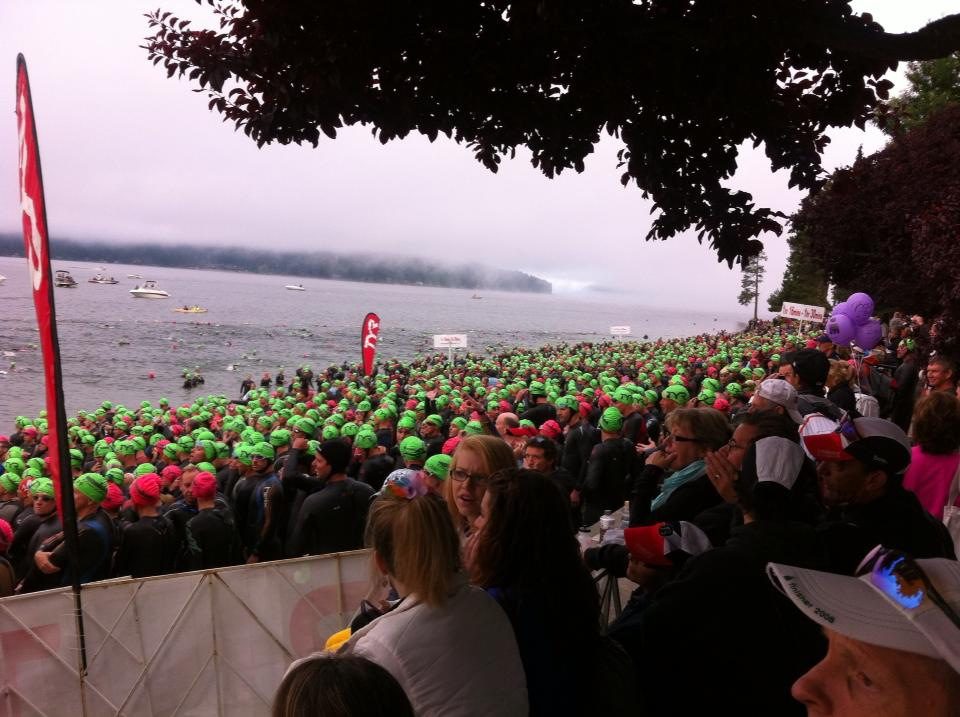 Are you terrified of the swim start? The open water practice? Swimming, in general?
You are not an alien. You are normal.
The worse part about open water—is the first handful of times you experience it.  Of course, the fears and terrors may continue to plague you… over and over… until you decide, "This triathlon thing is for aliens. Duh. Peace out, sistahs."
The best part about open water — the fear is surmountable!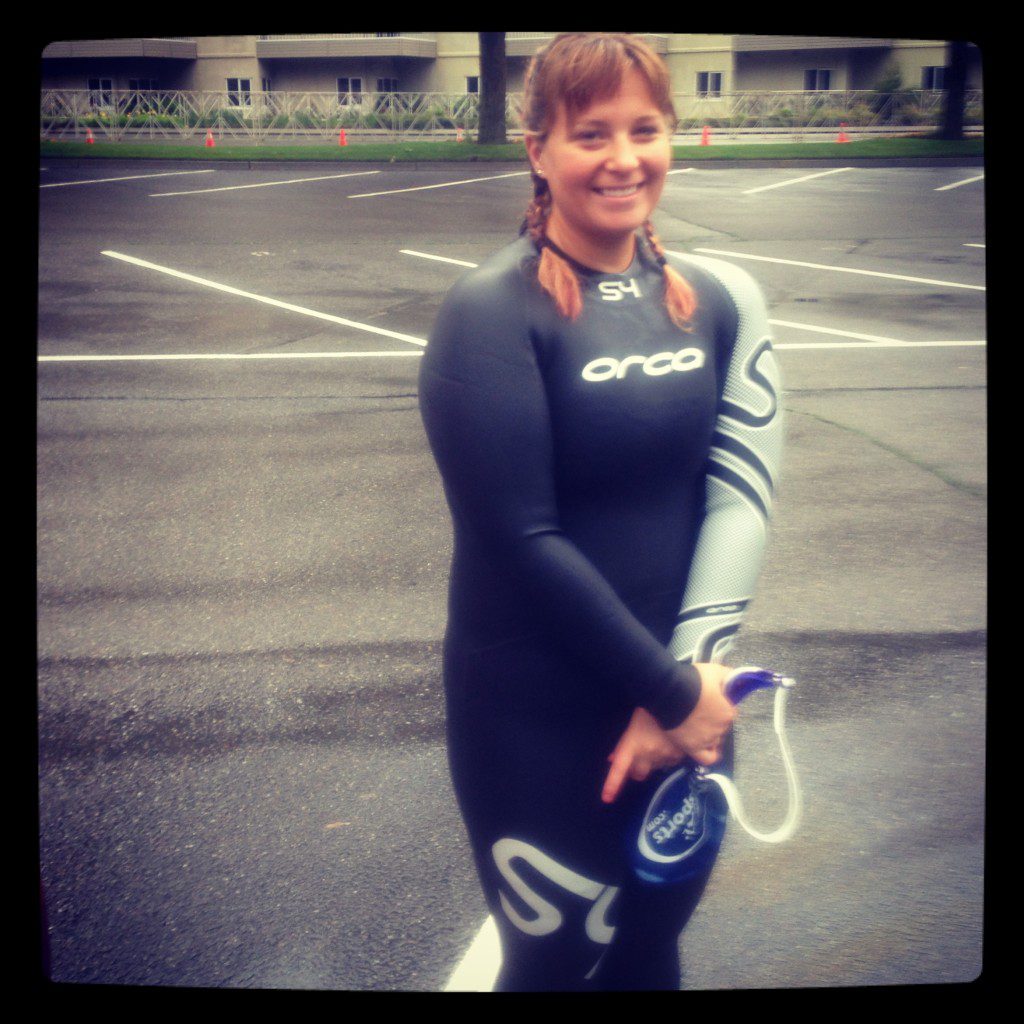 I may have had the worse panic attack in the history of open water swims. Coach Monster says I aged him ten years on that day back in April of 2011. You can read the tale here. Any of you who have been around Swim Bike Mom for awhile know the story. But it was very terrifying, very real and very humbling.
And the amazing thing?  I'm completely, 100% happy to swim in open water now.  Even very cold water …in a wetsuit …for 2.4 miles …with 2,500 of my closest triathlete friends …some who like to punch, kick and hit.
But that wasn't always the case.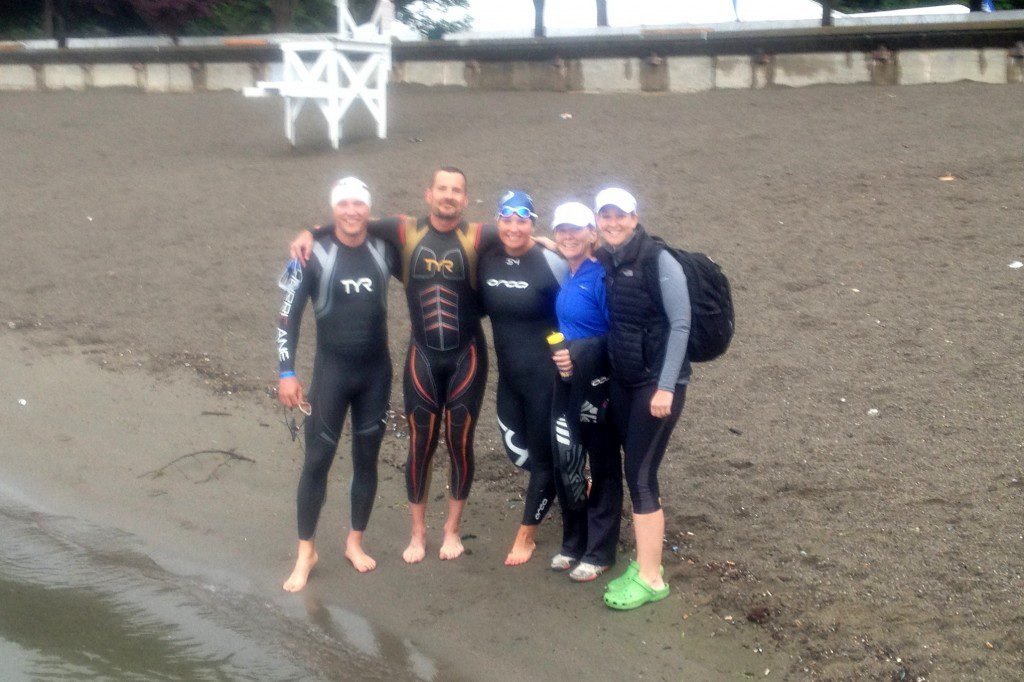 Here's some of the best advice and observations and tips I have about open water swimming, the dreaded wetsuit, and getting your mind in the right place.  My book also has a very powerful chapter about swimming and fears.  Check out the Digital Edition by clicking on NEWBIES on the sidebar.
Oh, and by the way, the triathlon lingo for Open Water Swim is "OWS" …be in the cool club and use it anytime your write about it.
1) Know how to swim.
This may seem like a no brainer.  But while 10% of all triathletes are aliens, about 25% of triathletes have no brains. The other 65% are just insane.  So you see, we are all hosed.  Just kidding. Sort of.
Be very comfortable swimming in the pool before you attempt to get in the lake, ocean, bay, pond, river or septic tank near you. You should be able to swim a decent distance, continuously, before attempting open water. I would say at least 400-500 meters (16-20 lengths in a pool).
Why?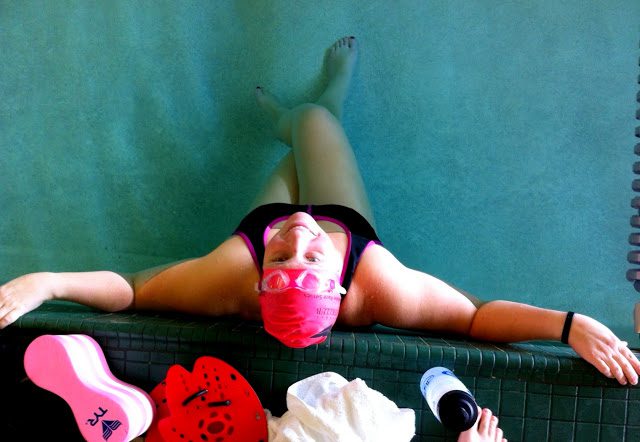 Well, because in the open water, there are no walls, or sides, or resting places.
So you need to feel confident that you can swim the distance without needing to stop.
Also, learn to bilateral breathe in the pool (breathing on both sides).  This is especially helpful in the open water because sometimes, you might be breathing on the side with the sun or the waves… and you might want to switch it up.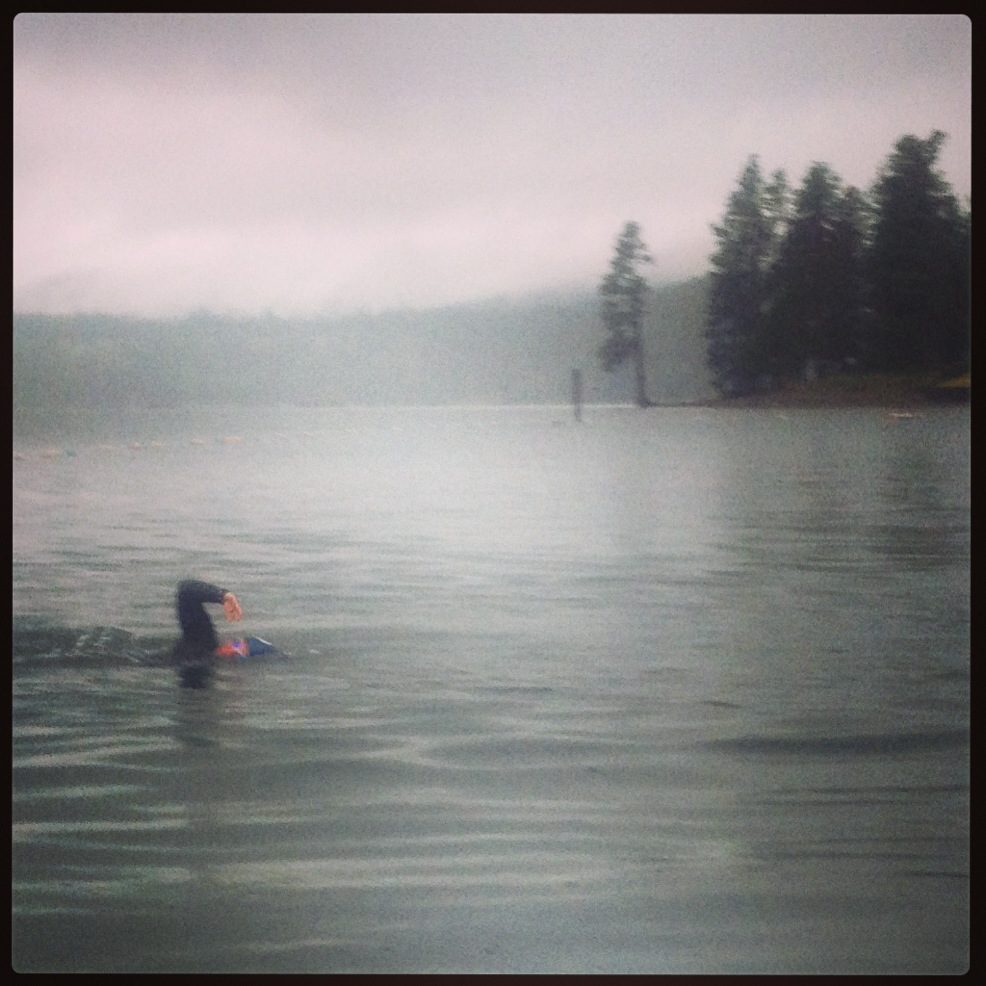 2) That being said…
I encourage every beginner, on their first OWS, to swim parallel to the shore, at a depth where she can stand up and rest, if needed.  Don't just swim straight out to the big cruise ship anchored a mile away.  Take your time, find a spot about chest-deep, and swim along the shoreline.
If you feel nervous, just stand up.  Compose yourself, catch your breath, say "I can do this," and get back to it.
If you know that you can swim 400-500 meters continuously and you swim parallel to the shore for your first time, you will have a much better experience.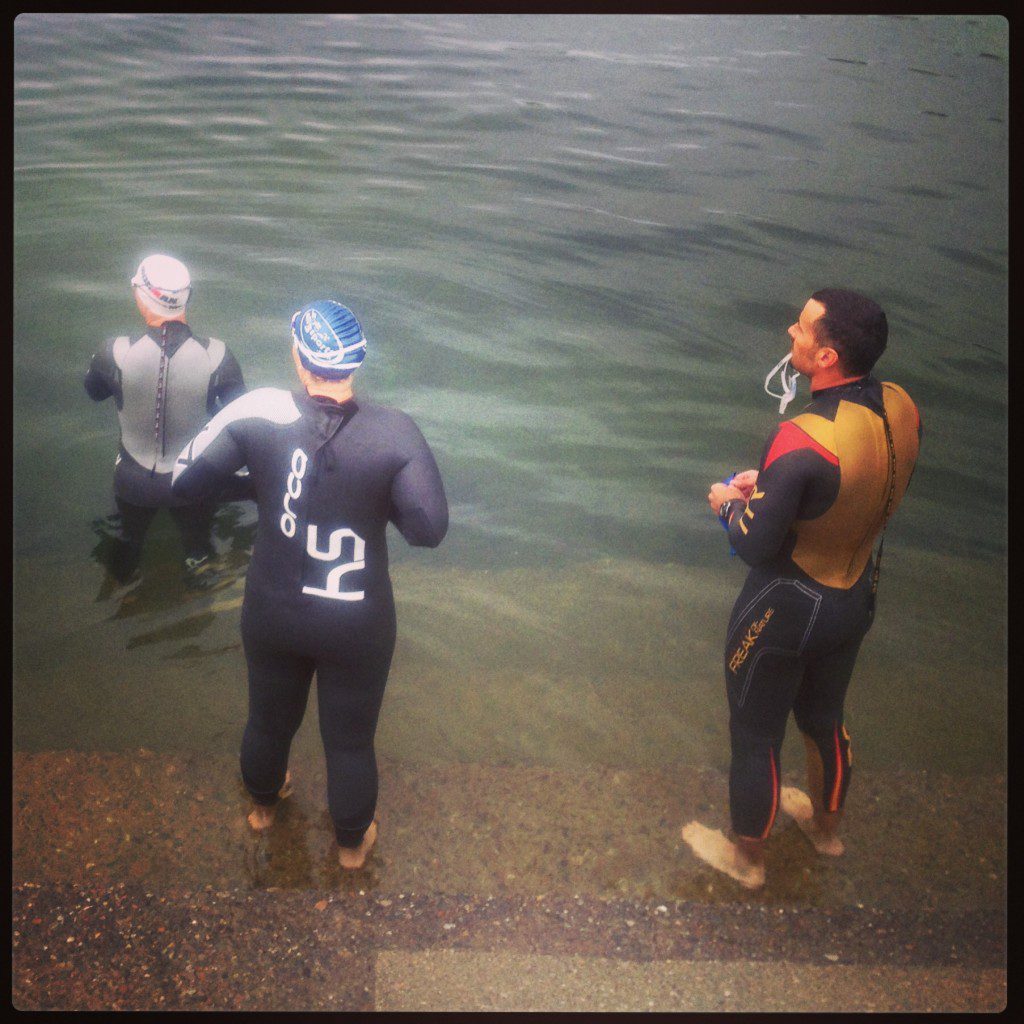 3) Practice in the open water at least 5 times before your first race.
I receive messages from women who write, "My first OWS will be this weekend…"  And then I hold my breath because the next few words make me craaaaazy. "…in my first triathlon."
Arrrrghhhh.  Ladies!  No!  Do not get in the open water for the first time in your first race.  That is insane!  You are setting yourself up for failure, for danger and for a terrible experience.  [Of course, the aliens discussed above, may disagree.]
Practice at least 5 times before your first race.
I had swam in the open water only three times before my first race with an ocean swim.  I was a very strong pool swimmer (putting down 2000-2500 meters, 2-3 times a week). But three times in the open water was not enough before my first race.  Five times would have been great.  100 times would have been better.
Do not swim alone.  Have a swim buddy go with you, preferably someone who has experience in the open water.  If not, then both of you definitely stay where you can touch the bottom.
This is often my buddy. (He's wearing my wetsuit here).
Having a few open water experiences pre-race teaches you a few things:
– What are your open water weaknesses?
– How strong mentally do you really need to be?  In other words, are you reasonably comfortable in the water and you can say, "Go get 'em tiger" and be okay?  Or are you going to need some serious affirmations, daily-Stuart Smalley style, to make race day happen?
– How does your wetsuit feel? (if applicable) Do you have enough lube in the right places? (discussed below) How do your goggles fit, etc.
4) Sighting.
Sighting is the process whereby you peek your head out of the water to see where you are going in the open water.  Because there are no lines on the bottom of the lake to follow, you have to pick a focus point (outside of the water, in the distance) and check to make sure you are swimming towards that at all times. The focus point will, obviously, change as you progress towards it.  Usually you can use buoys for the race course as a point to sight, but it's important to become flexible with sighting points so you can adapt on race day.
You can waste a ton of energy and time swimming off course from failing to sight.  And lifting your head too far out of the water. Trust me, I know.
You can practice sighting in the pool with swimming with your eyes closed for some strokes, then lifting your head to sight, as described here in a good article on sighting.
5) Wear your planned race attire during your OWS practices
It goes without saying that you should wear your wetsuit to practice if your race will require a wetsuit.  (Note: not all races are "wetsuit legal" – check with your race director, the triathlon clubs and athletes in your area and inquire. Not all wetsuits are USAT legal. Go here to read more about the USAT rules about wetsuits.)
I will discuss wetsuits below, but what goes under your wetsuit… or what you swim in without a wetsuit is important, too.
Living in Georgia, our waters are pretty much warm after mid-May.  Therefore, most races in Georgia after May are not wetsuit "legal."  Therefore, I practice swimming in my triathlon suit that I will wear the entire race, or a swimsuit.  Go here to read about what to wear on race day.
Practicing in your race day gear is important because it will tell you many things:  Is the suit a good fit? Does it ride up in the front, the legs?  Do I like the fit? Do I have "hot spots" that are chafing?
You will know well in advance of your race if you need to correct these issues, and you'll have plenty of time to do so.
6) Lube it up.
If you are wearing a wetsuit, the lube is particularly important.  (See video below).
But the same goes for standard tri clothing. You have a lot of skin-on-skin contact going on during a swim.  Put some TriSlide, Body Glide, or Aquaphor around your bra straps, armpits, neck and shoulders before you swim.
You can find Aquaphor anywhere, and TriSlide and Body Glide on Amazon.com or at All3Sports.com  (use discount code "SBMALL3" for 15% off your first purchase).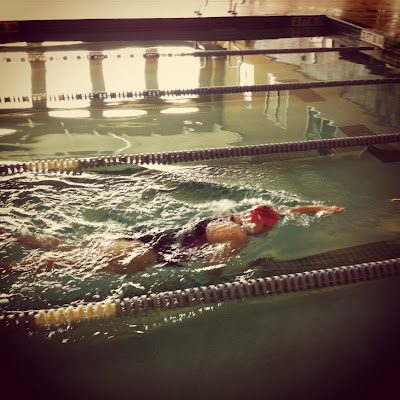 7) The Wetsuit
Wetsuit shopping is hilarious.  Here's a link to my first post about my first wetsuit. What a fiasco.
The best thing to do is get fitted for a wetsuit.  Find a local triathlon store and make an appointment. They'll put you in a decent entry level wetsuit, tell you how to put it on, and more.
I have worn an Orca S4 this season and was pleased with it.  I hate the brand Orca for the sake of me being a larger gal… but they make a good suit that is generous in sizing.  I wear a Men's 8 or 9.  The Expert wears a Men's 10.   Xterra makes a good suit too – I have worn a Men's L in their sleeveless entry level.  I have a Blue Seventy that's on its way to me, but I can't speak to these yet.
Either way, you'll want to get fitted.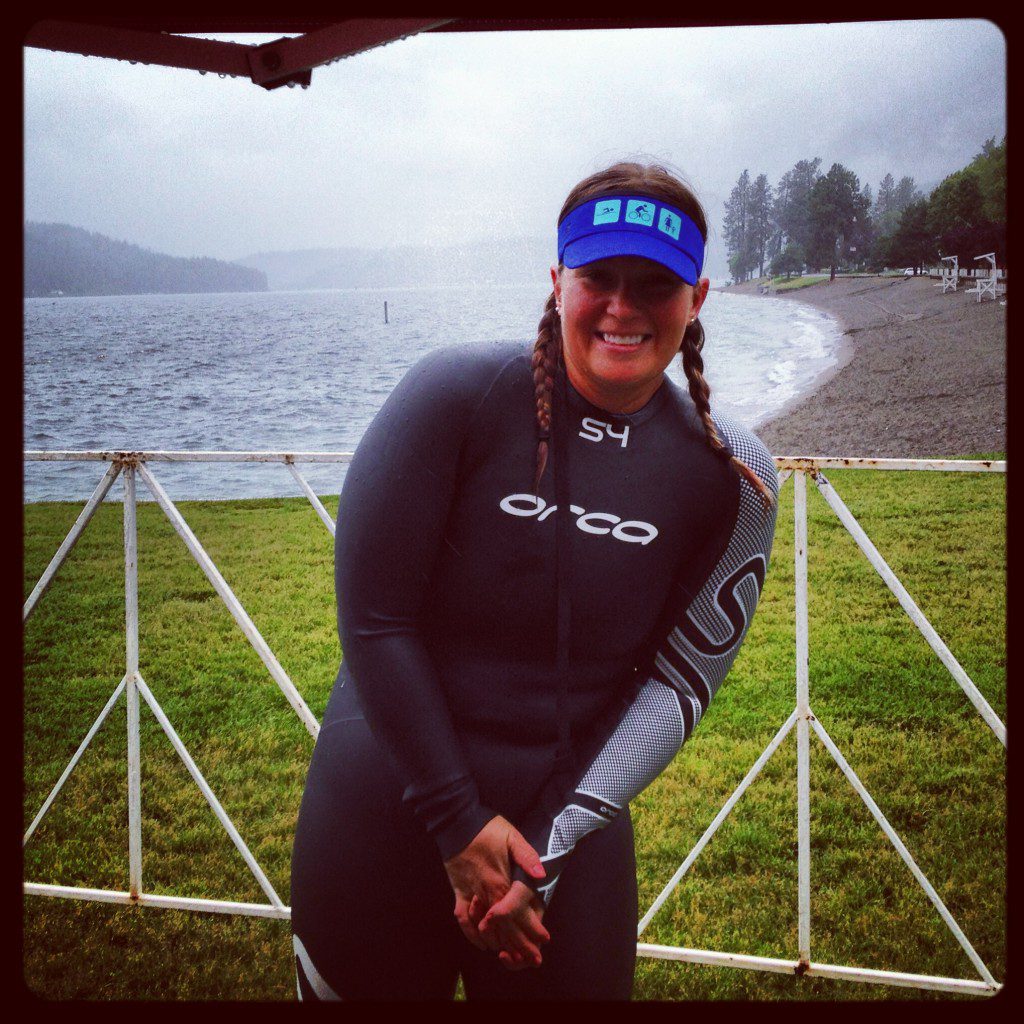 The next trick is actually putting on the wetsuit.  Again, the folks at the store can help you with this, but here's a decent video about putting on a wetsuit. [And he's not exaggerating with the amount of lube spray].
*Be sure that you pull the wetsuit UP as high as you can before putting your arms in (think: panty hose… get it up high in the crotch!). It will make the pressure on your shoulders and chest much less, and ensure that you have enough suit for your shoulders and arms to move comfortably.
If you don't live near a store for a fitting, I recommend following the sizing guide very carefully on the wetsuit manufacturer's website. The suit should be very snug (very)… because it loosens up in the water.   Use great care in trying it on at home — you can't use the lube on the suit or many won't let you return it — some manufacturers allow one swim, so just confirm before you go wild.
Sleeveless or full-sleeve?
Whether to purchase a full-sleeve or sleeveless depends on your race goals, your comfort level and the water temps.  If you will be swimming long distances in cold water (below 65 degrees) over long-run, go ahead and get the full-sleeved one.
If the pressure from the suit scares you or your water temps are warmer (over 65 degrees) a sleeveless option will relieve some of the claustrophobic feelings and keep you warm enough.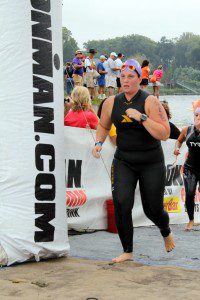 If you are rich and money is no option, buy one of each.
If you are thinking of renting/borrower a wetsuit for race day, just make sure that you find a similar one to practice in.
If you are looking for some used, or older wetsuits, check out SwimBikeSell.com — we have many in stock for low prices.
8) Cold water willies.
Ease into the cold water.  Don't jump in like a crazy person and try to swim right away for your first time. It will shock the system.
Instead, wade in up to your knees, acclimate.  Then your hips, acclimate.  And so on.  When it comes to your face, put your face in the water and out a few times.  Once you have spent 3-5 minutes acclimating, then begin to take a few strokes parallel to the shore.  The cold water is often shocking and you want to take your time.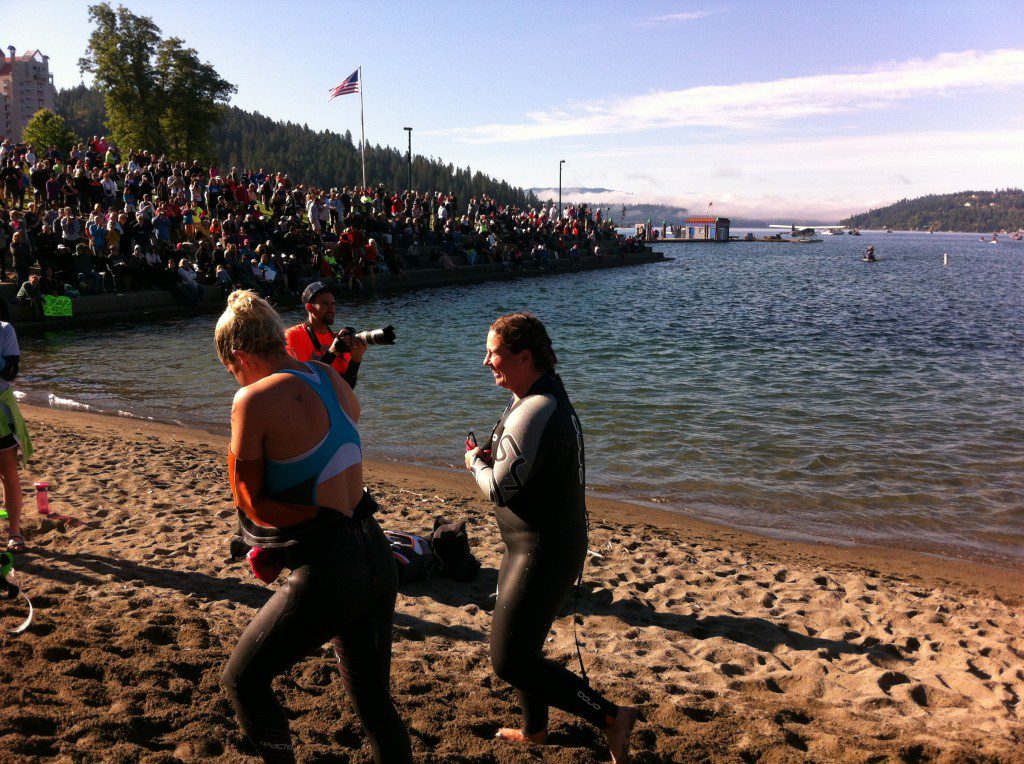 Not only is swimming in chilly water full of challenges itself, but the wearing of the wetsuit is a mess.  Be prepared for a pressure on your shoulders and chest.  Mentally acknowledge that it will feel different, and appreciate the wetsuit for: keeping you warm, and being a lovely added bit of floatation.
9) How to do it.
Some practical, yet obvious tips, I have go something like this:
– Put your wetsuit on at your car and have your buddy help zip you up. Don't try and put the wetsuit on while you are on sand.  It's a mess. Have a small bottle of water to rinse your feet afterwards. Coach Monster is prepared enough to bring WARM water, which is wonderful when it's 50 degrees out and the water is 58.
– Don't worry about what you look like.  Seriously.  Very few people actually look good in a wetsuit.
– Wear your flip-flops down to the water's edge.
–  Hide your car key in a towel or baggie, or have someone watch your stuff.  Put on your cap and goggles on the shore, or as you get into the water.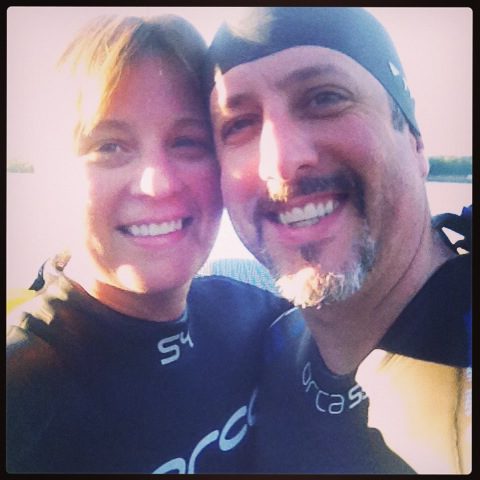 – Once in the water, swim as you normally would in a pool, only with sighting.  You should sight at least every 5-8 strokes, to keep you on the right course.
– Breathe on the side that is most comfortable for you (or both sides, if the water is calm), switching up if the water is choppy or the sun is to one side.
– Make sure that you EXHALE all your air under the water – this will keep your breathing regulated.  Failing to breathe out can start the cycle of panic, so keep your breathing as calm as you can.
– Keep your safety in mind at all times.  If you are freaked out, then stop. Regroup. Safety first, always.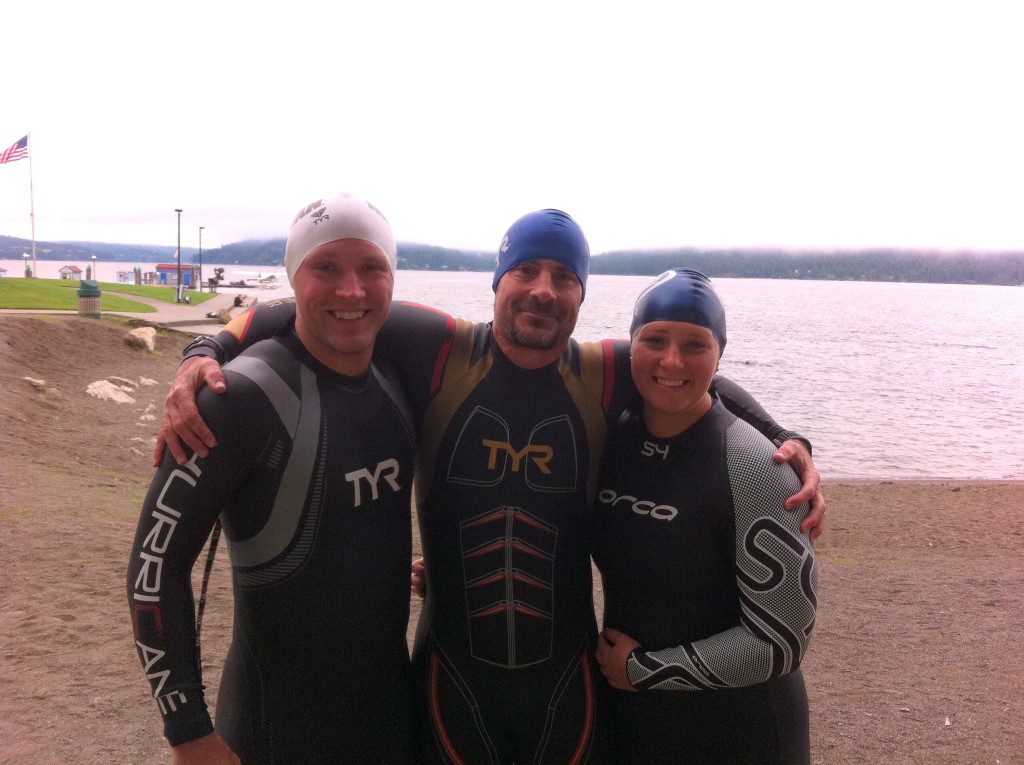 10) Simulate the swim start.
After you have been in the OW a few times, take 5-10 of your buddies down to the lake and start at the same time and swim close together to simulate the crowd of a swim start.  It's fun and silly, and will also give you the idea of someone bumping up against you.
At the start of your race, if you are particularly concerned about the crowd in the water, just wait a minute or two for the crowd to dissipate, and then enter the water.  The comfort will be worth the few minutes.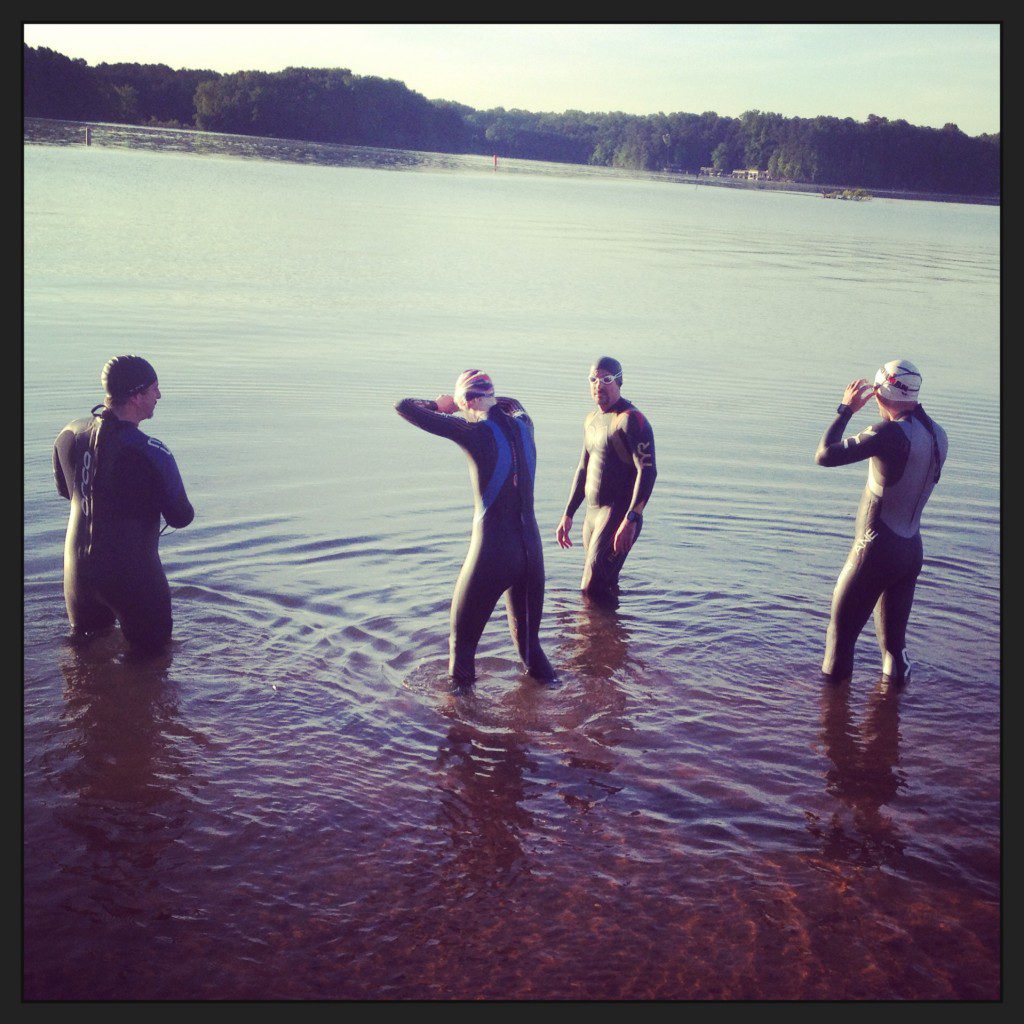 11) Use your mind as your strongest weapon.
Finally, the best thing you can do besides practice your OWS is to prepare your mind for it.
Keep your thoughts positive.  Don't even utter the words "panic" or "fear" or "I can't."  Say "I can do this" in your head—every day. Every morning and night and every swim.
Prepare mentally during your swims in the pool with continuous swim workouts.  Don't let the OWS fear paralyze you. If you have a bad experience, get back out there. Practice more often and slay the fear dragon.
You can do this!