This was more of  a question.
How do you find motivation?
After Ironman, I figured I would be all pumped and ready to rock out the sprint tri I have this coming Sunday… and Augusta 70.3 in 8 (?) weeks?  But I just want to lay and sleep and eat like it's my job.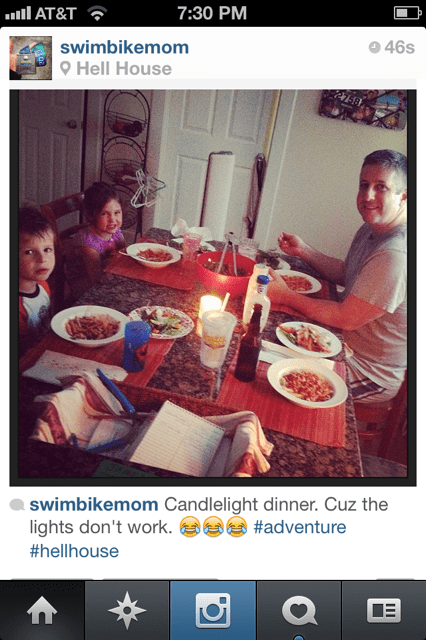 [Granted, living in the Hell House during Houspocalypse 2013 might be contributing to parts of this.
The above picture was dinner Friday night.  Then a few hours later, this happened. Spontaneously.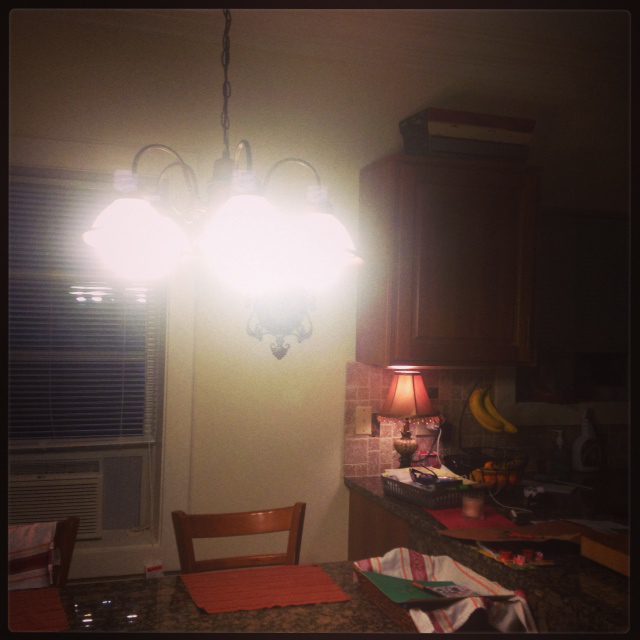 Can't say our life is boring. I'm really excited because this is the week we'll be suing the management company's pants off.  Ooooeee, nothing like litigation to keep the stress down. (Face in hands.) ]
Anyway…
So when life is insane how do you find motivation?  What's the big secret? How is that some people are so motivated and focused and determined? What is wrong with us …that we can't be like them?
Nothing is wrong with us.  I think even the most motivated, most disciplined people still struggle with moving forward and getting everything accomplished. Here's the best tips I have for getting going, when you want to sit and mope.
Show Up.
One of the Swim Bike Family's favorite quotes is Woody Allen's, "90 percent of life is just showing up."  When you are dog tired and depressed and losing your mind, the last thing you may want to do is hit the gym, or strap on the running shoes.
But show up.  Go. And you will feel better.
Break the Bad Behavior Cycle.
Oh, easier said than done as I sit here planning another Filet-o-Fish lunch.   Okay, I am kidding.
Who knows if it really takes 21 days to break a bad habit, but I do know that inserting good behavior (e.g., "showing up" as mentioned above), will help to break the bad streaks. Coach Monster always tells me to not let the bad behaviors take hold.  Years and years ago, I would go on month (and then year) long bad streaks. Now, my bad streaks seem to last for much shorter durations, because I am making conscious choices to at least try and do better.
Trying to break the cycle does wonders.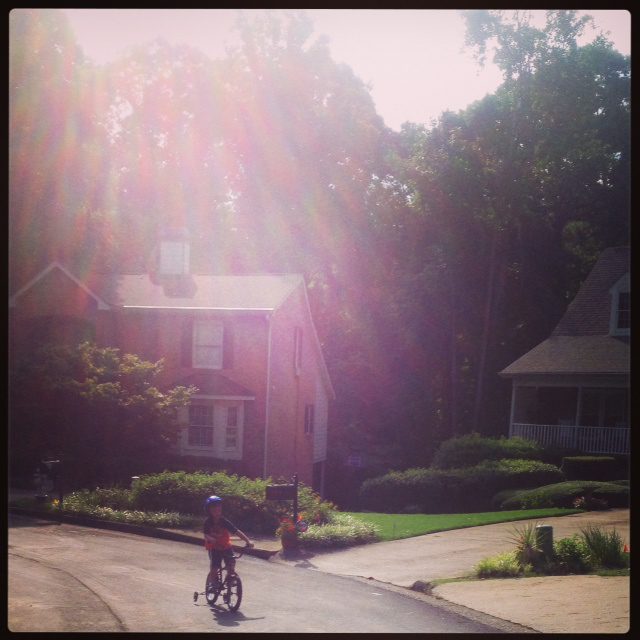 Say Nice Things To Yourself.
And now you all laugh, because I am the queen of self-deprecation.
But saying nice things to myself really does get me motivated.  Good job on that run.  Just Keep Moving Forward and you'll get there.  Look how far you've come.  At this rate, you'll meet your goals.
Even if the "nice things" you say aren't true -say them anyway.  Get your head moving in a good, motivated direction.
Suck it up, Buttercup.
Stop whining and make changes.  It's hard to look at myself in the mirror and acknowledge what I want to change and continue to say nice things to myself. But that's the key… summoning the encouragement and keeping the change coming.
The best way to do it—– is to suck it up. Make changes. Make it happen.
Be a Groupie.
[This picture (above) of my FOUR year-old daughter loving this guitar player at the restaurant does not bode well for the teenage years.]
But it got me thinking about the importance of hanging around the right people.  Avoiding the energy vampires—hold your garlic close. Be a groupie for the right kind of people. Maintain a greater distance between yourself and your bad-behavior friends.  Tag along with runners, cyclists and people who eat well.  It matters.
Set Your Goals.
Goal setting is a big deal.  Pick your races, your goals and write them down and pay the registration fee.  [Be careful of RRCD, though.]  But yes, pay the money and register. Having that goal on the calendar and knowing you ponied up some cashola for it… makes a big difference.  And finding a training buddy who has registered for the same race will also help keep you on target.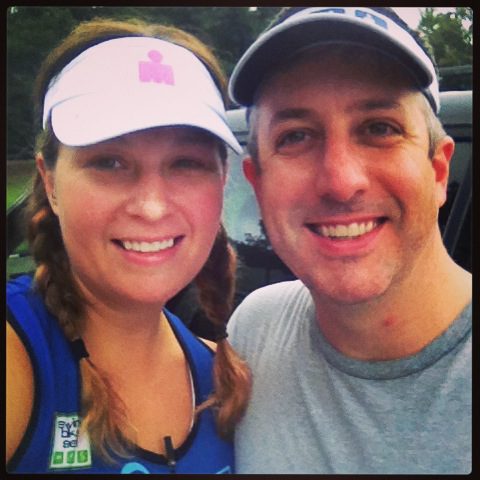 Be Grateful.
As you are trying to find your motivation, remember to be thankful for what you have, who you are, and what you can do.
Do you want to be better? Sure. But recognize where you are and be thankful.   Be grateful that you have a body that can get stronger and better and faster.  And breathe.
Then go.