Greetings! Virginia here for SBK.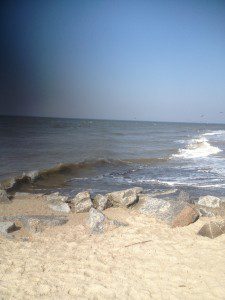 This week I am on vacation at Edisto Beach in South Carolina. We take this vacation each year with my parents and sister. It is always a great time full of family, food, and sun. This year it also coincides with the start of my 16 week training plan for Augusta 70.3. I decided to include my boys in as much as possible, so we brought their bikes down.
Monday I took a bike ride on my own and then a short ride with each boy, separately. It was a lot of fun. Yesterday, Wednesday, I decided to take the boys out together. We also decided to put the bike computers on their bikes so that they could see speed, etc. We headed out and at first were having a ton of fun. It is very flat down here, so the boys were finding big success and faster speeds. Unfortunately about 4 miles in, my younger took a nasty spill. I was in front of him, so I didn't see him go down, but I heard it. It sounded like my worst nightmare. I jumped off of my bike and ran back to him and he was on the ground screaming. At first glance, it looked like a nasty scraped knee. I was able to get him up, but I had no phone with me (bad mom), so I had to calm him down and start walking. I realized that his knees were both banged up, his arm was really bleeding, his face was a little scraped, and his hip was big and red. We walked for a few minutes, but realized it was going to take forever to walk home, so I finally convinced him to ride home. It was just the saddest thing because he rode home, so bravely, whimpering all the way back.
When we got back to the house, we bandaged him up and he spent most of the day on the couch. Today we changed the bandages, and he is just so "gooey" and hurt. He can't swim in the ocean; he's very sore. I feel so sorry for him, yet I also feel so lucky that he wasn't hurt worse. I know it could have been so much worse. I am also really afraid. I'm trying to be brave to him, because I don't want him afraid, but I feel so worried about them now. It is hard to see your child hurt….
These pictures really don't do it justice….he's a battered little man right now.
To make matters worse, last night I read a blog on Facebook about a man from my hometown who died in a bike accident on Tuesday. Here is the link to the article if interested (http://steepclimbs.com/2013/06/12/rip-dr-ed-hudson/). Though I do not know this man, I am so sad about this. It makes the fears hit home. It was a freak accident, from the way it sounds. Any of us can have a freak accident. It's life….You can't be scared of life….but how can you NOT be scared? Last night I had nightmares about this. Real …. scary … nightmares.
So, my kiddo still loves triathlon….he keeps telling me that….but his mom is a bit scarred and scared. But…….again….I'm going to just keep moving forward. This afternoon I found this sticker in a little shop in town. I think it is a sign. Tomorrow morning I'll head out for my scheduled ride and try to "Enjoy the Ride" because, despite the falls and fears, Life IS Good.