This is a sponsored post. All opinions are my own. FTC Disclosure here.
COUPON CODE for 15% off at www.EC3DSports.com! I've got it for you! USE CODE: R49N9K27X1PT1  Good through June 10th.  
People are passionate about their compression gear. I have never been a big fan. I wore a pair of compression full socks for my first half Ironman, and the socks rubbed my feet completely raw. But I also wore them for the first time on race day (NEVER try anything new on race day, people…never!).  So anyway, I never really returned to compression.  Plus, compression usually creates the illusion of thinner calves, but really fat knees.  I have fat knees right out of the gate. 
So when EC3D Sports contacted me about trying their compression gear (not only socks and sleeves…but also a bra top! What? People compress their boobies??!?)… I thought, I still don't think compression is for me...  But after talking on the phone with a fellow triathlete at ECD3, I was convinced to at least try the gear.

So today was the day. I had a 45 minute elliptical session, 3 mile run, and then another 45 minutes on the elliptical.
I did not coordinate my clothes very well, but I was at least prepared with my compression gear. Downside of the gear? The fat knees were still present. But that's not the gear's fault. Wah wah.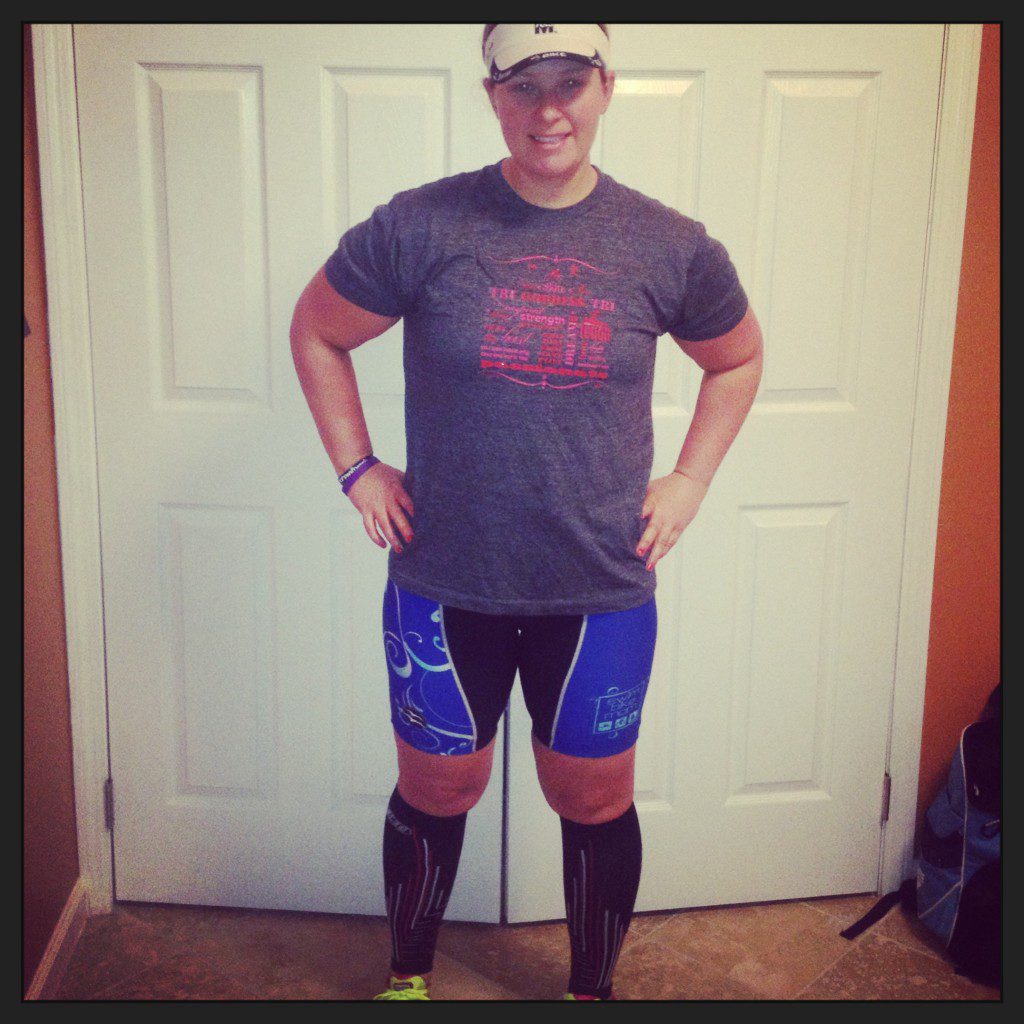 I went with the red & black because my Tri Bike Team kit for Coeur d'Alene is red & black… (and also, it's great to be a Georgia Bulldawg (!)), but Ec3D makes pink and white options as well.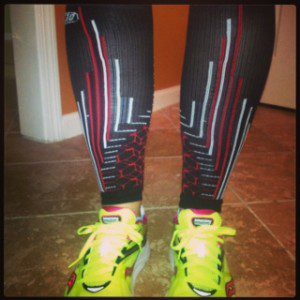 I had a great run, and I really enjoyed the support from the sleeves.  So what's the point of compression?  Well, according to EC3D's website, the medical industry has long recognized the healing benefits of compression garments. It works because the balanced surface pressure that compression garments provide triggers improved blood circulation, which delivers more oxygen to working muscles. Better circulation also enables the body to eliminate lactic acid and other metabolic wastes that can cause muscle fatigue. Because compression garments also stabilize the musculoskeletal structure, they can prevent and even treat injury once it occurs.
All of these things sounded good to me.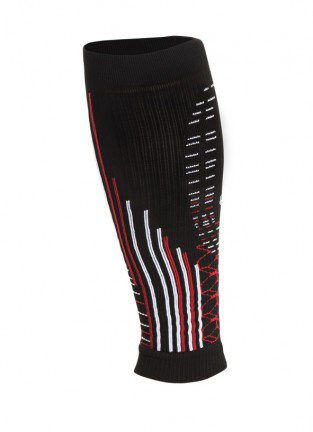 I will continue to use them on my runs, and will likely use the sleeves for the Ironman, depending on the heat factor on the day. I am going to try the recuperation calf sleeves this evening.
I liked this bra top right out of the package.  I am funny about sports bras.
The first thing I noticed was how nice the fabric was. There were no seams—so I was thinking that would mean less chafing!  And the support was awesome. Targeted support. Wide shoulder straps. Cute colors.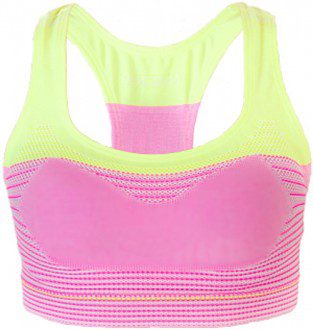 Seriously, it was an incredibly comfortable, supportive bra top.  The bouncing and jiggling was kept at a minimum. Very breathable. As you can see from the picture, the compression is targeted above and below and on the side of the boobs. I had less of a uniboob than with a normal sports bra, but more support.
So. I am a big fan.  Order the bra top according to your measurement around your rib cage—just like a regular bra.
Overall, I am glad that EC3D approached me, and I am definitely a big fan of the bra, and a pretty decent fan of the compression sleeves.
So, I guess it was a win-win situation!  My calves felt much more stabilized during the run, and I can see how it will help with the fatigue, especially during the Ironman….so yay.  And all hail the UNI-boob…it was a good workout!