Here's a third guest post from Swim Bike Single Mom, Sarah, from Chasing Down a Dream…. In her previous posts, she talked about how she, as a single mom, gets her tri-ing done… then, she weighed in on the mom "guilt factor"…something that we all, with kiddos, know very well.  In this post, she talks about spectating an Ironman–how she did it alone, with the kiddo in tow! Thanks Sarah!
We spend a whole heck of a lot of time in real life and in blog land talking.  Especially some of us as we train for new and big events.  I think we talk because it's how we work out the nerves.  We talk about our training. We talk about our gear.  We talk about nutrition.  And we talk about how we juggle our family life with all of the above.  But you know what we don't spend much time talking about?
Spectating at a race for others —-and in particular spectating a big race like an Ironman —-when you've got kiddos in tow.  So, as many of us venture into triathlon season and begin to make plans to be at our own races and those of others, and let's face it we're a Swim Bike Family, so some of us our bound to have kids…. let's talk about it!
I have a little bit of insight to offer as I have had my kiddo spectate many running races, a few sprint triathlons and last year he came with me to Ironman Lake Placid to spectate and cheer for about a dozen of our friends.  So, I'll give you my thoughts, but goodness knows that I'd love to hear what you have to contribute as well.
So! How in the world does one entertain a small child  while spectating at an Ironman?  There are a lot of different ways, but I assure you that it can be done.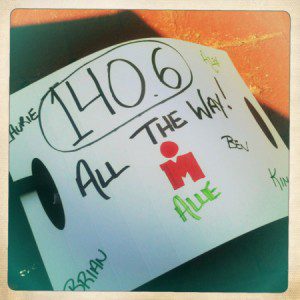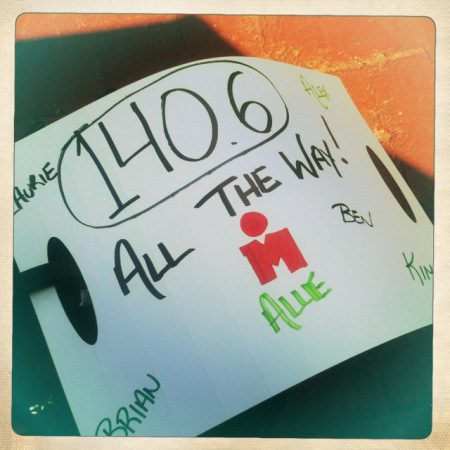 Involve Them – Believe it or not Ironman is a pretty kid & family friendly event.  As Swim, Bike, Mom says…. It takes a village people.  I am always amazed how many kids are actually there in Ironman village throughout the event.  And Ironman itself goes out of their way to include the kids.  So, the first thing that I did race weekend was sign the kiddo up the for the IronKids race.  He was ecstatic to be taking part in an event in front of all of the grown ups.  At Lake Placid Ironman, the Iron Kids race is only a run and they break the distances down by age.  At four years old, they ensured that it was a very manageable distance.  All of the kids were handed medals by Andy Potts.  Super impressive for the Moms …. and Dads in the crowds.  I'm not sure that all of the kiddos knew, but we sure did! And the medals were nice, not the little plastic jobbies that many races have, so all of the kids were pumped and they were "Iron Kids," comparable to an Ironman.
Here They Are In Their "Iron" Distance Race.
Prep Them – Ironman is a long day.  Give them some sense of what they'll be doing for the day.  It helped me that my son had been to some of my "swimin', bikin', runnin' races."  So he had some clue of what to expect while we were there.  I did explain to him that it would be a long day and that we really needed to cheer our friends on.  I expressed that they needed us out there.  Again, he's been to a few races so he knows how important it is to cheer for your peeps, so he was all in.  Of course he didn't realize exactly what he was all in for, but he understood that we needed to help.
Go Friends Go!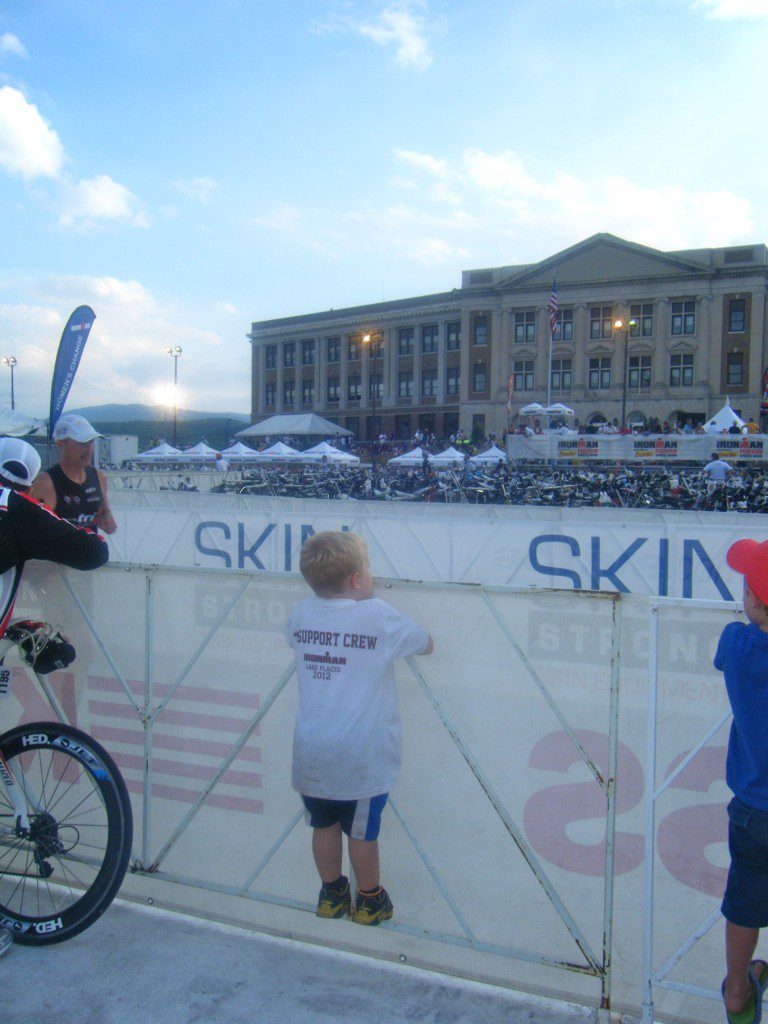 Get Them Gear – Again, Ironman is family friendly.  In Lake Placid they had a cheer station where you could make signs for your peeps.  We made many signs.  Some of them were just scribbles on paper, but hey, he felt like he was making something important that would spur on our peeps.  We also sought out some cow bells.  And lastly we had supporter t-shirts.  We were a part of the bigger team.  He felt so cool since we matched the team jerseys, etc.  These gear-y things are also a great distraction when they're bored.  Here, play with the bell, here can you help me get out the sign, etc.
Do Your Kid Research – Is there are playground near by?  A shady spot where you could take a nap?  Can the kids play on the beach after the swim is finished?  All of these things are good to know so that you have options while your Iron Peeps are out on the bike and run course.  You have some serious time to kill during these stretches where you can't really "spectate" them, might as well find something fun for the kids to do.
Track Your Athletes on Ironman Live – Track your athlete as much as you can if you can on Ironman Live.  This will ensure (or so you hope) that you will not miss them.  [SBM Note: I have heard that Ironman Live is not always accurate…. and many have suggested trying "Track My Athlete."]  Unfortunately, we were tracking too many people last year to see them all each time on top of the fact that we were tracking with 3000 other people so the internet got really slow, but we got most of it.  Using the tracker helped us to see where people were and decide where we needed to be to best cheer them on.
Have a Recharge Station – If at all possible, try and make your accommodations either on or right near the course.  Last year we camped out of town for Ironman Lake Placid, but we had athlete friends with a house right near the course, and clearly since they were racing, they were not using it during the day.  We made 3 or 4 trips back to the house through out the course of the day to take a rest from the race course and relax.  Of course we made sure to see our peeps in on the first loop of the bike before we headed there and then timed it out to be back on the course as they were approaching.

Pack Light, but Pack Smart – I brought a back pack on to the course for the two of us.  I brought snacks, money for more food, a video game, sun screen, swim stuff and a blanket.  All of the above got used.  I didn't bother trying to lug around a chair because I knew it would annoy me.  We used the blanket or sat down on the road.  We had to be flexible because we just couldn't bring everything with us.  Any distractions that you can carry with you without a lot of bulk or weight are priceless.
Relaxing on the backpack near the swim finish and T1…
Try and Be Ahead of Their Needs – Yes you want to and will be there for your athletes, but you also have to be understanding of your kids needs.  I really tried to stay out ahead of his needs.  I aimed to feed him before he was hungry, potty him before it was necessary, make sure to get at least one sizable nap in before he was beyond the point of tired, and I just kept changing things up in an attempt to make the day fun for him too.
Oh and Make the Finish Line a Late Night Party – Staying up for the finish of an Ironman is tough work as a kid.  Heck it's tough work as an adult.  So, you need to make it fun.  We bought glow sticks, glow bracelets and glow necklaces.  No child was allowed to open them until well after dark.  But boy did the atmosphere change once we did.  No longer were the kids too tired to cheer in our friends.  They became the life of the party with his glow bling on.  With the excitement of an Ironman finish line the atmosphere is electric and the kids catch on quickly that this is exciting stuff.  At Lake Placid they finish on the Olympic Oval and it's truly a sight to behold.  I had no issues enticing the kiddo to stand by the fence, chant for people and clap.  Again, electric …. oh the magic.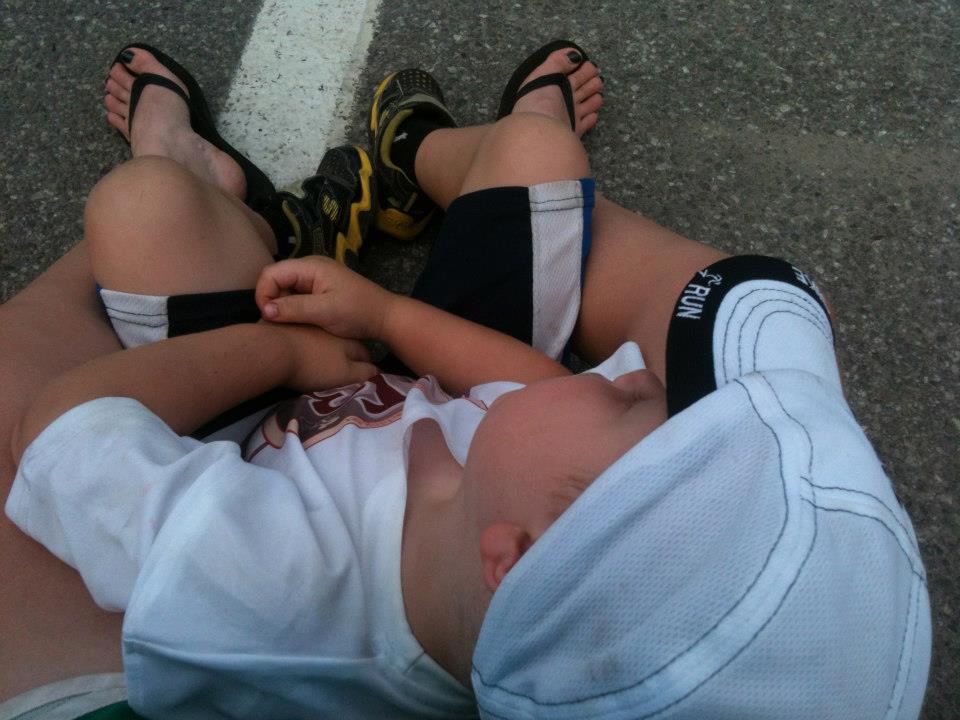 Remember that Spectating is Hard Work – And they're going to need a nap…. Wherever they are!
* * *
Another great post about spectating an Ironman with kids is from SBM friend who calls herself "IronWife"—- check it out here: http://staggerforwardrejoicing.com/ironday-from-the-perspective-of-wife-and-kids/