Yesterday morning, I was standing in the locker room, looking like a soggy puppy—post-swim wet hair, half of my clothes on, trying to pull myself together before work–when this woman snuggles up to me…[Something about me… if there are 100,000 empty lockers in the room, people must put their crap in the locker RIGHT next to, or RIGHT ABOVE/BELOW whatever one I am using. It's a curse.]
So she's all close to me, putting her stuff in the locker right next to me, when she says, "Well, at least that's over with, eh?"
I looked at her. Confused.  Did she mean my wet hair? It's was "over"?
"What is over?"  I asked her.
"Your workout. That's behind you… now you can enjoy your day."
Normally, I would have just said, "oh yea" and moved on.  But the reaction that came out of me was kinda weird.  Defensive. Like I was offended that she had insulted my friend…. my friend, the Swimming Pool.
"No way.  Sometimes…what just happened—my workout—is the very best part of the day."
Radio silence.
"Your workouts are the best part of your day?" she squealed with disbelief.
Well, outside of time with my family.  And I like watching the new Kevin Bacon show on Monday nights, I thought. "Actually… yes, best part of my day."
She might as well have snickered, "You need to get a life."
I seethed inside, but smiled on the outside.  I was thinking, "No ma'am. You just don't understand what my day brings."
I get it… she hates to workout. It's a chore for her. I get that–working out is a chore for many people.  Sometimes, I find it to be a chore too.
But I think it's all about the mindset.  Being grateful for the workout, the personal time, the strengthening of the body in preparing for the next goal.  So it fundamentally bothers me when someone treats it like it's a waste. So many people  wish they could use their bodies in the way many of us can…
It just aggravates me, I guess, to treat such a great blessing like a curse…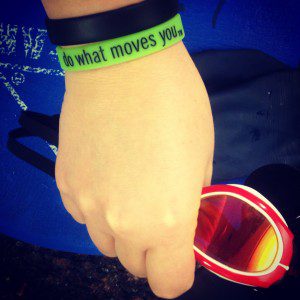 Then to interject yourself into my happy place. Into my locker space. [That sunrise picture above was yesterday morning!] So shame on you, poophead!
And recently, the Swim Bike Mom haters are coming out of the woodwork. Maybe it's the numbers. SBM is growing not only as a blog, but also as a community.  So there's more exposure to more people and opinions. We moms are "Swim Bike Moms" and dad are "Swim Bike Dads" and those without kids and husbands who relate to the mantras and the struggles and participate are "SBM Friends"—-we're a good, strong and happy group that is growing. I love my SBMs, SBDs, and SBM Friends.
So these haters are…not really "haters"…maybe more like backwoods idiots. (I can say "backwoods" because I have lived in Georgia my entire life, BTW.)  But maybe that's not really nice to call people idiots. Okay, fine. It's just interesting. I am learning to get some thicker skin. You'd think after being a litigation attorney for years and years that I would have the hide of an ass (er, donkey) for skin… but..
So I put my life out there… and people want to just hate me for whatever reason.  Just examples from this week alone:
"Your kids are young once & there are lots of ways to get fit & healthy without commiting the time (& money!) to triathlon."
[Begs the question: why are you reading SWIM BIKE MOM in the first place??] 
or
"No one wants to see pictures of you with anything less than a full parka" [I LOVED that one… actually laughed… kind of true, I feel ya…]
or
"You talk too much."
[Stating the obvious. Actually blogging is not "talking," per se… but alas, I'm not helping my case…]
or
The comment on my Facebook page to my ice bath picture, where someone wrote: "From Finding Nemo to Finding Kankles."
[Wow.  Kankles?  Thank you. You shoulda seen them 2 years ago. I look like Heidi Klum compared to.]
The fun thing about me is that I have a raging sense of humor.  I find funny in everything. So I am working on finding funny in all things hater-esque.  Meaning, I imagine the sender of those types of comments sending the email from an internet cafe where they sit with their over-priced java and a giant booger hanging out of their nose for all to see…oh, and their fly is down…and their debit card is, right then, being used to purchase tons of gas at local gas stations due to an early morning stop and someone stealing their card number….
Ah-hem.
I really liked this post from Mama Laughlin recently too (a nice title too, if I do say so myself).  She writes, "Things have gone down recently that I've kept my mouth shut about. Not because I don't feel the need to defend myself (I always WANT to) but because this [blog] is a place of inspiration. And negativity is not needed or wanted."
That's exactly how I feel.
I mean, for the love… I want Swim Bike Mom to be a place to inspire, for people to laugh, to find themselves, to get fired up about good things… I don't try to be controversial. I don't try to be "snippy" or argumentative. I never discuss politics. NEVER. I don't harp on religion, though I am very much a believer and pray often. (Sometimes on the blog – like before half Ironmans one …and two…).
Oh, and I answer every single damn email I receive (ooops, there goes my religious credibility… beep!!), no matter how long it takes me (if I haven't answered yours, it was truly an oversight. Re-send it, and I will respond.)
I am tired and busy. I work two jobs–one as an attorney, one for Swim Bike Mom–and am involved in countless projects, not to mention family and all the daily things that everyone faces. Seriously, why do you want to give me a hard time?  Really? What's the point?  Stop being a booger-face.  Stop hiding your charming personality behind your Twitter account. Say something nice, for Pete's sake.
So that's been going on. Fine.
But so many other good things have been happening too—so, so so many great things! I will not turn my smile upside down. And especially not for fly-down, booger-faced people.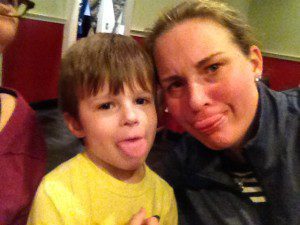 Oh, but then today GOT real. Real real. Why?
Well, I purchased FOUR plane tickets to Spokane, Washington today. Spokane? What's in Spokane and why four tickets?
Well, four tickets equal myself, the Expert and two Swim Bike Kids.
Spokane is the closest we can get, airport-wise, to Coeur d'Alene. 
I also reserved a minivan from Enterprise, and emailed my details to my mom, so they can get their tickets.  That's 6 people who are going to depend on me not ruining their lake vacation to Idaho.
Ironman just got real.  Airplane tickets are real. Power intervals on the bike trainer are real. Spinach in my smoothies is real.
And that's what I am, ya'll.  Just me, lots of flaws and "horrific writing" and "typos" and all. Just someone who "talks too much" and loves my family and loves to swim, bike and run.  And someone who is below the middle-of-the-pack, and wants to be (and is working like hell) to be an Ironman.
So just be nice, ok? Because really, when you send mean-spirited, crappy messages, I just think you are covered in boogers anyway.  Get it? I'm rubber, and you're booger glue… bounces off me, sticks on your booger face…
Finally, I know I owe a race report from my half marathon over the weekend, but I am still waiting on some of the race photos.  And you know that no SBM race report is complete without self-deprecating pictures and corresponding captions.
Just Keep Moving Forward.