I frequently post pictures of myself on my bike trainer in the corner of my bedroom.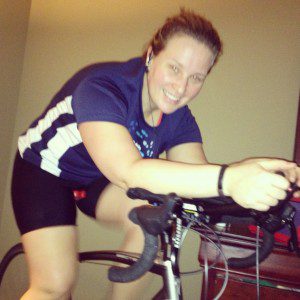 I love these pictures mostly because of the context.  My daughter, Swim Bike Kid (age 4) has, in all trainer picture contexts, snatched my iPhone off the dresser and proceeded to say, "Smile, it's your picture, Mommmm."
Too bad she's a great photog.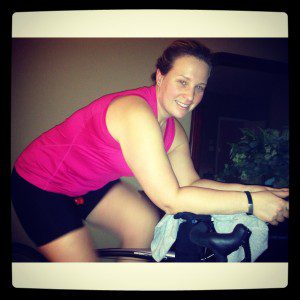 And sometimes, I turn the camera around on her.
This one, the whole family, was piled up in the room. (Pardon the mess. I only claimed to be a lawyer and a mother… I have never claimed to be a good housekeeper.)
[James, the boy Swim Bike Kid, is under the covers somewhere in this picture.]
Why they love to watch me ride the bike to nowhere for hours is beyond me.
But the kids love it. And really, it has sort of become a weird "family time."  The kids bring in their little toys, gadgets and books;  James likes to ask me to read to him, as he holds up a book, on demand, "Read this one, Mom," and I'll start the Berenstain Bears from my post on my Adamo saddle. Which is tough, because I can't see it very well.  Still, trainer time is pretty special, all in all.  All 2-3 hours of it.
Yes, I spend a lot of time on a bike to nowhere.
So I'll post one of these pictures of me on the trainer, and usually, I get one of three reactions:
"OMG, THREE HOURS on a trainer!?!? What is wrong with you?"
OR
"I could NEVER ride the trainer for 3 hours!"
OR
"Why don't you ride outside, you sissy!?"
I usually respond to all emails I receive (I try, at least)… and I say, "I couldn't ride today outside because I had to be at work at 8:00, so I had to get up and ride the trainer at 4:30"
OR
"It's raining, and klutzes should not ride in the rain."
But I have a hard time answering questions about "how do you DO it for three hours?" or "aren't you bored?"….I'm not sure why—but  those questions are hard for me to answer.  So I set out to figure out how to answer, and hence… this post.
I always go back to Chrissie Wellington… she mentioned something in her book, about having an "endless capacity for boredom," which is why she can run and swim and bike for hours upon hours, and just deal with it.  Maybe since reading her book, I just channel her mentality—that I, too, have (or want to have) that same endless capacity for boredom.
So I do my long, boring workouts, and I accept it. And I do them.  Minute after minute, hour after hour. And that's that.
Then there's the dear Coach Monster.  The King of Pain.  The Prince of his trademarked "Purposeful Suffering."  Who always reminds his Spinning class (and me), that we must learn to love the pain in order to grow as athletes.  That we must learn to love to climb on a bike.  (Check out my post here… if you do not love (or know how) to climb on your bike). That we must invite the pain into our homes, and love it.
So I have begun to live his mentality too.  Chrissie and Monster… two triathlon geniuses. Endless capacity for boredom.  Learn to love the pain.
Check. Check.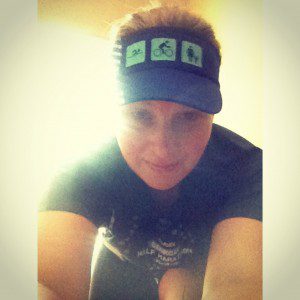 So I received an email recently from SBM friend that said, "Will you write a post about busting boredom while riding/running long workouts indoors? Would love to know how to kill 2+ hours on the trainer…"
So here goes.
If you really cannot stomach the "boredom," here are my best hints for surviving life on the bike trainer:
1) Music (play some)
2) Movies (place your iPad on your aero bars, or on a table nearby; put your trainer in front of the tube)
3) Internet (you can get away with some minor web surfing with the iPad on the aero bars)
4) Make sure you have a bike that fits you, with the best saddle for you
…And finally, the best advice I have is:
5) Suck it up.
To survive the hours in the saddle, you must channel your endless capacity for boredom. And you must accept the pain. Does the Mother Queen hurt like a mother after 3 hours in the trainer saddle?  Hell to the yeah, she does.  But sometimes training hurts.  And every painful ride, I walk away (limping), ever that much stronger.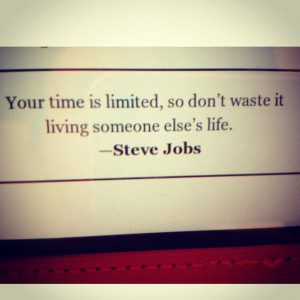 You must suck it up to beat the boredom.
Suck up the 2 hours. Suck up the 3 hours.  Suck up the 4+ (!) hours. Yes, movies and music help. But frankly, I spend a lot of my time with the music playing and just staring at the walls, zoning out, embracing the hurt.  Working through my issues for the day. Counting calories. Envisioning finish lines. Loving my family. Thinking about my children. I just take the time to brain through a lot of my life, work, issues, and stuff.  I think.
When people say, "I can't run on a treadmill for more than 20 minutes"—I must say the same thing as the trainer. Why?  Why can't you?  Do you have a special brand of treadmill that ejects you from the belt after 20 minutes?  Do tiny ninjas come and attack you after 20 minutes? What happens? Why why why?
Of course, we'd all love to ride and run outside in beautiful spring weather.  But that's not always an option. For me, it's about the schedule – I can't ride my bike and run outside at 4:30 or 5:30  am… I must use the trainer or get on the spin bike.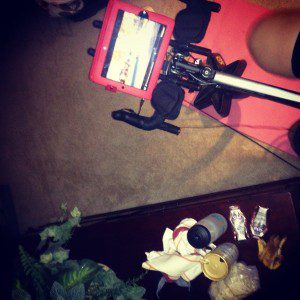 So in response to "how I survive the boredom" of the trainer and the treadmill, I simply say that I follow the advice of two amazing triathletes—Chrissie and the Monster.  Learn to develop a love of boredom, and a pretty good enjoyment of the pain.
Masochistic?
Maybe.  But all I know is that 4 hours in the saddle… make all of my time out of the saddle that much sweeter.