My friend, Mountain Goat, shared this picture today on Facebook. Totally tickled me.  I mean, it's a baby. Doing a one-armed plank. And it says, "BEAST MODE."
Funny stuff.
Well, this Swim Bike Mom is officially in BEAST MODE too.  Seriously, I'm telling you. If I could growl and bang my paws on my desk and chant right now, I would.  I am feeling strong. And eating well. And boosting and dropping pounds. Yessss.  The return of the Butt Pudding is on its way out!  War on the puddin'.
But as you know,  I can be logging 4 hour bike rides one day… and the next day, I'm crouched in my closet, crying and eating jars of peanut butter— but for TODAY, for RIGHT NOW…I am a BEAST.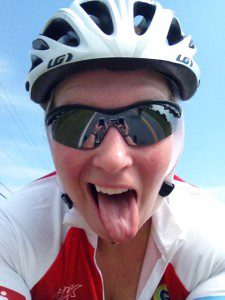 And when I am a beast, it's best to play "Animal I Have Become" on the headphones and dig in, soak in the pain, and bottle up the hard work gains for a later day—for those days, when I am playing, "Everybody Hurts" and I am back in the closet with the snacks and my spoon.
So this weekend and into the second week of the BEST YEAR EVER (!), turn on YOUR beast mode! I declare this the weekend of the BEAST!
So. Commence Beast Mode! Yeah.
Let's put in lots of barn in this hay….wait, hay in this barn…. for this (awesome) tri season that's coming our way.
Legal Disclaimer:  SBM is only one person — a chubby woman.  She reserves the right to withdraw from Beast Mode at any given moment, and completely fall apart. This reservation of rights is effective in perpetuity. Withdrawal from beast mode may result in horrible bouts of nutritional #fails, angry blog posts, and shameful Instagram photos wearing monkey hat. But regardless, #BringIt2013 and #JustKeepMovingForward.