Today I went to Coach Monster's spin class.  He gave me a killer pep talk, which I deeply needed in light of my body feeling held together by staples. After class, I rolled out my legs per the orders of Dr. Magic Man Hands with my new STICK.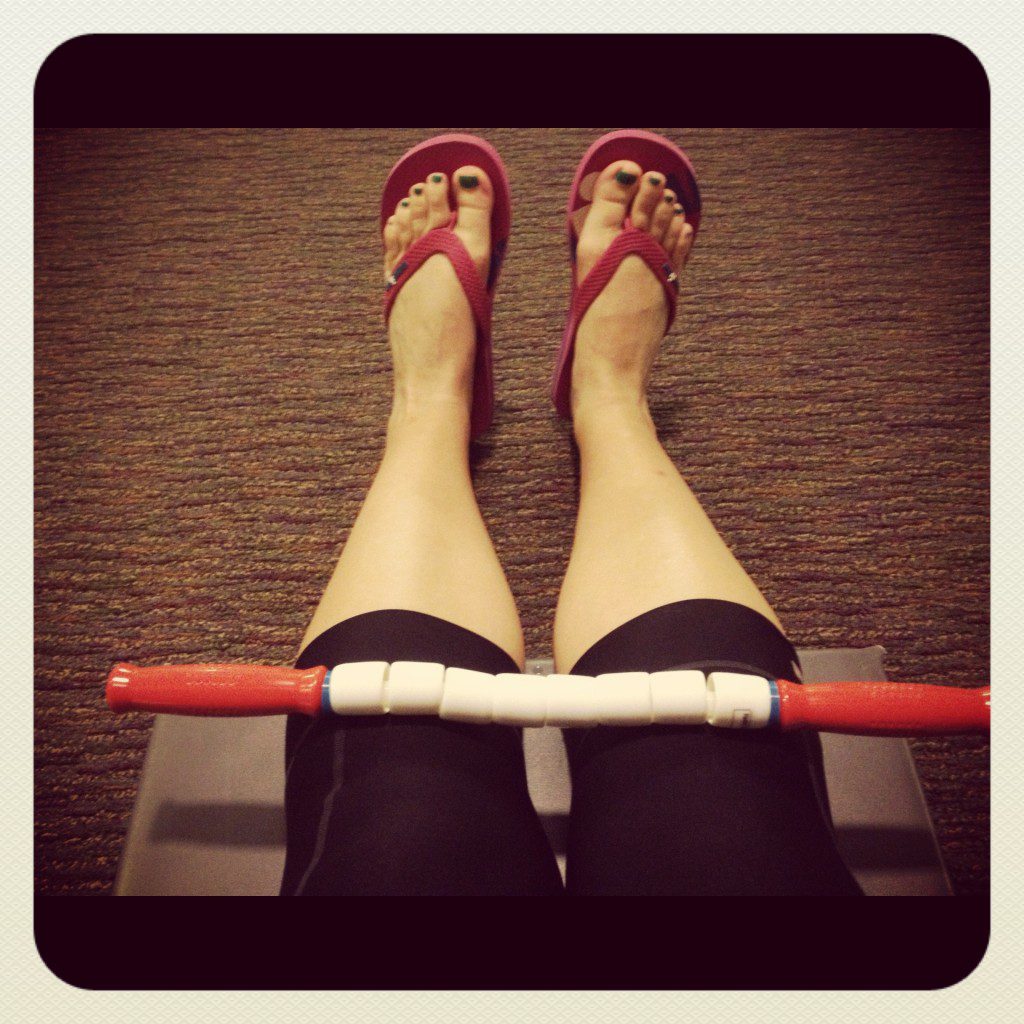 I showered, and I headed to work. I was all ready to tackle the day, but first, I had to get my Friday fix: Einstein's Bagels for egg whites, asparagus, mushrooms, fruit cup and giant "cheers to the freaking weekend coffee."
I walked into Einstein's and I was in la-la land. I was thinking about my bum knee, Augusta, and just nothing in general.
I ordered, paid, and got my coffee.  The cashier called my name to get my food, and I walked up to the counter.  I bumped into a girl about my age, and I apologize profusely, "I'm so sorry."
To which she responded something that rhymed with "Buck Two" – only that wasn't quite it.
I was floored.  "I just said I was sorry," I said.
"Yeah, well you just slammed the door on me too. That's enough from one witch for the day."  (Only she didn't really say witch, either.)
I looked at her, speechless.  She grabbed her food, and walked outside.  I slammed the door on her?  Which one?  What?
Now, I'm not one to take crap from people. [Just ask the Expert about the Blues Traveler concert, Georgia Theater, circa 2000. On second thought, don't.]   I grabbed my food and headed out in the parking lot after her.  I wasn't sure what I was going to say to her. Maybe I would apologize more, and then say, "Maybe you should get laid, you angry wench," or something more productive, like, "Perhaps you might want to give triathlon a try! It will help with your anger issues and that sourpuss face."
She glanced back at me and saw me walking out. Then she picked up her pace and jumped in her car.
Good grief, I thought.  What am I doing?  Nothing was going to go well with this…. That girl was a timebomb.   I did not want to land in jail today.
I turned quickly, walked to my car, and got in.
I put my coffee in the cup holder. And then I burst into tears.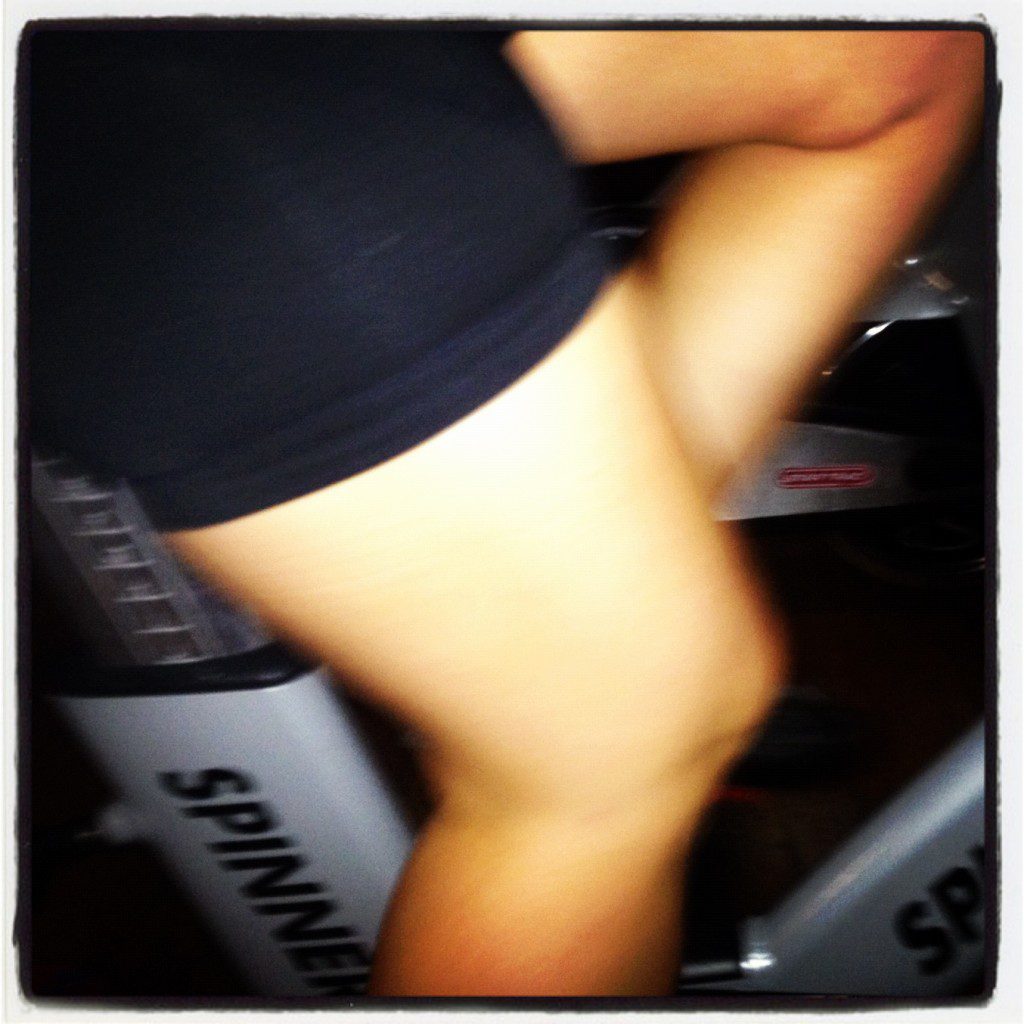 Things I Control Today: 
What I eat
What I say
How I react
What I think (positive thoughts only!)
Things I Don't Control: 
What others do to me
What the angry bagel eaters say to me
I stopped crying.  Was I going to let this crazy veggie cream cheese puff ruin my day? Destroy my good mood after the solid pep talk from the Monster? Cloud the healing thoughts I am sending to my body?  Spoil the healthy food I packed to nosh on all day?
No. 
I can't control what the crazies do. But I can certainly keep myself from joining their roster.  So many things in our lives are reactions and choices — things do happen to us, but the way we react is what determines the successes and failures.
"The longer I live, the more I realize the impact of attitude on life. Attitude, to me, is more important than facts. It is more important than the past, the education, the money, than circumstances, than failure, than successes, than what other people think or say or do. It is more important than appearance, giftedness or skill. It will make or break a company… a church… a home. The remarkable thing is we have a choice everyday regarding the attitude we will embrace for that day. We cannot change our past… we cannot change the fact that people will act in a certain way. We cannot change the inevitable. The only thing we can do is play on the one string we have, and that is our attitude. I am convinced that life is 10% what happens to me and 90% of how I react to it. And so it is with you… we are in charge of our Attitudes."
-Charles Swindoll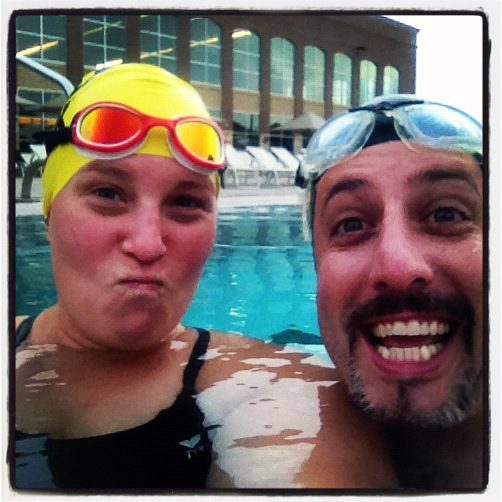 As we countdown NINE (!) days to Augusta, I am going to focus on what I can do, what I can control, and how I act/think/deal with the circumstances around me.
This is going to be a great 70.3 experience, I can feel it.  I am looking forward to meeting so many of you and sharing the race course with you.  For those of you in the crazy taper land with me…. let's stay positive and grab this Augusta bull by the horns.
Have a great weekend, friends.
===============================
Get it cheaper AND get it by Christmas.
Up to 2 months before the general release via Amazon.
Go HERE to lock in your copy.
Paperback Edition, 430 pages
Tricycle Books
Pre-Order Price: $16.95