I had an a-maz-ing run today. A-maz-ing. Ten miles. 12 minute pace (Best Pace:  9:22 / Average Moving Pace: 11:11).
What is amazing about that slow pokiness, you might ask?
For starters, the fact that my route maps out in the shape of a dog.  Or a bull.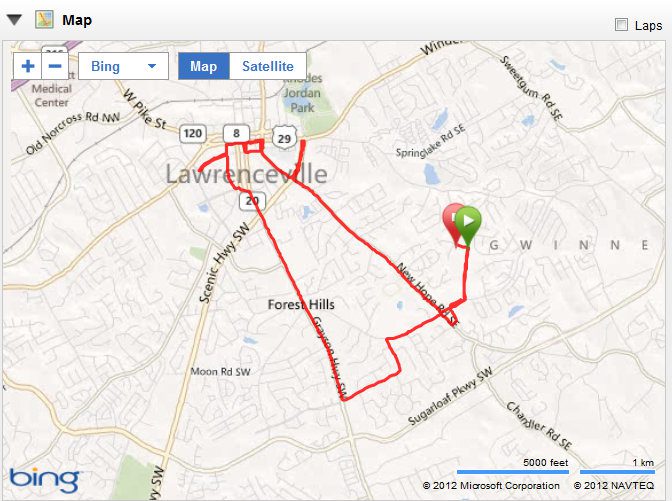 Oh. Not that?  Well, I'll tell you.
1) I haven't run 10 miles since February – long before I broke my right foot.  This is a distance PR for me in recent times, by 1.5 miles. (Which is good considering that Augusta 70.3 is like… five minutes away. Eeek.)
2) I ran outside. I've been doing much of my training on the treadmill, so this was a good breather. The weather was great too.
3) I ran on the hills, with a little over 500 feet of elevation gain.  Coeuer d'Alene (from the race reports) boasts 1000 feet of elevation gain. So if I can do this loop… twice… and a half… after cycling 112 miles… then I'll be there. (Okay, maybe this is not the best news. Moving on…)
4) Finally, I utilized the Galloway method, thanks to a tip from Yoda.   This is the best news.  What is Galloway? (This link is allegedly the website for it, but it wasn't working earlier… so hmmmmm.)
Anyway, the Galloway method is simply a way of running which incorporates short walking breaks in between miles or minutes. For example, Yoda mentioned that any distance over 10k (6.2 miles) and she incorporates the following: run one mile, walk one minute.
With the Galloway method, you can do any combination really  (4 minute run, 1 minute walk;  2 mile run, 2 minute walk; 30 second run, 30 second walk)… but the key is staying consistent in your time(s). If you set out to run 1 mile and walk 1 minute, then you do just that the entire distance.  NO longer than 1 minute because then you could lose momentum.  Oh, and Yoda says you must do it from Mile 1… if you wait until you're tired, it's too late.
Anyway, I set out to do 10 miles this morning with this method.  And it was WONDERFUL!  Usually, I am falling apart (hamstrings seizing, mostly) by Mile 6 on long runs.  Today?  None of that!  In fact, I actually "negative split" my run… meaning that the second half was FASTER than the first.  WHAT?!  Oh yes. Ding ding!
That little one minute break was incredible for a few reasons.  First, because I was able to break my run into "mini-goals."  If I just run for 11 more minutes, then I get to have a break. 
Second, I was able to drink water and ingest a gel much easier during the walk breaks (I had three gels, so three snacks).
And finally, that little one minute break seemed to recover my legs and heartrate just enough to push out another mile.
I used to think that I had to run the entire distance of any run workout.  Today, I had a revelation, thanks to Yoda.  Wonderful.
Are you struggling with falling apart after a few miles?  Try this method from Mile 1 and see if it works for you.  Now, 10 miles and five hours later, I am completely sore and limping, but I swear to you… I could have eeked out another 3 miles with no problem… and possibly even 6 (with the promise of a giant burger and a beer at the finish).
Best of all?
Coach Monster approved the Galloway method for my training.  "As long as you only take the allotted break, this method can work wonders for some runners. But one minute break – and one minute only, got it?  Oh, and congrats on a great run, Grasshopper."