I had trouble sleeping last night. The Expert and I got into a minor tiff right before bed… regarding the hefty registration fee from my craziness that is Ironman Coeur d'Alene.
"I asked you if I could register!" I said.
"I know," he said, "But you tricked me."
"How did I trick you?" I asked.
"You didn't say it cost that kind of money." (Not true. Just the day before, we had discussed how ridiculous it was that IM fees were double the half IM fees. But then came to the conclusion that half the race requires half the fee. ….Anyway, yes we discussed it.)
"Whatever."
"Fine."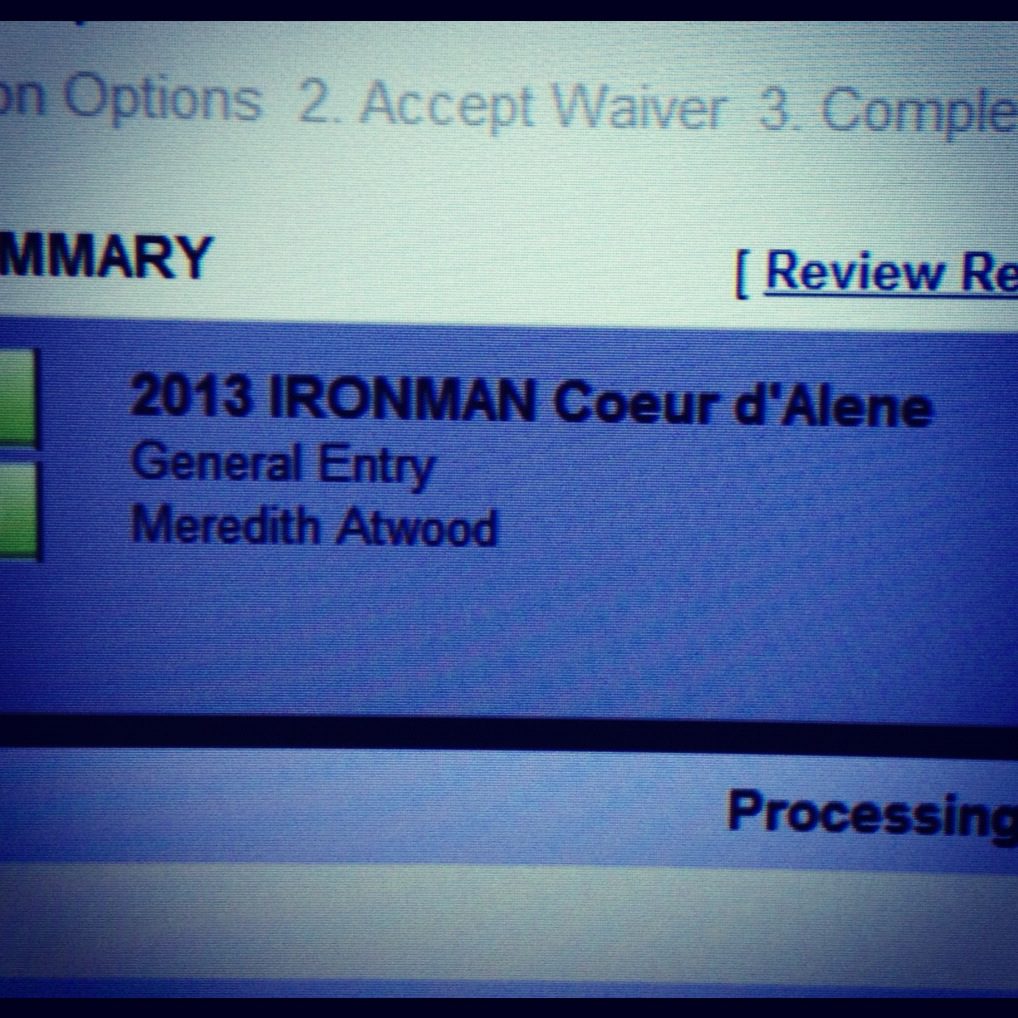 So I couldn't sleep. The minor money tiff made me think, I wonder if he's going to get mad when I am gone for ridiculous bike rides.  Like the race registration fee, "I knew the training would be hard, but you tricked me!" And then the Swim Bike Kids… I will do my workouts at Sick Early O'Clock, but I will miss them.
Hurmph.  All the doubts.  They started to creep in…..
[The dear Expert and I are fine, today.  Don't worry, Mom.]
He's the best. He is incredibly supportive. Thanks to so many emails from many of you, the Expert and I had discussed long ago about my IM dream, the time commitment, and what it meant for our family.  So he's "on board."  It was a tiff about money because we owe the IRS money that I shouldn't have sent to the World Triathlon Corp.
So… I have a supportive spouse, and I'm a lucky tri ducky.
And while I am certain that my evil Ironman "trickery" won't come without its troubles, I am striving for balance and hope that my kids will hear "mom is an Ironman."  Because really, I want to prove to them that moving forward… matters. That dreams (not matter how virtually insane (and tricky!)) really do… matter.
I wondered if I would wake up this morning sick to my stomach after the registration move. But I didn't. I woke up incredibly hopeful. Happy. Focused. And as I ran this morning, people came up to me on the treadmill and said, "Congrats!" and "We're doing IM CdA too!" and "Yay!"  8.5 miles on the treadmill later, I was beaten. But not broken.  It's going to be a tough journey, but I'm going for it.
I am in awe of the SBM support and cheers.  You guys are really, the best.   I hope you know that I am cheering for all of you too.
I had a conference call yesterday and I was telling my triathlon tale when one of the callers said, "Well, your story is more than just triathlon. It's about inspiring others and telling people to live their dream."
Okay, I think that is part true, yes.
But what I said in response brought tears to my eyes, because it took me back to the reason behind all of this, the reason I tri and the reason I write.
I told her, "I write … because I do not want any woman in this world to feel the way I felt back in 2009.  I was sad, fat, angry, and isolated. I had two (very) young children. I was working my super fat ass off at job that was about to make me jump from the roof, and for what? I was hopeless. I hated myself, more than I hated anyone else.  Sure, I write to 'inspire…'  But more accurately, I write because I need people to know… there is better out there for you.  You are better than you know. You do not have to feel this way. You are not alone."
And it's true.
I believe in you. I may not "know" you, but I know where I have come from.
And if you are there —- in that sad, angry and isolated place… then believe me, I know you.
Registration for my first Ironman is insane, yes. I get that. But living life as an overworked, tired, fat mother was way worse. Triathlon is a mother.  But fat, tired, overworked, motherhood is the real mother.
We all must find what makes our eyes light up… we must take the steps towards those dreams. And just click "register" or say "yes, I will" or show up to the day.  Whether it's triathlon, cross-stitching or hula hoops.
From the moment you DECIDE to change… things around you begin to change… and eventually, you will be forever changed, too.
So much love to you all.  Together, we will all just keep moving forward.  Thank you, again.