Episodes 64 of the Same 24 Hours Podcast is with the author of the just out book, Benjamin Hardy.
Ben Hardy is an author and the #1 Writer on Medium.com. I met Ben at a conference last year, and he listened to me ramble about my scrambly-brained ideas about my second book. We decided to record a podcast, and the rest is history.
Go here to listen.
The big news is, however, his NEW BOOK is out TODAY!
And there's a contest with it. You could win a TESLA.  Um, yes.  Go here to learn more about the contest!
The Book: Willpower Doesn't Work is available here  (but don't forget to check out the contest and buy your book through that outlet for the chance to win).
We rely on willpower to create change in our lives…but what if we're thinking about it all wrong? In Willpower Doesn't Work, Benjamin Hardy explains that willpower is nothing more than a dangerous fad-one that is bound to lead to failure. Instead of "white-knuckling" your way to change, you need to instead alter your surroundings to support your goals. This book shows you how.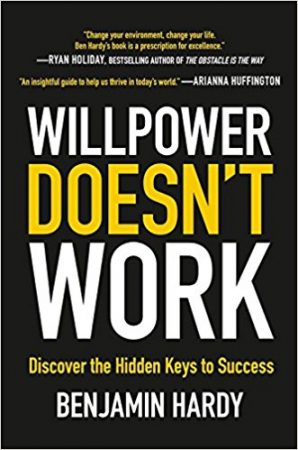 Follow Benjamin:
Web: https://www.benjaminhardy.com/home-page
On Medium: https://medium.com/@benjaminhardy
Twitter:  https://twitter.com/BenjaminPHardy