Week 2 of the official marathon training is sort of in the books (I still have a short run tomorrow.)  I am doing my best to update everyone at least once a week on the training and more since this is truly a big effort on everyone's part, especially with the fundraising. For those of you who don't know, I am running the Marine Corps Marathon in October as a pusher for this sweet boy, Logan, benefiting the Kyle Pease Foundation.
I am doing this marathon AND the training with the Galloway Method, as I mentioned in the Week 1 update.
How Far I Was Gonna Go Today
I missed a few of the mid-week runs for a few reasons.  My head has been a mess and my hips have been tight AF, so I decided to venture into yoga a few days—for both head and hips.  Turned out, that was a great idea, and coupled with strength, I definitely got some great work in, event if not running.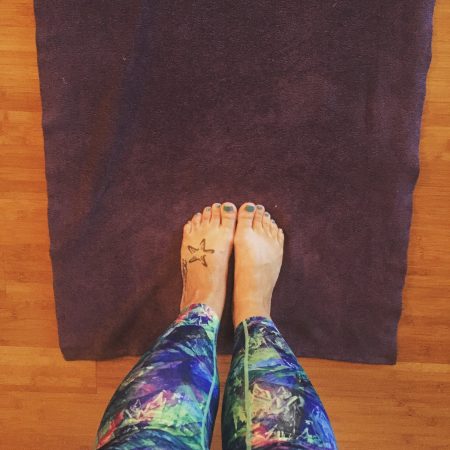 I wasn't technically trying to "play catch-up" today, but it sort of felt like it, with not running all week and throwing 11 on the schedule.
Scheduling Thoughts
Like I tell my athletes, there are a zillion ways to train for any race. Taking each individual into account is key. Sure, traditional marathon wisdom has a methodology for training.  But I am not sure that my body will be able to follow that way of training. We will have to see how I hold up with my various challenges both physical and mental.
I figured that I would post my weekly schedule generally as I go through it, because someone may be interested in how one might train if one were me.  So here's Week 1 and 2.
| | | | | | | | | |
| --- | --- | --- | --- | --- | --- | --- | --- | --- |
| | M | T | W | R | F | S | S | Total |
| Week 1 | 3 miles | Strength | 5 miles | 3 mile walk | 2 miles | | 10 miles | 23 miles |
| | | StairMill | | | Strength | | | |
| Week 2 | Yoga |  Day Off | Yoga | Day Off | Strength | 11 miles | 3 miles | 14 miles |
Coming up this week is the world's largest 10k – the Peachtree Road race  – and a lighter distance week due to prior obligations – but it will be fun to see how to tackle all the things! That's part of the adventure–figuring out how to train AND live.
What I Ate on the Run:
I have been doing day-to-day Metabolic Efficiency way of nutrition since January of this year, so today's fuel was: a light breakfast of cashews & almonds with blueberries, coffee & MCT oil.
I had 44 ounces of water with Nuun tablets on the run. I had a Huma Gel with me, and I think I could have used that around Mile 9 to finish stronger, but I definitely did okay running in Zone 2 on body fat. 🙂 #mybiggestnaturalresource
Teaching my body how to be a better fat-burner has been the single-greatest nutritional gift.  To go for HOURS on very little fuel is a great gift in many ways – but simply the fact that I am not bulging with gels and bars is nice.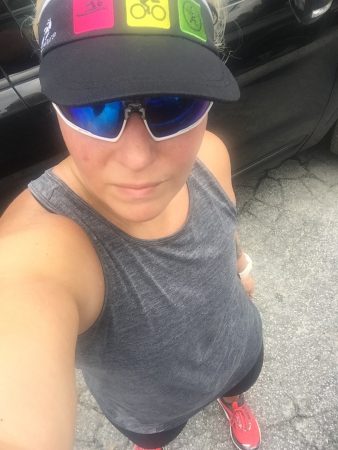 I know that I will require more fuel as I go – I am excited to experiment with marathon training and racing nutrition.
Training with a Race Chair
One of my goals in the next few weeks is to obtain a race chair to practice with on the long runs. Kyle and Brent have said I can borrow one for training, and I am looking forward to seeing how that mixes things up.
How It Went
And that was it.  My overall time was 2 hours and 25 minutes, with my Galloway 3:00/:30 for 10 miles (staying in high Zone 2), and I walked the last mile, which wasn't planned that way, but that's what I did. The sun had really started beaming, and I was starting to get really hot.
My pacing slower than last week, but it makes sense: it was a lot hotter today; I had leg day yesterday and lots of glute work via yoga this week, so I think it wasn't too bad really.
I posted a thread on the Swim Bike Mom Facebook page last week about advice for the first-time marathoner, and there was an overwhelming theme of "fuel" and practicing that. I know that I will need to continue to pay special attention to this, as I eeked by today. 🙂
What I Listened To:
This week I listened to the first two and a half episodes of "S-Town," and that kept me in VERY good company for the run. I would listen to my own podcast, but that would be weird.  (S-Town synopsis: "John despises his Alabama town and decides to do something about it. He asks a reporter to investigate the son of a wealthy family who's allegedly been bragging that he got away with murder. But then someone else ends up dead, sparking a nasty feud, a hunt for hidden treasure, and an unearthing of the mysteries of one man's life.")
I love reading/watching/listening to "backwoods Southern" things.
Growing up in the South (and actually having never moved away), I know backwoods well. Living in a suburb of Atlanta now, things are different than, say, during the the Midnight in the Garden of Good and Evil period of Savannah where I grew up.
And even more bizarre than, say Savannah, is small town South. I practiced law for two years out of law school and lived in a super small town.  I am glad that I experienced true Southern small town living, because so much of it was wonderful—the people, the parties, the stories—and so much of it was crazy-pants, too.  While I won't say that my experience was like S-Town, I think some of S-Town had distant relatives and lumber there.
Some of the South and its culture, I adore.  Some of it, I loathe to no end and cringe and want to run far away from Georgia and pretend I never lived there.
But maybe that's the way with anywhere.
Sometimes I think that people from other places must think, when listening to something like S-Town, This stuff and these people can't be real. 
I am always surprised at just how real some of it is. Good and bad.
Small town America is special. Southern small town America is incredibly special—in many derivations of the word.
Anyway—that was a long side note.
BUT, if you are up for a long-run podcast that is pretty riveting and also with a side of "freak show," you'll enjoy this from the folks of "Serial" and "This American Life."
Feelings
So Week 2 of 17 is done. Honestly, I am still SO nervous about this adventure with Logan.
I am 10,000x more nervous about this marathon than ANY Ironman I have tackled. I don't know why. Maybe because running a solo marathon is something that I have been avoiding for just plain slowness and pain and fear. Maybe because I know someone else is counting on me. Maybe because I have a hard goal and I know what hard work is in store.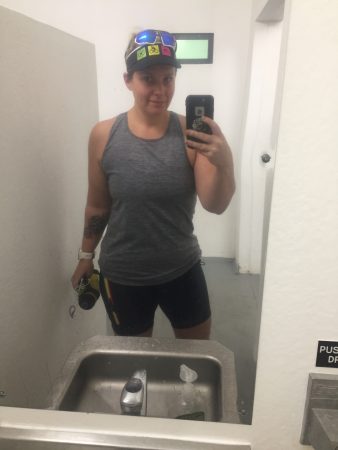 All of the above?
Regardless, one thing I am not… is a quitter.
So I keep going and figuring things out as I go.
#TeamLoganSBM #KPFMCM2017
---
Giveaway! NEW with a Donation
If you make a donation to Team Logan, you can then enter the Team Logan MCM Fundraiser Mega Prizes Giveaway, where we have amazing prizes from Saris SuperClamp EX Four Bike Rack, Swiftwick Socks, Tailwind Nutrition, Huma Gels, Klean Athlete supplement bundles, cycling goodies from Cannon Cyclery, goggles from Roka Sports, jewelry from Athlete Inspired, and more.
All you have to do is make a donation (any amount) here, and you will be eligible to enter!  Simple as pie. (Mmmmmm, pie.)
To learn more about the race, Logan and more, please make a donation (no matter how small) to help reach our goal of $10,000 raised for the Kyle Pease Foundation.
Each child costs over $3000 to get to a race like Marine Corps. The good news is that in just two weeks, we have reached $3000! So THANK YOU all who have donated—-$7k to go!
With this fundraising, we will cover the cost of THREE children to have this amazing opportunity at this race OR in the future.  #stoked
Go here.