It's that time again!
Our Second Annual "Be Brave, Be Thankful" race for another amazing cause. We're excited about the dates, the swag, and of course, supporting our friend, Renee.  (This will be our fourth Swim Bike Mom Virtual Race.  To date, we have raised over $10,000 for our virtual race causes benefiting ALS and Project Semicolon!)
Go here to Register Now!
What: The Second Annual "Be Brave, Be Thankful" Virtual Race
Who: You and your whole Family
When: Thanksgiving Day through Sunday, November 27th
Where: Wherever you are
"Race" Distance: You choose your distance! 1 mile, 5k, 10k, Any k! Any event: swim, bike, run, walk, jog, hike… it's your "race"!
Why: To join together in honor of Renee, one of our dear Swim Bike Mom & TriFecta friends, and to raise money for MISS Foundation.
---
Here is Renee's touching story.
In the fall of 2004, I spent three long months in the hospital, fighting to hold on to our unborn son. 
I was admitted in September, after my water broke spontaneously at 17 weeks. Defying odds, I did not go in to labor immediately, and after surviving and growing in utero for 12 weeks with no amniotic fluid, my son Miles was born in November, at 29 weeks.
Miles lived for 9 bittersweet hours, and fought for every breath with lungs that could not expand for air.
We decided to try again in for a baby in the summer of 2005, and while we could not know for certain what caused my water to break so early with my son, I was started on an aggressive corticosteroid regimen, just in case, in an attempt to ward off a possible inflammatory response from my immune system to the pregnancy.
The next few months brought incredible trauma to my body, mind, and my soul, and more grief and sadness than I can put into words as we experienced the birth and death of another child whose journey was nearly identical to Miles'.
In November of 2005, just one year after Miles died, my daughter Julia was born at 21 weeks, and while the hospital stay was shorter this time, her life was shorter, too. Born with sepsis, and weighing just a few ounces more than a can of soda, Julia lived for 6 minutes.
We buried our children side by side, and decided not to try again.
The following year was spent in a pit of depression, anxiety and PTSD flashbacks… all of which were punctuated by a prolonged period of alcohol and prescription drug reliance. I was referred to counseling, both for grief and substance abuse, but wanted nothing more than to just be done.
During a period of clarity, we decided to pursue adoption, and we were chosen by a birth mom during the spring of 2007, and learned several months later that we were also expecting – but by chance this time, and not by choice. Medical opinion gave me 20% odds of being able to carry the baby to a survivable gestation, so after much discussion, and a lot of prayer, we decided to leave the pregnancy alone to run its course, and brace ourselves for the other shoe to drop.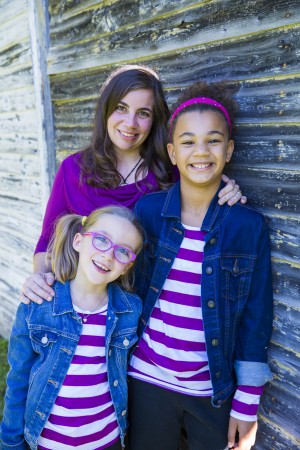 We brought our adopted daughter Joscelyn home in October of 2007, when she was just two days old, and against impossible odds and multiple hospitalizations and surgeries to try and save my fragile pregnancy, Joscelyn was joined by her little sister Olivia in February of 2008.
Born just under 10 weeks early, Olivia spent 5 weeks in the NICU. Unlike her siblings before her, though, Olivia came home alive. I finally had my family… and with that, I finally had something that made me want to live.
In addition to the massive weight gain from two years of steroids, Olivia was my third live birth, and fourth invasive abdominal surgery. My weight continued to increase post-delivery, and by her first birthday, I tipped the scales at 238 lbs – far too heavy for my small frame.
At that year's physical, I was diagnosed as pre-diabetic, with elevated liver enzymes and triglycerides. Unsure of what else to do, I slowly started running during the spring of 2009. Late that fall, I registered for a 5k to benefit the NICU where Olivia was born. With the memories of two tiny unlived lives giving me reason to run, I finished that race

in 45 minutes

. It took every drop of energy I had, but I finished that race. 
Riding the feel-good of those small physical successes, I registered for another race – my first half marathon.
In the summer of 2014, I participated in 5 triathlons, including a half-ironman distance relay team, and qualified for the national competition in my age group. In 2015, I completed my first solo 70.3, and in 2016, my first full marathon, and dedicated every mile to my children, both living and gone, the children of other MISS moms whom I have grown close to, and to other friends who have been instrumental in helping me save my own life.
Through support and encouragement of those in my life who somehow have understood this journey, I found happiness and gratitude that filled my soul just as much as despair and sadness did just a few years prior.
In place of the girl I used to be now stands a new woman, carved out loss and grief, but made stronger because of it. In her place stands an athlete, scarred and stretched, but unafraid of the work required to change, adapt, and grow stronger, addicted to the feeling of being alive.
Most importantly, though, in her place stands a mommy – dedicated to being the best role model, living as fully as possible in memory of her children gone, who did not get that chance. I have learned to embrace the broken parts, and I have even learned to love them. And I have found the grace in tragedy, and my voice to share this journey, and the experience of child and infant loss that affects far, far too many parents.
I am at a loss to convey my sincerest gratitude for the support of MISS as our virtual race, and equally at a loss to express how meaningful this is to me on a personal level at this time of year in November. I am already doing acts of kindness and grace in memory of my children's birthdays coming up later this month, and will share this amazing opportunity to join me in support of other parents who have lost children with everyone I know.
---
About the MISS Foundation:
Founded by Dr. Joanne Cacciatore in 1996, the MISS Foundation has been committed to helping grieving families facing the death of a child for 20 years.
In the past two decades, the MISS Foundation provided direct services to more than 40,000 bereaved families suffering the death of a child. We helped another 60,000 more families worldwide through support groups, mentorship programs, crisis interv

ention, counseling, children's programs, and online support forums, featuring 25 online support groups with more than 800,000 visits from members and 24/7 aid to mothers, fathers, grandparents, and siblings. Our advocacy work, which has helped so many we couldn't possibly track those data, has changed laws in 37 states toward more compassionate care for grieving families including more training for law enforcement and first responders on the scene of child death and our Certificate of Birth resulting in Still Birth legislation that allows parents of newborns who die a chance to request a birth certificate in addition to the already issued death certificate. We have helped fund or support nearly 50 research studies published in peer reviewed journals that advance what we know about the psychological, familial, economic, social, and spiritual effects of child death.

Our HOPE (Helping Other Parents Endure) Mentors, a peer-to-peer mentorship program, currently has 76 volunteers nationwide, and with the help of more than 1000 volunteers through the past two decades, we fielded nearly 30,000 crisis support calls from individuals and families. We have trained more than 50,000 healthcare providers in the past 20 years. And, since 2014, we have certified more than 125 Compassionate Bereavement Care providers from around the world in traumatic grief to help bereaved families within their own communities.

Because we are a volunteer based organization, most of our beautiful accomplishments over the past 20 years were born of sorrow and suffering of countless grieving families who committed to giving back to others.

We honor each and every child and his or her family who has contributed to our good work around the world.

In their darkest hours, the families facing this tragedy…will know they need not walk this pain alone. We are the MISS Foundation.
Here's what Renee has to say about why it's important to raise awareness:
I have found my voice to speak to both grief and loss, and have shared my story with many in order to raise awareness of child death, preterm birth, and pregnancy loss in effort to make these things less 'taboo'. One in four of us are affected by a loss of pregnancy, and on average, more than 50,000 children die each year in the US.
---
How to Register & More Information:
What You Get: T-shirt and a medal!
Registration Deadline: November 27th, Sunday
Guaranteed Registration Deadline for the Swag:  If you register by November 15th, you're guaranteed to receive a race t-shirt in your size (size chosen at Check-Out).   Registration will stay open until Sunday, November 27th, but t-shirts and medals are not guaranteed if registration is after 15th of November.  [MISS donations will still be sent on all race registrations after the deadline.]
Entry Fee: $25 (plus $5 shipping for t-shirt and medal)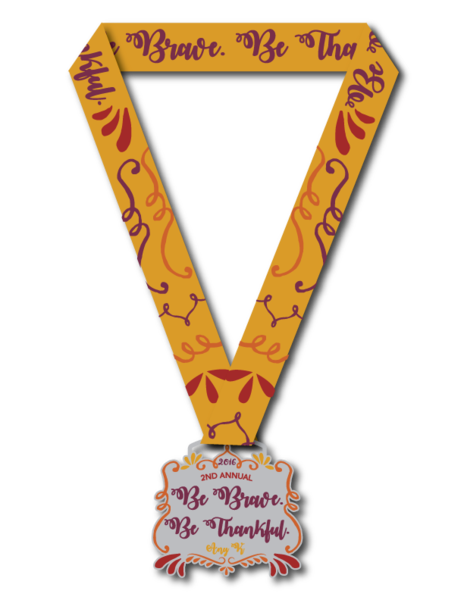 But I Don't Want a T-Shirt or Medal: If you'd like to donate an additional amount to MISS, please do so here – donations will be added to your cart at checkout and the amount from this option will go directly to the MISS Foundation. *Please do consider registering first for the medal and t-shirt entry, however, as we do love to do these events (and especially to get the kids involved), and we do need to cover costs.
Get Your Medal: After the "race," you can share your participation on social media with the hashtags below. We will pull your pictures and save for our results blog! No need to email your results.
Social Media: Raise awareness and celebrate your (and your family & friend's) accomplishments. Post photos and comments about your race on Facebook, Instagram, and Twitter. Tag your "race photos" on social media with the tags (if you don't tag, we can't find 'em!)
#MISSVirtualRace #SBMandTriFecta #SwimBikeMom #BeBraveBeThankful #VirtualRace #MISSFoundation
How Much Is Donated:  We will be donating all registration fees, after fees and costs are paid, directly to MISSFoundation.org. (Note: the full amount will be disclosed at the conclusion of the event. We do not know what that amount or percentage is until we know the total number of registrations. The total amount donated is based on the number of race registrations, after costs, medals, t-shirts and fees are paid. Read about our latest results from our last virtual race benefiting ALS.
The Swim Bike Mom Match: For every $1,000 raised for the MISS Foundation, Swim Bike Mom, LLC will donating an additional $100.
About the Benefiting Organization: The MISS Foundation is an international 501(c)3, volunteer-based organization providing C.A.R.E. [counseling, advocacy, research, and education] services to families experiencing the death of a child.  Learn more about MISS at MISSFoundation.org.
Robert Munsch said it perfectly in "Love You Forever," written in memory of his two stillborn babies:
I'll love you forever,
I'll like you for always,
As long as I'm living
my baby you'll be.
Join us in celebrating the lives of the children of all ages who have been lost, and supporting the families who love them and miss them every second, every day.