What sides?
Fat or Thin.
I am so SICK of talking about fat and thin.  And having to play on one team or the other.
Okay, so I've never actually been asked to play on the Skinny Team. With the thin people.  Like, ever.  And being in a mind-F sport of fitness like triathlon… well, I really chose awesomely in my pursuit of THIS sport.
So people (the media and others) in our sport love to keep Swim Bike Mom close to their heart.  All, "oh bless it, she's the sweetest… she does so much for our sport… but OH, but dear GOD, please keep her behind the scenes… steal her ideas. Use what she's built, and written and done… but for shitssake please, hide her."
I get it, man. Trust me, I do.
And trust me when I say that every "fat" girl or "former fat girl" in the world "gets it" too.
So… the Skinny Team.  I don't get to play on that playground.  Except, the problem is that I chose triathlon as MY PLAYGROUND.  
[The playground reference comes from a post last year when I was talking to my husband about being too fat or too slow to play with the cool kids on their triathlon playground.  He said, "Here's the thing… you have CHOSEN to make triathlon your PLAYGROUND.  And it is a playground of lots of fitness, thin-ness, and speed. It's a playground that will mess with your mind, too.  It's full of kids who are different than you are.  And maybe somewhere along the way, you've ingrained that in your own head way more than you should have. And of course, looking at the wide picture, hey, maybe you DON'T technically 'fit in.'
"Those triathlete kids on the playground are swinging high on the swings, fast and furious.  And you're over there, hanging out on the monkey bars, doing your tri thing to the beat of a whole other drum.
"In reality, the fast and furious kids on the swings don't care that you are on the monkey bars–they're too busy with their own stuff.  
…"You are doing your thing.  And wait–don't forget the kids who AREN'T even ON the playground. The ones who are looking at ALL OF YOU from the street thinking: 'Wow, I wish I had the courage/balls/strength to do what they are doing! That crazy blonde one on the monkey bars looks like she is having so much fun!'
"Mere, you have worked so hard in this sport and only YOU can change YOUR perception of yourself.  Be beautiful in your own mind, and keep being a damn triathlete. It's YOUR playground too. You need to step back, realize WHO you are and what you have accomplished FOR YOURSELF.
"Now get back on the monkey bars."]
Yep. It's been UP TO ME to change the perception of myself.
I was a chubby kid. An athletic, but pot-bellied teenager, and it's been a yo-yo since then.  One time, back in 1997, I was cutting weight for an Olympic Weightlifting event.  I lost 14 pounds in two weeks, and I passed out in the hallway during the middle of the night.  A fond time in my life to which my dad still reminds me: "You never looked better than that one time before that weightlifting meet…"
Holy crap.  Also known as, "You looked great that one time you nearly died."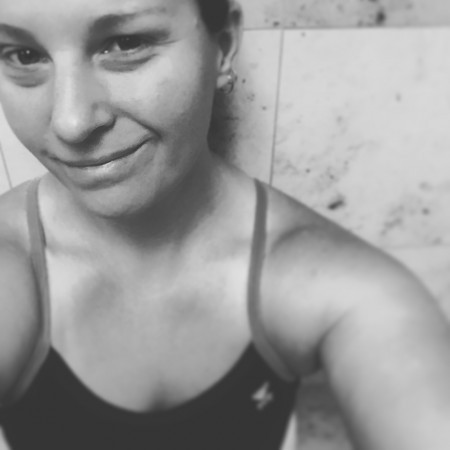 [I jest (sort of), but I will tell you. It's certainly weird when someone says that "best" you ever looked was the result of a really bad situation.]
So fast forward two decades, I am watching the television and I see Oprah on her Weight Watchers commercials. And I cringe, and say to myself, "Oh Oprah. We meet again."
Because in all seriousness, I have made NO secret of the fact that I have enormously struggled over the years with my weight, my self-esteem, my body image and everything else in between. And Oprah gets to eat bread, and I am rocking almost a year of clean eating with Swim Bike Fuel, and almost 90 days sober, down four POUNDS of fat in the last four weeks, and all of that… and really, I feel great.
I really do.  My playground is good, and mentally, I am in a good place.
But then I was tagged like fifty times in a recent online article about why Plus-Size Athletes are our new athletic heroes.  [NOTE: SINCE THE PUBLICATION OF THIS POST, THE EDITOR OF THE ONLINE ARTICLE REMOVED THIS PARAGRAPH FROM THE POST]
"Yay, Swim Bike Mom was mentioned."
Nevermind the fact, that despite the fact that I may weigh more than three giant sacks of granite, I'm not actually plus-sized.
Nor was I asked about being referenced and cited in that article.  And finally, and when I posted a comment about THAT, it was promptly deleted from the blog.  (Gotta love blogging integrity.)
Furthermore, the writing in that article was SO confusing that I have no idea if I am being complimented, back-handedly complimented, or insulted…
So here's the quote from the article:
"Either you love seeing a fat girl racing or you hate it.  There's not a lot of in-between," […] noting the extreme negative and positive posts about a very large triathlete finisher on the popular body-size-neutral sports blog "Swim Bike Mom."
First of all, I can't tell if I am the one being called a "very large triathlete finisher" or if it's in reference to someone else who I may have mentioned on the blog.  I did write a post 100 years ago about a picture of a large triathlete and how I thought she was awesome, and was not to be fat-shamed.  There was some backlash about her picture–and I stood up and said, "Hey – what in the heck. She's out there showing up and that is AMAZING!"  [Which, I stand by that comment by the way…]
[And, if I am being called a "very large triathlete finisher," then I would like to say a few choice words about that.]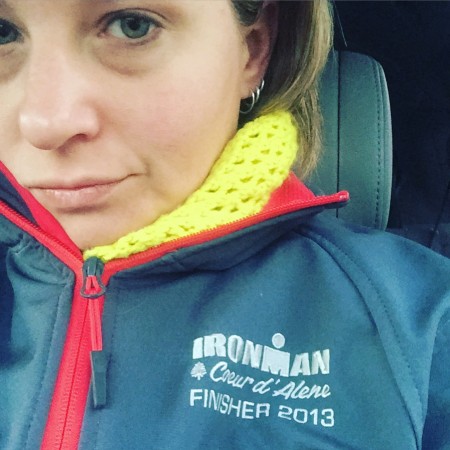 Next, what in the bloody hell is a "body-size-neutral sports blog"?
Because I consider SBM many things – but I don't think I would ever label SBM as a "body-neutral-sports blog".  And then, because I wasn't sure what in the world "body neutrality" meant, I looked it up.
And I came across this article, which stated:
…body neutrality… the acceptance of our bodies as-are, for the understanding that we are already enough, for the freedom to go about our days without a strong focus (positive or negative) on our physical shells — either as a step toward body positivity or as a goal in and of itself.
Body neutrality is body acceptance, a stop on the train to body love. You can get off here or stay on for the ride toward the final destination. The point is, once you're here, you'll never look back and long for the place that you left.
Oh.  Aw, hell.  Looks like I just might be a body-neutral sports blogger.  Okay. So maybe I am.
But I can tell you what I am not.  I am not a fat-shamer.  And I am also not a fat-flag-flier either.  I am not going to pretend that when I finished Ironman 70.3 Florida in 2014, way fatter than I cared to be and way more out of shape than I had hoped… I can't say that I was all "yay me" and "body positive me"…because here's the truth:
I was miserable. At that size.  At that stage of MY personal athleticism.
We all have a tipping point. The point where WE FEEL GOOD about ourselves.  Size or weight or 5k pace.
There IS a tipping point. And ONLY WE know where that is.
I don't like to say Body Positive anything, about anyone. That's THEIR choice.  We get to choose where we fall on the body positive scale of things.  I don't care if you are fat, thin or somewhere in between… if you are HAPPY… truly happy, then please, by all means rock on with your bad self.
Me, however?
I am not cool with me beyond a certain tipping point in my size.  And it's not the weight on the scale…. it's how my pants fit, it's how much I am running, and it's how much cycling I have been doing… it's what I have been eating. AND it all ties together.
And I am THE ONLY PERSON who knows how and exactly where that is–FOR ME.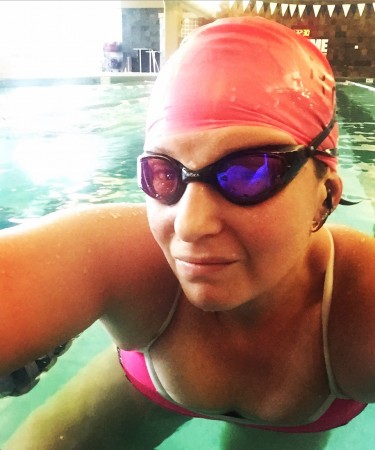 I will go ahead and say this: I am so SICK and TIRED about the inspirational plus-size
athlete

, inspirational bullshit.

You know why?

Because you're either an athlete… or you're not.  You either want to be an athlete, or you don't.  I don't care WHAT size you are—if you are working hard towards a goal, then who cares if you are inspirational or fat or thin or green or pink.

(Maybe this is where I am a body-size-neutral sports blogger? Maybe I actually am body neutral… because I don't care what size you are… I care if you train hard and work hard and stop whining about the things you CAN actually control.)

Here's the thing about me.  I started this sport squishy and out of shape and sad and angry.  But I started this sport so I didn't have to stay exactly there.
I wanted to change.  I wanted to be changed from the inside out.  I wanted better and more, and different.
And another thing about me?
I'm a freaking athlete. I may be a slow(er) runner, but that's just taken years to progress. I'm an Ironman. I train 9-17 hours a week, depending on the week.  I eat well. I don't really eat sugar anymore. I can't tell you the last time I ate fast food.  And I really, truly CARE about my health… not my weight. My health.  My children.  My fitness. I care about that.
And now, I care about my performance on my triathlon playground.
I weight train on Tuesdays and Thursdays with a super hot, super ripped, thin and fit girl. I would peg her for 100 pounds, soaking wet. We got to talking about the scale today.  And she's 148 pounds–of lean, hard and rocking strength.  She looks amazing.  But most of all?  She's strong as hell.  And as I weighed-in today at Lifetime, I learned that I had lost FOUR POUNDS of fat in the past four weeks.  Gained two pounds of muscle, and was holding on to two excess pounds of water (I had a really salty dinner last night!). And guess how much weight loss that was?  ZERO NET LOSS.   Because there is SO MUCH MORE to the story than the number on the scale.  My insides and muscles are doing awesome things, because I am training hard and fueling like an animal.
And my body?
Well, it's a machine. And there is SO MUCH MORE to MY damn story than an "inspirational plus-size" person…
I AM an Athena triathlete only because I happen to weigh more than 165 pounds.  And guess what? I probably always will weigh more than that. Because you know that "amazing" time back in 1997 when I looked awesome? I was cutting weight …to make the 166 pound class.  With my four-pack abs and all.
And you know what else?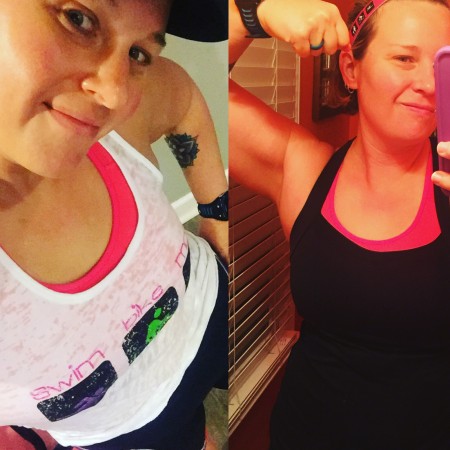 I was a kick-ass athlete then.
And I am a kick-ass athlete now.  Exactly where I am.  And exactly where I aim to be.  Exactly where I am going.
And if you work hard, and you want better… if you want to be better?  Then stop putting yourself in some "inspirational plus size" or "whatever box" too.  No boxes allowed.
Just be.
Be the athlete you are.  BE THE ATHLETE THAT YOU ARE.  Own it.  Stop qualifying it because of size or weight.
Just BE an athlete. (Or don't be.)  BE who you want to be… in the body you have now, and improve it… IF YOU WANT TO.
Because, I'm not going to judge YOU about any of it… I'm not going to put you in a box of "inspirational skinny girl" or "fantastic plus-size role model" or anywhere you don't want to be.
It's your world!  It's YOURS.  Do exactly what YOU want. Be exactly WHO you want to be.
In the meantime, stop putting me in some sort of plus-size, fat-whatever neutral positive or negative box.
Because I don't belong there either.
I am an athlete.   Period.