It's like the second x-ray was saying, "A-okay."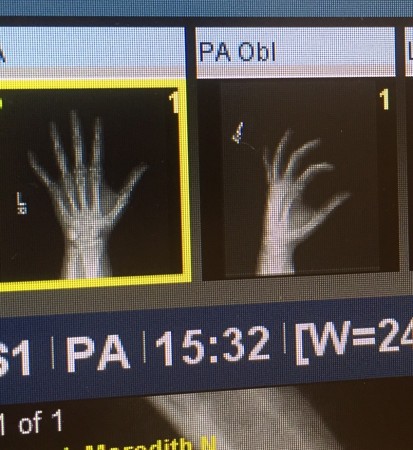 The Ortho told me that I have some strains and sprains, but that I have no fracture in the hand.
[PSA: An urgent care clinic, for the record, may not actually know how to read an X-ray.]
I am now officially buddy-taped.  And cleared for activity.  (And in need of manicure.)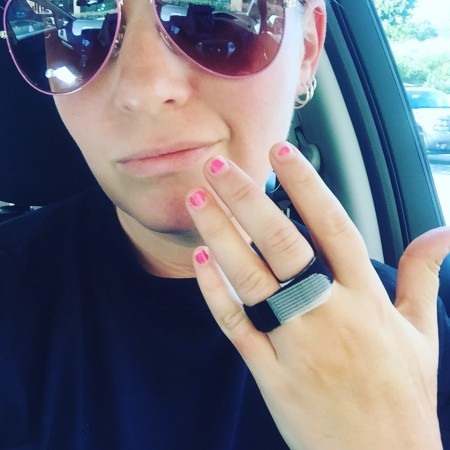 Next stop, however, is physical therapy for the massive jostling of my vital organs, neck and spine… dude, the whiplash abounds.
But I see it as one last hurdle to overcome.
My bestie, Ansley, was laughing at me, because I told her this morning, "This hand is not broken."  And she said, "What is this, the power of positive thinking?" 
And maybe it was. 🙂
So I am taking a deep breath…
One of my athletes just texted me and said:  "I am sure no matter what you decide it will be best for you and your family… from what I know about you and our interactions, I think it was a big step for you to do what didn't feel like 'Old Meredith' would do. Instead you dusted yourself off and got into the arena, again. And whether it goes well or leaves much to be desired, I think that shows just how much you have transformed as a human being since I have known you… daring greatly."
[We're Brene Brown fans, in case you didn't catch that.  Brene is a repeat force on this blog: here, and here, and here.]
So. I have read the signs. And I declare them in our favor.
Even knowing this is not going to be anywhere near the race I hoped.  Knowing that I have a really tough few weeks of therapy and training ahead of me. I can't stand to sit back and wonder "what if I had just shown up."  (A favorite mantra between me and my Dad.)
I thank the Expert for always being right there, pushing me and telling me, "Yes you can." Honestly, I don't know if I could have any of this confidence without him. He just believes expects that I will–and I often just follow that belief right to my finish lines.  He sees me day-after-day and knows the obstacles I often face—even those imaginary ones.  And he, along with my Dad and Coach Brett, are those few special forces who seems to always choose "Yes" for me …when others just say "crazy."
[Thank you.]
Tomorrow, Coach Brett has surgery for his collarbone and elbow from the accident on Sunday.
Now… I am not the type of person who's going to sit back and say, "I'll go 'try' this Ironman."
Belief and hope is everything in this sport.
So here it is:  I am going to do this Ironman.  In 25 days.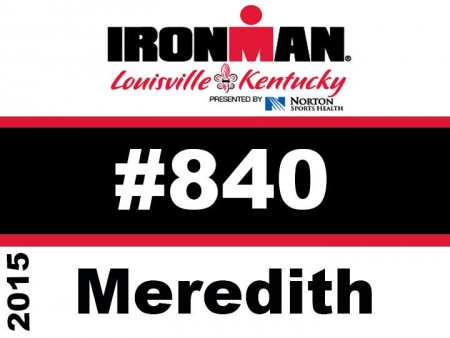 And… this one will be for you, Coach Brett.  I'll race this one for you.