Spotlight for this post is on SBMAT Ambassador, Rebecca "Reeb" Dobbins.  
Rebecca is a strong athlete who inspires those around her, including her rock star son to tri.


Rebecca "Reeb" Dobbins
City/State: Greenwood, IN
Age Group: 30-34
Biggest Inspiration:  My children, Aidan (8) and Cora (2). I want to inspire them to be health conscious. As a Registered Nurse, I've been working in a busy metropolitan emergency department for the past 3 years and it is scary how many children I see that are obese, have hypertension, type II diabetes, and heart disease. I find it sad to see children that not only feel poorly physically, but also who do not have self confidence. Promoting health and wellness has so many benefits that are immeasurable. Seeing my husband and children at the finish line is what keeps my spirits up during races. The joy I feel at that moment is indescribable.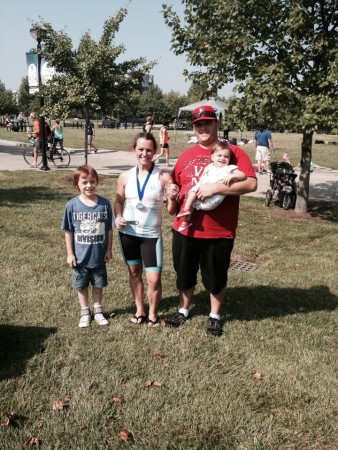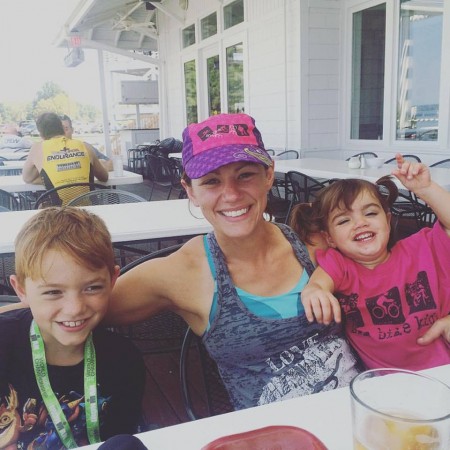 Scary 2015 Goal: (if any) Ironman. Not the movie. The big one. 140.6 miles. ONE HUNDRED FORTY POINT SIX MILES. I am registered for Ironman Louisville for October 11, 2015. I don't know what I was thinking when I decided this would happen. And, the problem with me (blessing? curse?) is that once I decide something is happening, it happens.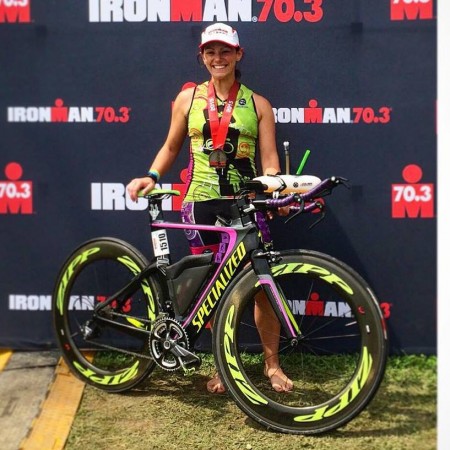 How Triathlon Changed Me: Triathlon has changed me in many, many ways. Just one year ago, I was 50 lbs overweight, tired, angry (about nothing and everything at once). I made one small change at a time until I hit the point where I was actually taking proper care of myself. Since my journey began, I've lost 50 lbs. I've lost 14 inches from my waist alone.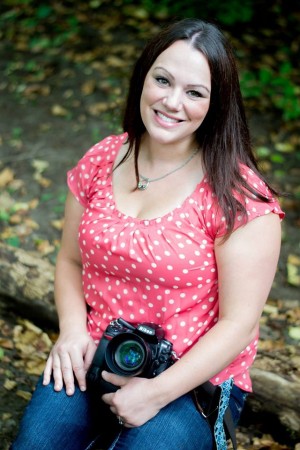 But, it's not just about looks or weight. Triathlon gave me a release. I'm a hoarder of emotion and this gets it all out. 10 years ago I would've never imagined I'd be where I am now. And, I am SO happy I'm here. I've been through an abusive, drug-addicted husband who left me a widow at a very young age. I've been through infertility and pregnancy loss. But, I've also found my one true love and have two wonderful, health children.
Triathlon helps me balance it all.
I began running the beginning of 2014. I had been a track runner in high school but my longest distance was a mile. At my first 5K, I wasn't sure if I could finish. But I did.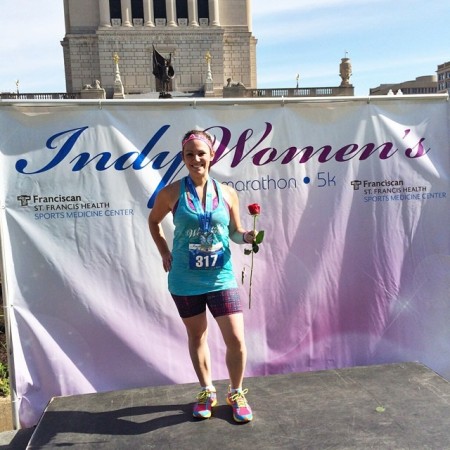 One day I saw a link from the Swim Bike Mom page and it appeared in my Facebook newsfeed. I thought "Swim Bike Mom, what on Earth does that mean?" So, I looked it up and the gears in my head started to turn. What if *I* did a triathlon? I didn't know how to swim. I hadn't been on a bike since I was probably 10 years old. But, I thought I was going to do a triathlon. And, I thought I was going to do my first one 8 weeks from that day. The first time in the water, I thought I was going to die. It was a high school pool, only 25 yards long. I couldn't even make it halfway down one length of the pool without gasping for air and standing up. I was going nowhere fast. Coach Haylei from Greenwood Gators was ever-so-helpful and encouraging.  I also met with Dick Sidner from SwimOpenWater.net after I totally embarrassed myself at an "aquathon" that involved a 500M pool swim and a 5K run. I side-stroked the whole time and was the last one out of the water by several minutes. I remember speaking with Dick after the race and him saying "We need to work on your swimming". Indeed, we did. After several lessons with both Haylei and Dick, I went from thinking that I would be the one with a snorkel at the triathlon to placing 2nd in my age group at my first triathlon. And, I talked Coach Haylei into competing with me! I've since competed in 34 events in 2014 including several 5Ks and 10Ks, four half marathons, 2 sprint triathlons, and 3 Olympic distance triathlons. I'm kind of addicted now.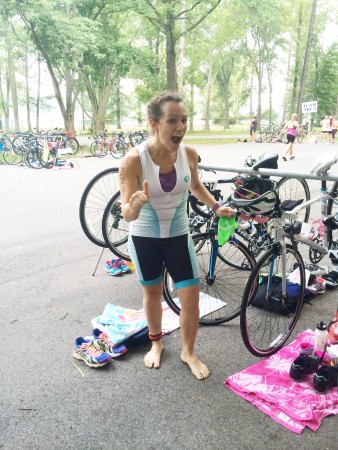 Since beginning triathlon, I feel like I always have something to look forward to that breaks up the "grind" of life. Whether it's a short workout or a long bike ride, it's my "me" time. It makes me generally a happier person. And, I actually have the energy to do things I never appreciated before. Simple things like going on a fun neighborhood bike ride with my kids never happened before triathlon. I can tell in my children the changes have been great for them as well. It's also been a new adventure in regards to my marriage. I'd be lying if I said there haven't been conflicts and compromise, but that's sometimes what marriage is all about. My husband is my biggest supporter. While he isn't an athlete himself, he has a true appreciation for the hard work it takes and is my inspiration to finish and see his proud face. Time management has always been my biggest nemesis and triathlon is forcing me to face it head on. If I want to complete a 7 hour bike ride, I have no choice but to manage my time appropriately. It's simply not fair to my family if I don't.
I am excited for the 2015 season and for the positive changes that I just don't see ending any time soon. I've decided triathletes are pretty awesome people and I can't be happier about surrounding myself with them.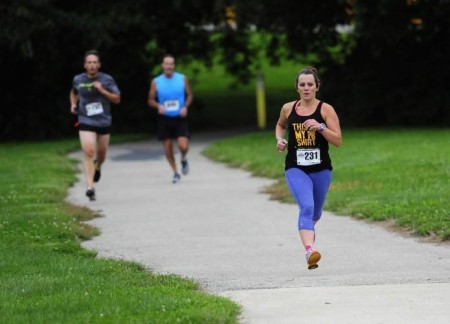 Favorite Piece of Gear: Newton Running shoes. Hands down. I had suffered with IT band pain, shin splints, and plantar's fasciitis until I found these amazing shoes. I followed their advice regarding proper running form and within a week of running in Newton Gravity shoes, I was absolutely pain-free. The way the lugs and mid-foot striking work with the improved form is simply awesome. And, they look cool (isn't that the most important part, after all?)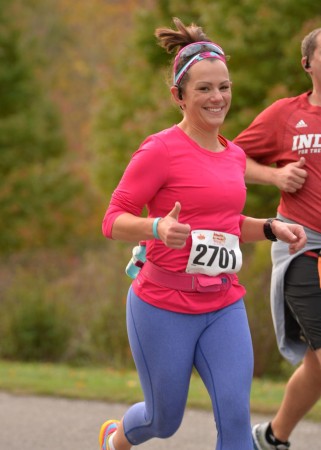 I Race For: I race for life. I race to inspire others. I race against myself. I race to prove to myself that I *CAN*. Just one year ago I couldn't make a lap running around my block. I couldn't swim. I hadn't been on a bike in many, many years. But, I told myself I could. My motto is "One day I won't be able to do this. Today is NOT that day." I remind myself of this motto every time during a race when I feel like quitting.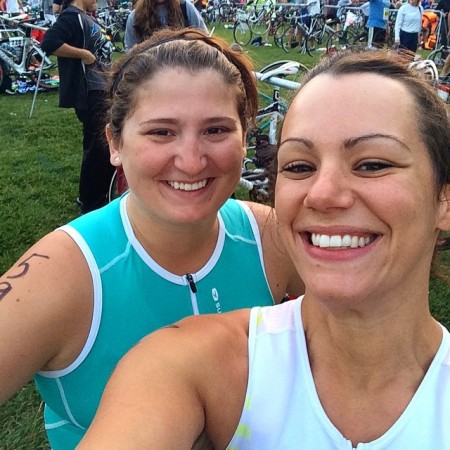 Today is NOT that day. I had a race I that quit at the halfway point because I had stopped racing for the right reasons. I was passed. My watch wasn't working. My legs were chafing. I had lost the mental game. I had forgotten to remind myself of my motto and that day became the day I just couldn't do it. I actually refer to that race as being my best because it refocused me into what I was really doing all of this for. It isn't to win. It isn't to be fast. It's to get out there and show up. To bring my "A" game. To be on top of things mentally. To truly enjoy it. I had forgotten all of that on that day. I have since vowed to myself to never let that happen again.
How I Pay It Forward: I have competed in many events throughout this year. I am always looking for positive events to support. Many events use the entry fees for charity and I seek out these events and try to support a wide range of causes. I also attempt to use my experiences to inspire others to do the same. Even if you can't run the event, you can walk it or even do a "sleep in" registration. Every little bit helps!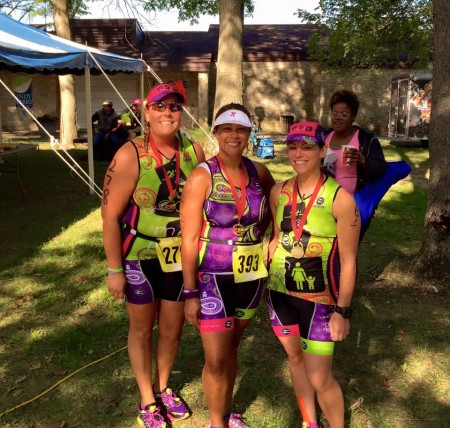 What Else You Should Know About Me: I am a Registered Nurse. I've worked in Neuro Critical Care, Emergency Medical and Trauma, and now work behind the scenes in outpatient hepatology as a coordinator. I was BORN to be a nurse, but have so many other desires in life as well. For the last 7 years, my husband and I have ran a salsa business, No Name Salsa, in Greenwood, Indiana and sell lots of fresh salsa, granola, and jams at our local farmer's market every Saturday from April to October. And, because I just can't seem to figure out what I want to be when I grow up, I also have a photography business, Reeb Photo, and love to photograph nearly everything I see.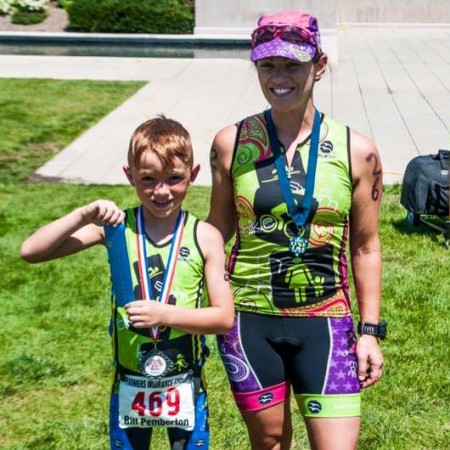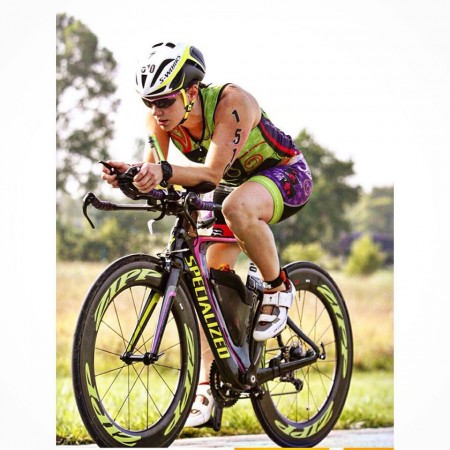 How to Follow Me:
Twitter: http://twitter.com/trimomreeb
Instagram: http://instagram.com/trimomreeb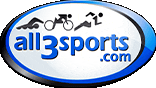 Use Code "SBM15″ to get 15% off through the end of the year at All3Sports!