REMINDER! DEADLINE TO REGISTER IS JANUARY 15Th!
You asked for it (yes, most of you asked for the West Coast… we're trying), but you got it anyway.
The first Swim Bike Mom Traincation!
Please join USAT certified Coaches Brett Daniels and Meredith Atwood in Panama City Beach, Florida in February 2015!
This is a fun camp designed to be a preview of the Gulf Coast 70.3 course, but is also loaded with comraderie, instruction and training for triathletes of any level.  
Camp is open to men and women of all ages, sizes, senses of humor and experience levels.  🙂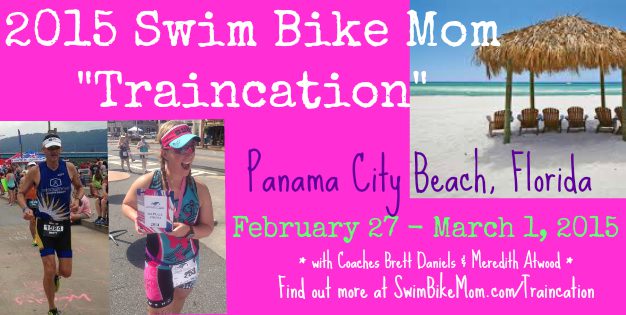 *Tentative Schedule of Events
Friday:
5:00-6:00pm

Registration / Meet & Greet /Check-In

6:00-7:30pm 

-Traincation Overview/Race Day Nutrition

Seminar
Saturday
8-10 am

Swim Clinic Instruction (Panama City Beach Aquatics Center)

10-10:30

Break

10:30-3:30

-Bike Instruction / Ride Gulf Coast 70.3 bike course (56 miles) with Brett Daniels; Shorter ride 20-26 miles available with Meredith Atwood

3:30-6:00

-Recovery from ride

6:00-8:00

-Dinner, Seminar & Key Note: Swim Bike Mom-Meredith Atwood
Sunday:
8:00-9:00 

– Open Water Swim Clinic and Swim at Edgewater Resort

9:00-9:30 

– Break

9:30-12:30 

– Run Gulf Coast 70.3 Run course 13.1 miles with Brett Daniels; shorter options for all levels from 2-10 miles with Meredith Atwood

12:30-2:00 –  

Lunch, Seminar & Traincation wrap-up
*Schedule of Events is subject to change depending on weather and other considerations. Final schedule will be provided upon traincation arrival.
Registration & Costs
$300 per athlete (total due on or before January 25th, 2015)
Due now:  $50 non-refundable deposit to reserve your spot (refundable only if, for any reason, the Traincation is cancelled).  Balance is applied towards your total registration.  You will be sent a link to the Facebook Group once you register (within 48 hours).
Room / Resort Details: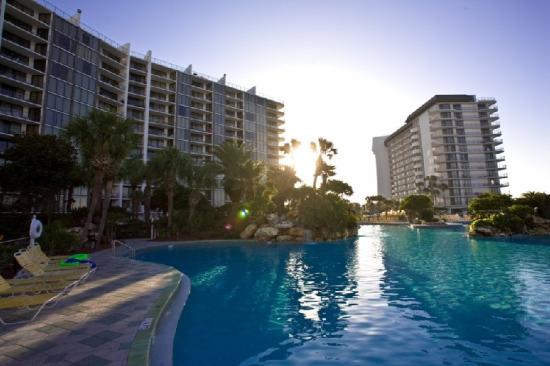 Edgewater Beach and Golf Resort
11212 Front Beach Road
Panama City Beach, FL 32407
(855) 874-8686

Room blocks are available for Friday, Feb. 27 and Saturday Feb. 28:
1 bedroom golf villas – $119.00*
2 bedroom golf villas – $139.00*
1 bedroom beachfront condo – $149*
2 bedroom beachfront condo – $189*
*Price does not include 12.62% tax
*There is also a one time, non-refundable damage waiver of $45.00 as well as a one time cleaning fee (cleaning fee: 1 bedroom $85.00, 2 bedroom $105.00)
*Mention Swim Bike Mom Training Camp for the rates
*Please note that rooms will not be available to reserve until 10/20/14, but you may RSVP now.
Stay In the Know
We have a Facebook Group for everyone who registers with their deposit to work on sharing rooms, travel arrangements, and other details/announcements. Reserving rooms and roommates is up to each of you to coordinate individually, however.
Or send $50 through paypal to SwimBikeMom at Gmail Dot Com (but use the real email address). 🙂
REMINDER! DEADLINE TO REGISTER IS JANUARY 15Th!