Old Man Winter has a firm grip on the majority of the country so unless you live in Florida or the Southwest you'll probably be spending some quality time cycling indoors over the next few months. Here is a quick list of the different types of trainers available and a few recommendations on what to buy:
Magnetic Trainer – The least expensive of all the trainer options, magnetic trainers use a magnetic flywheel to create resistance. These trainers are relatively quiet and easy to store, however they are not very durable (the flywheel mounts tend to break after heavy use) and there is a limit to the resistance that they can provide. Check out the Kurt Kinetic. Cost: $ 69.99-229.99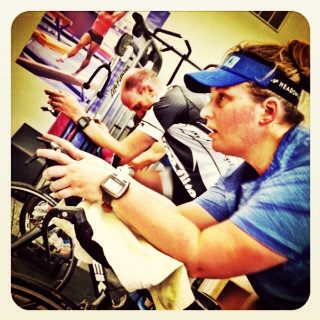 Fluid Trainer-These trainers are a bit more expensive than their magnetic cousins due to the fact that they combine the resistance of the magnetic trainer with a fluid chamber that helps to damper sound and provide more of a "real road" feel while riding. A few of the cons to this type of trainer are the fact that due to repeated expansion and contraction of the fluid chamber (as a result of heat/friction) they can leak (although in my experience this is very rare), and can be a bit more difficult to store due to the larger flywheel/fluid chamber on the back. Check out the Cycleops. Cost $ 129.99-315.99
"Simulator" trainer-The crème de la crème of indoor trainers!  Up first is the CompuTrainer which will allow the athlete to select certain courses and ride them "virtually" as well as many other functions. DCRainmaker has a fabulous review here if you would like more information. Another entry into this category is the Cyclops Power Beam which can do many of the same things as the CompuTrainer. You can read the review of this product here, and they are available here.
I have experience with both and neither are what I would call "easy" to use… but they aren't so hard that it is a deal breaker.
Finally, a relative new comer to the indoor trainer market is the Kickr from Wahoo Fitness. The unique thing about the Kickr is that you remove the rear wheel and attach the bike to the Kickr via the rear dropouts. You can read a review of the Kickr here.
If you live somewhere where you are confined to indoors due to weather or other factors for a majority of the year or want to have the ability to "ride" any course in the world then this is a category where the money is well spent. Cost: PowerBeam-$999, CompuTrainer-$1699, Wahoo Kickr-$1099.
There is no right or wrong answer when it comes to choosing a trainer.
The important thing is having this valuable training resource available for times when it isn't possible to ride outside …or when you need to do a focused set of intervals without interruption.
Happy Training!
– Coach T-Bone, in real life known as Brett Daniels, is a husband, father, coach and air traffic controller. He's the head coach at PTS Sports, and a multiple-time Irondude.  He's also Swim Bike Mom's new coach—meaning that he's got no idea what he's in for. 🙂
* * *
Still looking for a coach?
PTS Sports is having an "End of the Year" special on coaching. They are waiving the start-up fee ($175) AND new athletes who sign up before the end of the year are "grandfathered in" at 2013 rates ($175) for the duration of their coaching experience. Our rates are going up to $200 for Level II coaches and $150 for Level I coaches on Jan 1. This promotion runs through midnight on January 1. Coaching inquiry with PTS Sports? Ask Coach T-Bone here: