So I was visiting my pals at All3Sports at their Atlanta store yesterday, and had a heck of a time with Sweet Red and Brent Pease. Do you know Brent? Yes, yes you do.
He's this amazing runner…with his amazing brother. Finishing Ironman Wisconsin.
Go here to read a heck of a race report — the most amazing thing to me (aside from of course, the heart and soul and sheer strength) was this little factoid:
"We knew the bike would be tough.  The mathematical equation of:

Me + Kyle + Bike

 = 330 lbs. of rolling weight" 

Wowzers.  And just like you'd expect someone who does Ironmans with his brother—he's also just as nice as he can be.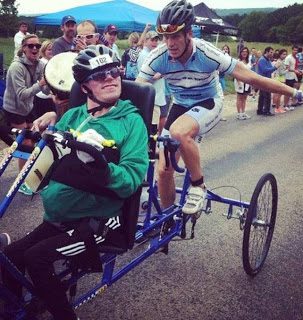 So anyway.
Yes, met with Brent today about some pretty exciting things going on at All3Sports–including an Andy Potts Weekend (in two weeks… I will have super lots to say [and do] with this one! Squealllll! Will update you guys shortly!)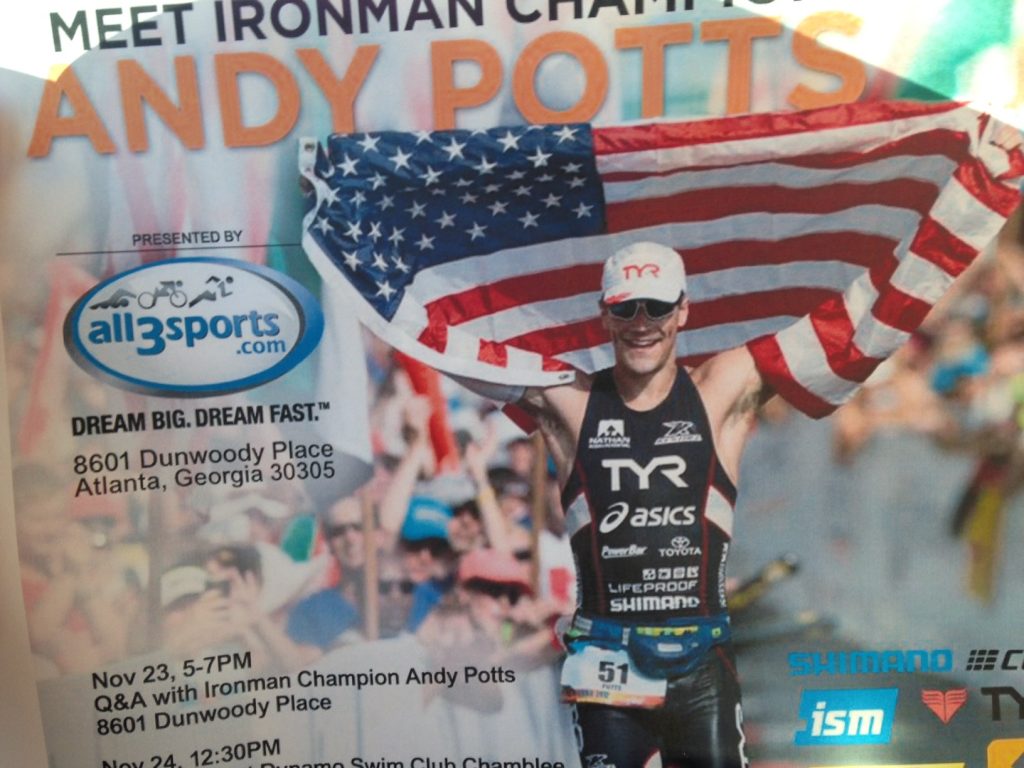 …And then a Ladies' Night with 63(!) time Ironman Hillary Biscay on December 6th.  There will be vodka at that event. (I would need vodka to even talk about 63 Ironmans…)  Lots more to come on that.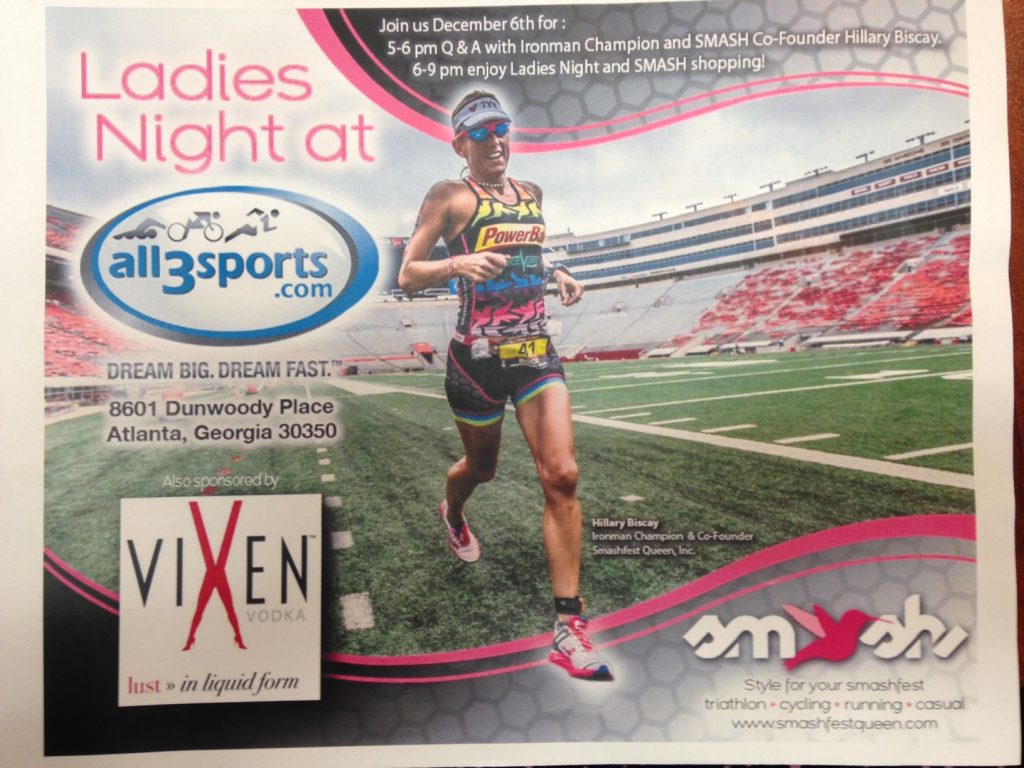 Again. Anyway, so Brent, Sweet Red and I were IRON-ing out some details (heh heh, you love my jokes), and were going through the warehouse. Brent throws some compression at me.
I don't like compression.  As if I don't look enough like a sausage.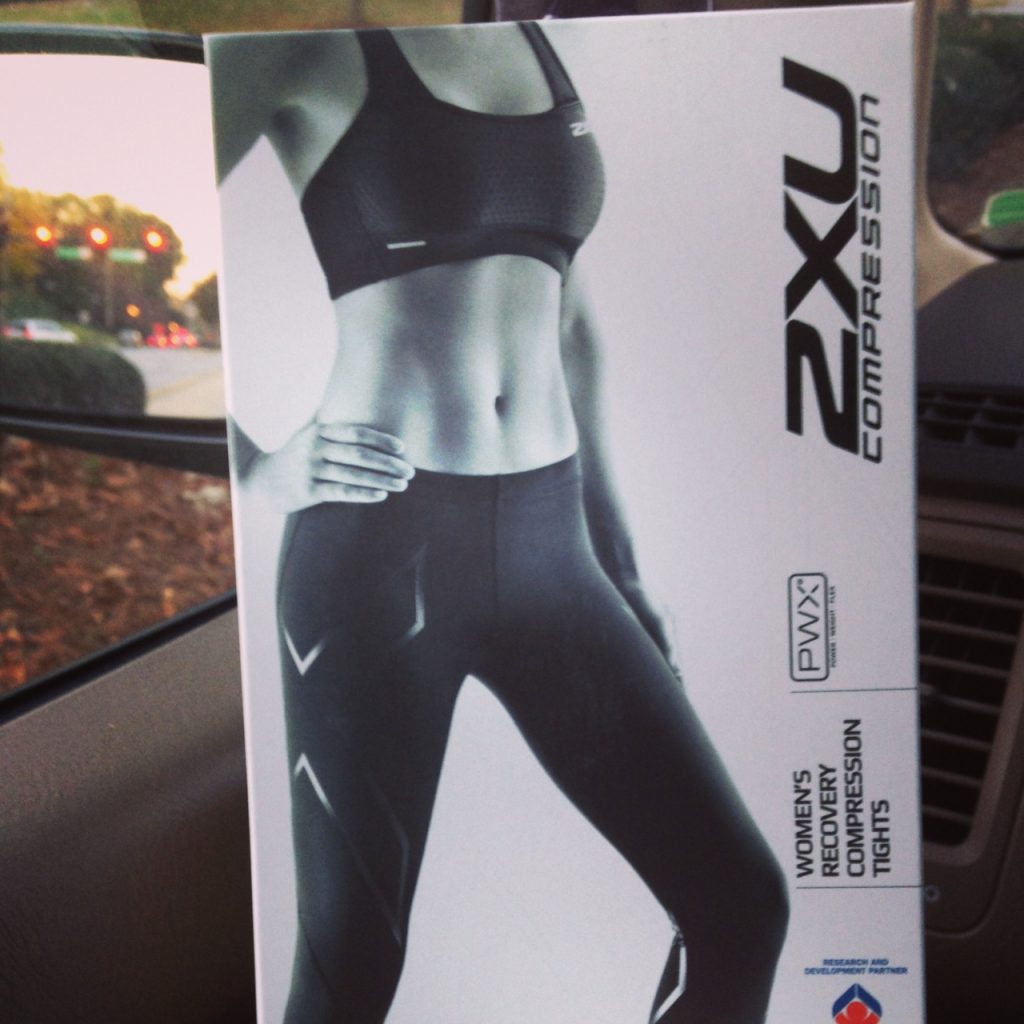 "No," he says, "These are recovery tights. Try them!  Wear them after a long day. They are great!"
"Question. Will I look like this woman on the box?"   Then I muttered some joke… about them being called 2xu… and how I was actually not "two times me," but rather "two times the size of Brent" to which Sweet Red lost her mind, giggling.
Boy, they were pretty, though. And like a kid on Christmas, I actually tore into the box right when I got home.
And I wore them immediately. The kids were staring at me as I put them on–wetsuit style–right in the kitchen.  Then they wanted to take pictures of me.  So I let them (the Expert is traveling…someone's gotta do the dirty work!)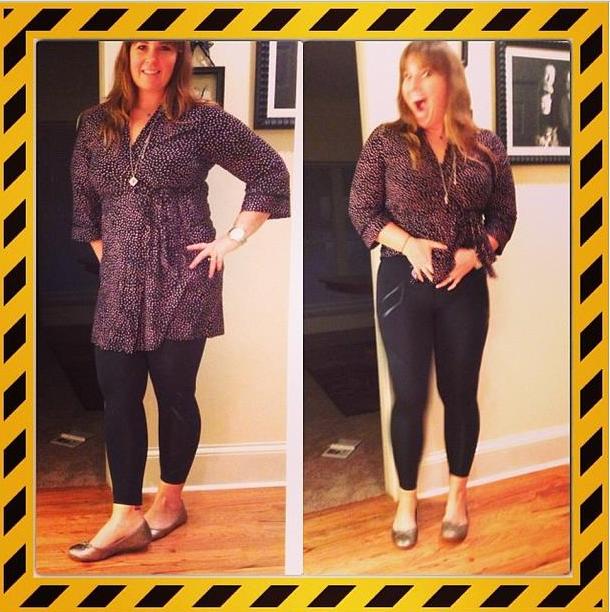 I am super sore from my 7 mile run on Saturday, 90 minute interval bike and 1:15 hot yoga on Sunday. I had no issue declaring that I needed some recovery.
So I cooked dinner and tackled this episode of Hoarders which was laundry day… all wearing the compression tights.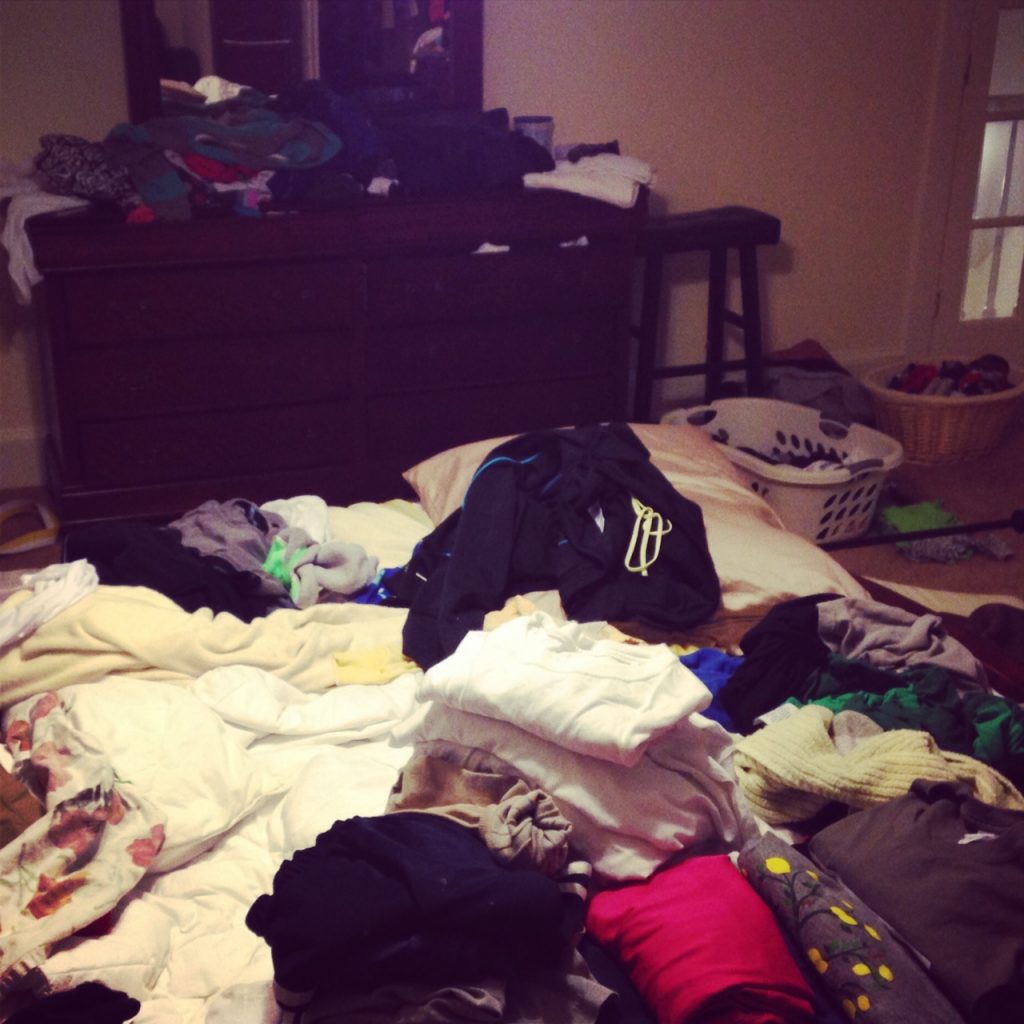 I fought the kiddos into bed (wearing my compression tights). Fighting kids to bed is a constant theme, but even worse when the Expert is traveling. Man.
So it was then 10:00. I had been awake since 6:00am, worked a full day and been a mom… so I finally had lots of "me time."  So I lounged on my couch and watched exactly 10 minutes of "Love It or List It" before I went to bed. (Did not wear the tights to bed).
Verdict: I really liked the tights.  I am interested in putting them to the test after a 100 mile bike and 10 mile run.  (Which I am not doing ANYTIME soon… heheheh)… But I can see how they would be awesome.   But here's the thing—I know these puppies would be awesome after a standard day of wearing heels and sitting in a desk.  The compression was comforting and made me feel like I was doing something good for myself that was outside of a workout.
My legs do feel good today.  I slept well. Not too shabby for a Tuesday.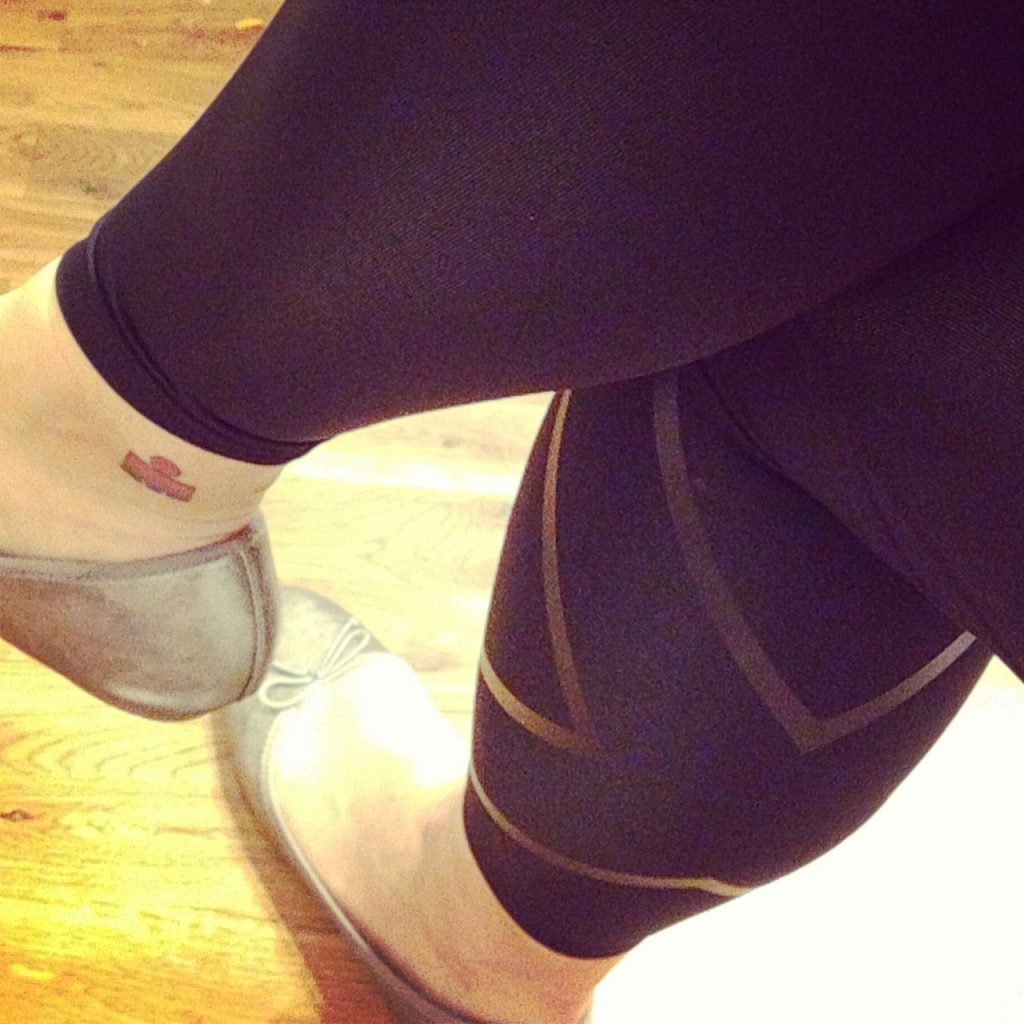 About the 2xU Recovery Tights:
THREE REVOLUTIONARY FABRICS
2XU is proud to present PWX – a collection of premium Compression fabrics engineered to offer optimal POWER, WEIGHT + FLEXIBILITY in perfect equilibrium depending on your needs. Each 2XU PWX fabric features high gauge elastomeric yarns + superior medical grade circular knit structure to allow 360 degree stretch, greater flexibility,unsurpassed power + durability.
PRE EXERCISE
Improved Circulation:
Faster warm up and enhanced overall circulation. Graduated compression of the
limbs actively encourages and increases venous return to the heart and lymph nodes.
DVT Protection:
Deep Vein Thrombosis is a condition that mainly affects the lower body and is typically associated with long periods of travel or inactivity. 2XU Compression garments can enhance blood flow in these areas through enhanced venous return, reducing the risk of DVT and swelling in ankles and limbs.
DURING EXERCISE
Reduced Damage:
2XU Compression features muscle containment properties which reduce muscle damage during
exercise. By reducing muscle damage, 2XU Compression garments can minimize swelling post exercise and can significantly reduce the severity and duration of exercise induced muscle injury and soreness such as Delayed-Onset Muscle Soreness (DOMS).
Increased Performance:
During exercise, your muscles are exposed to vibration. This major cause of muscle fatigue, known as muscle oscillation can be reduced when wearing 2XU Compression garments. This leads to improved muscle endurance, strength, power output and lower heart rate for greater performance.
Heightened Agility:
2XU Compression applies pressure to the skin surface to increase the body's awareness for improved posture, agility and stability (proprioception). Heightened proprioception can help improve technique as an improved sense of your body's positioning can increase balance, control and muscle coordination. Increased Protection + Comfort 2XU Compression garments boasts a UPF sun protection rating of 50+ to offer maximum protection during outdoor training and competition. 2XU Compression fabrics wick moisture from the skin to keep the wearer dry and comfortable. 2XU Compression garments are also embedded with an antibacterial, odour resistant application to help minimize odour and prevent bacterial growth.
POST EXERCISE
Faster Recovery:
By offering graduated pressure, 2XU Compression garments work to improve the recovery cycle by helping the pumping action of the cardiovascular system; removing blood lactate from exercising muscles leading to reduced swelling, faster muscle repair and reduction in muscle soreness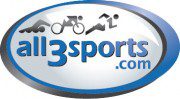 You can purchase the 2xU Recovery Tights here, or if those are a little much, you can check out many other recovery options from 2xU here at All3Sports.

Interested in other types of compression?  Swim Bike Sell has 100% Compression for rock bottom prices as well.  Check them out here.