Hey folks! Virginia, here. I JUST got back from an awesome weekend of training, training, training, and it was JUST what I needed right now. This awesome training weekend was sponsored by TriCoachGeorgia.com and was designed as a training/preview weekend for the Augusta 70.3 Ironman in September.
To back things up, I have to say that I was SCARED when I signed up for this camp. Much of the training talk on the Facebook page about Augusta seemed to imply that these people were some fast folks…..and they are…
Despite my fears, I decided to go for it. I found out, through Facebook, that another awesome Swimming, Biking, Running, Mommying, and Blogging follower of SBM was also going. So, Heidi and I decided to room together and tackle this together. One of the best parts of the weekend is that I really made a friend in Heidi. She's such a great mommy-triathlete. We had lots of fun. But…back to camp…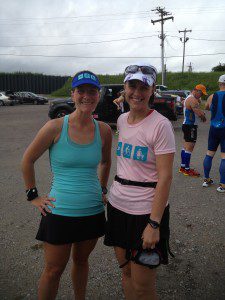 I left home Friday evening and headed to Augusta. Camp started Saturday morning at 8:00 am. While I could have easily just gone down Saturday morning, I opted for more "me" time by going Friday so that I could sleep a bit later Saturday. It was a good decision. The guys at TriCoachGeorgia had secured a discount for us at the Partridge Inn, so between the discount and the roommate, it was well worth my money to go down early.
Heidi and I woke up on Saturday to start training, and I think we were both a bit scared. The morning started with some excellent lectures about training, nutrition, injury, etc. at Peak Performance. Honestly, that part alone was worth the trip…..although I feel that way about every component. At 11:00(ish) we headed out to ride the Augusta bike course. Now………..this was interesting………
First, I selected to ride with the slowest group (15 mph) …. HA! Second, it was raining (lightly at the beginning). My "slow" group started out…..slow. A bit too slow, really. We had been warned that the first bit was flat, and it was, so I guess our pacer was trying to keep us slow in the flat part. As we started hitting some hills, the group started to spread out. We were NOT keeping to 15 mph, more like 17, which was more comfortable, really. When we hit 19 miles we were supposed to have a water stop, but the van hadn't made it there, so we keep going to a local convenience store and got water there. This is where it gets a bit dicey. When we headed back out, the group really split. Some flew off, others dropped back….. About mile 40 it started to really rain. I THOUGHT the hills were over, too. I was wrong. Around mile 46, I found myself riding VERY alone in the pouring rain and not knowing where to go. I tried following the road arrows, but they were not super evident (despite what the locals had said….though I LOVED the locals from TriAugusta….). BUT……I made it and soon I found myself rolling into the boat house. Wowsers!
 As a side note, during a tough moment on the bike, I said to Heidi, "Just keep moving…." and she quickly responded "forward!" Yep….we know the drill!
Saturday night there was a social "…aka dinner" with the other campers. I was lucky enough to sit right across from trainer-dude, Brian. I spent about an hour picking his brain about anything at all that I could think of that was triathlon related. I'm sure he was annoyed, but I really enjoyed it. (He probably should have charged me an hourly fee!) After dinner we went back to the hotel to CRASH. Saturday was such a fun day.
Sunday was supposed to be a river swim and a run, but because of ALL OF THE RAIN, the river was closed to swimming, so we had to swim in a nearby lake. The swim was fun and not too tough. I got to talk to some super nice folks who were local. They told me all about the course, etc. It was great. We left the lake and headed to the boat house to do the run course. I opted to do one loop of the course (equaling just under 8 miles) instead of both loops. With the IT Band issues, I wanted to "quit while I was ahead" and not push it. I ran the whole way with a really nice guy who was there to support his Swimming, Biking, Running wife. He isn't even doing the tri, but he did the camp. AWESOME!  When we finished running I was so happy because I had completed a decent distance at a 9 minute pace with NO PAIN! I haven't been able to say that in a long time. Woot! Woot! Pain-free running rocks!
The best part of this weekend was taking this training time for myself. I often feel really guilty for taking training time, but for some reason, I didn't feel guilty this weekend. This was my kid-free, make a new friend, train like a bad ass weekend, and it was wonderful! It was MINE. I had a blast! Now that I type this, I feel a bit guilty. No I don't!
 Some days training rocks. Even when it is hard, it rocks because I know that I CAN DO THIS! I'm a triathlete, and I am going to ROCK IT (or at least tri)!