I am having Ironman brain jumble. I am also feeling tremendously anxious and sleep-deprived. Which means, perfect… I'm right where I should be 7 weeks out from my first (and only) Ironman.
This past week was 18 hours of training.  Yes, 18 hours.  No wonder I am tired.  I'm so tired I can't sleep.
A big source of my anxiety is what my family is going to do on race day.
The Expert, the two Swim Bike Kids, and my parents are all making the trek to Coeur d'Alene.  I worry about them getting too tired, bored, annoyed, hot, hungry…  I need the Expert to follow me around the run course and shout "suck it up" and "go faster" and "stop your whining" and "don't pants your poop"—-so after 7:30pm and/or Mile 13 on the run (whichever comes first…), I consider it mission critical for me to have him popping up on the course to shout these things to me—and I hope my parents can wrangle the kids, at least during those hours, so that he can.  But at the same time, I know my parents want to experience the race too…I wonder if we can just tie the kids up to a fire hydrant with some snacks and pick them up later…. I kid, I kid.
We have rented a house 2.5 miles from the finish… I know roads will likely be closed, but I hope that maybe they can get to and from the house at least once during the day. I think that would save everyone.  Sigh.  I have 7 more weeks to worry about it.  Maybe a taxi?  Oh geez.
Swim Bike Single Mom, Sarah, from Chasing Down a Dream, is working on a guest post about spectating for Ironman and I am excited about it, because I want the Ironman experience to be great for my family too. And I don't want to be worrying about them …while I am trying not to perish on the course.
I am working on all my 10 day dedication posts, and I am going to take time to adequately thank the dear Expert in the LAST dedication— don't worry—- (yes, someone has already emailed me asking why I haven't thanked my husband yet.) …because really, he has been a trooper. It's been some tough times—especially when the kids are insane and he's had them all day while I've been out eating snacks on a century ride.
But as I have said before (and I'll beat the dead horse), Ironman training takes a village—it takes a lot of physical and financial support— but it takes a ton of emotional support.
I mean, I get in the bed at night and I say things like, "So I should be out of the swim worst case scenario in 2 hours, best case an hour and a half… and that banks me 20 minutes up to almost an hour… and then the bike… what do you think? I mean… worst case…"
Mania.
And on and on I go.  Every. Single. Night. (and day).  And one night, the Expert actually pulled out his iPad and we went through the elevation map and compared it to the metric century I did last year (which had the same elevation gain as CDA but in 65 miles, not 112… including two Cat 2 climbs)… and we came to the conclusion that "I will be fine" on the bike course.  Two blind mice leading each other… No real proof of any of it.
But still. He's here, supporting my insanity.  And I appreciate it.
Mania.
And my Mom and Dad have taken to just praying for me, because I don't think talking about Ironman makes them feel any better.  Because conversing about 5-6 hour bike rides and swims in 60 degree water just switches on their parent gene, and then they just worry about me.  So instead, they pray and send me text messages. And I am glad for the prayers.
I obsessively use this app called "Tri Calc" with all my insane time scenarios…in the scenario below, I have a great swim and bike, and therefore, I bank 7 hours to finish the marathon.  Meaning I can stroll it.  None of which are based on any sort of reality. Because I won't know my time scenarios until the day comes and I'm living them.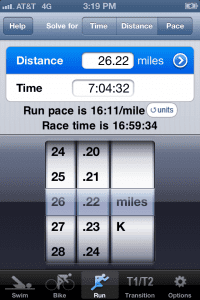 I also haven't had a rest day from training in 10 days, and I'm not getting one until Wednesday… (don't comment about how "rest days are necessary"—I'm well aware, but there is a method to the madness when I am not running the 13-17 miles that all you other Ironman-training people are doing right now…)
Mania.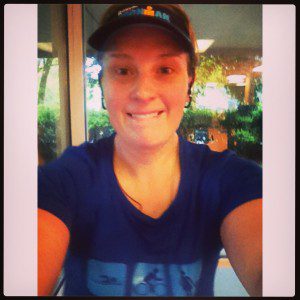 Nutrition is going well. Hip is feeling okay.  There is some minor pain, but the runs are very short, so I am staying smart about it all.  I am just tired and looney.
And the weight is coming down, and I don't see how it can't with 18 hours of training each week, for Pete's sake.  But I have cut out gluten and dairy with the Metabolic Boost & Burn, so I think that's been a big revelation for me. But even the nutritional side of things feels like mania. To the point where Coach Monster has started calling me Kate Moss, because I email him sarcastic things like, "I weigh 198 pounds. I am skinny. Skinny!!"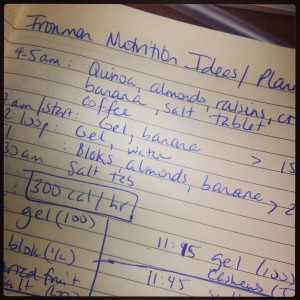 Tomorrow, I am dropping the kids with my parents for three days… first time we've spent a night without kiddos since last October.  We are overdue. Will be a nice training weekend with the Expert.  And maybe there will be less mania, at least for a bit.  And maybe a date.
But through all of this, my Iron Family keeps me going.  Prayers and mania and all.  And this Ironman finish (yes, FINISH) will undoubtedly be 110% dedicated to them.