Okay, my cold weather friends… does a 50 mile ride in thirty-three degree, super windy weather constitute cold yet?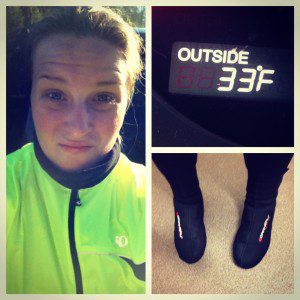 I think it does.  The Weatherman (the Expert and my shared custody cycling friend!) and I left around 8:45 yesterday morning, and it was not only cold…but uber windy.  Man oh man.   Poor Expert is still out with his torn meniscus in his knee… so I miss my riding buddy.  But the Saint Expert watched the kids while I made my Ironman training a reality (thanks, hun.)
Very flattering picture of me and the Weatherman: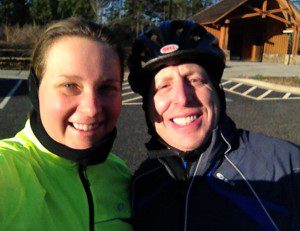 So here's some SBM cold weather riding tips from a 3+ hour ride…
1) Get some shoe covers. Seriously. No kind of cold like cold feet; these feet covers were the lifesavers of the ride.  Louis Garneau… snagged them on Amazon.com for $16.  Shoe covers?  Yes.  You put on your cycling shoes—-and then slide and velcro these puppies over them.  The cleats on the shoes remain open so you can clip in/out of your pedal. Voila! Insta-warmth.  I used to wear two pairs of socks and STILL have frozen pups… not this time. One pair of socks and warm piggies!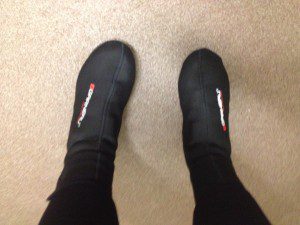 2) Wear a wicking base layer shirt. Think: a longsleeve tech shirt as a base layer.  I have an old ugly orange one (that I would never want anyone to actually see.)  Then, I tuck it into my shorts to keep all the wind out.
3) Try your standard cycling shorts under your tights, thermal or fleece pants. Yesterday, I rode with my favorite thick chamois padded shorts with my Garneau fleece cycling pants over them.  Wonderful. I love Garneau as a rule, but these pants are the best.  And yes, my larger lady friends—they go up to 2XL in women's which can easily fit 16/18.  Again, an Amazon.com score.
4)  Over a base wicking shirt, try a longsleeve fleece jersey.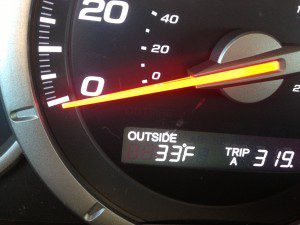 5) On top of the fleece jersey, try a barrier jacket (think: wind jacket).  I have a bright yellow puppy from Pearl Izumi (another Amazon score which goes up to women's 2XL). This piece keeps the bitter chill out, and acts as yet another wicking layer.
6) Thermal gloves. Necessary. Very very.
7) Additionally, ear warmers and/or a neck gaiter are especially nice.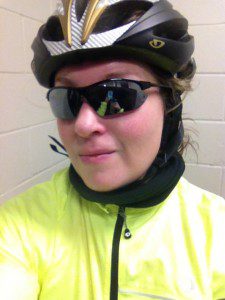 So with all of the above, I had a nice 50 miler in thirty-three degree weather.
Only when I was on about mile 45 did I feel "warm," but never was I completely frozen and uncomfortable.  So, getting it done–no matter the conditions–is possible…just gotta have the right woolies.