This guest post is not by the Swim Bike Dad (a/k/a the Expert)… but it is by a fellow Swim Bike Dad, Kris Dornan. Kris is an ace-kicking, fun-loving, joke playing Superman (at least in his kids' eyes…'til they get older), he's an ex-Peter from Family Guy (he has the picture to prove it), and is kind of made of Iron (read: Ironman Lake Placid!) with a little jiggle…. I have asked Kris to jump in and guest post on SBM for a few spells, bringing the DUDE perspective to the Swim Bike Family.
Here's his first post. Enjoy!
"When I can't seem to find motivation I turn to one place….Dove Chocolate (of course… dark chocolate with almonds cold from the fridge). Is it because I need a comforting piece of chocolate to drown my sorrows away? (No…I have my kids to snap me out of that…. feeding a three-month old, changing a 2 year old's dirty diaper and helping a 5 year-old with school work all at once and with only two hands…) Rather, I need the chocolate because every piece has a magical saying on the inside (some really stink like "buy more chocolate" – kind of like a cheap fortune cookie but none the less still magical…ummm more chocolate)…but a few that I keep on my desk and actually a screen saver on my cell phone (over my kids I mind you):
"Keep the promises you make to yourself."
"Love every moment." (my wife's favorite)
And my personal favorite…. "Live your Dreams."
LIVE YOUR DREAMS…what does that mean to me?  Heck, I don't know!  I know on a previous blog, Swim Bike Mom wrote she wanted to figure out a way to ride bikes all day and get paaaaiiiiiddddd.  Is that my dream?  Sure sounds like fun but sitting on my bike for six hours of an ironman hurt enough – so better find some good bike shorts and cream, SBM!
…But all kidding aside I see my dream everyday in the form of three beautiful kids and my wife. I get to hug them and kiss them (until that isn't cool anymore) and TEACH them many things about life.  Most of which I will let them screw up on first and be there to help them get back up.
…Back to triathlons….How does "Live your dreams" line up in triathlon?  Well, I have the ability to get up every day, rain or shine, throw my legs off the side of the bed and stand up.  One of many things I learned during my journey to Ironman was KEEP MOVING FORWARD!  (Sound familair, SBM?)
Sure some days suck beyond belief.  My wife works late and goes straight to coaching volleyball, which leaves me to swing by school to get my oldest daughter, than swing by daycare and pick up the other two munchkins. Then stop by the store to get something for dinner and a GREAT BIG WATERMELON to snack on (a pain to cut up but the kids usually eat it faster than I can get it in the bowl-and its HEALTHY, hello!).  Make dinner about 7ish, try to clean up a little, give the kids baths.  My wife and I eat dinner, then we put the kids to bed.  So by this time it is about 9:00.  Since my wife left work "early" to coach, she has to log back on to go through the rest of her emails so she isn't WAY behind the next day.  So I go straight to bed….ha, ha! I WISH!
Because  this crazy schedule is almost an everyday thing – I then put on every fat guy's nightmare – my spandex bike shorts!  And I climb on my bike in the basement for a 75 min spin. Or I run. Or I swim.  Because that's what I do. Triathlon and family and all of it! Why? Because I can.  And because I must.
Nobody ever said living your dreams would be easy.   I have made a choice to fit long triathlon in my life – and I wouldn't change it for much.  I thought it might be a one and done thing (I completed Ironman Lake Placid 2012 in July), but boy was I wrong.  I've been bitten by the bug, and I'm not stopping. It makes me a better husband and father to make MY dreams happen. If I am working towards my goals, I am working towards theirs as well—to have a happy, healthy family.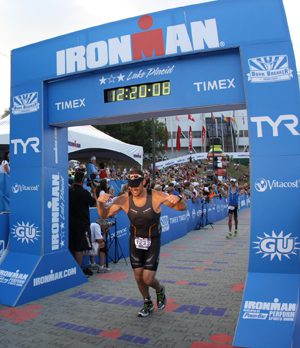 Life is hectic, life is crazy… but in the end… damn, it's worth it."
===============================
 Go HERE to lock in your copy.

Only a little while longer…