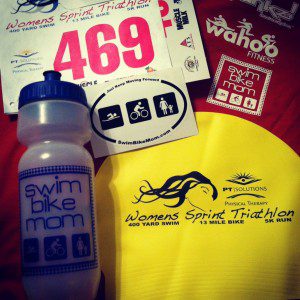 Swim Bike Mom friend, Stephanie, emailed me last night to tell me that she had been in a bike accident.
I told her when she got off the painkillers to send me a story, because it was so important.
Moral of the story:
Wear your Helmet. Always.
I can't believe people ride without it.  I made the mistake once riding up to transition before bike check-in without my helmet. One of the fellow racers scolded me (in a really annoying way, mind you), but she was right. I could have had one of my famous low speed tipovers… and who knows.
====================================================
Here's Stephanie's story.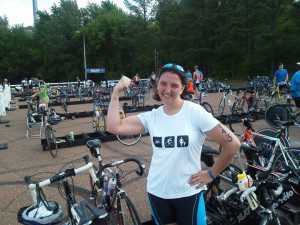 Yesterday, I woke up early to do a ride with a friend.
Yesterday, I had a horrible fall that didn't involve a car or another rider. It wasn't at high speed or on a downhill. It was a simple training ride and we weren't pushing hard.
Yesterday, my life could have changed forever.  I wasn't lucky; I was smart. I took the precaution that everyone who straddles a bike should take: I wore my helmet.
The morning started out like most do at my house. I woke up with the kiddos, scurried to help get them out the door, downed some food, and donned my workout apparel. I was meeting up at a friend's house to do a ride. For some reason I was having issues getting out the door. I had to walk back in three times to get things I had forgotten. As I was locking the door a third time, I realized that I didn't have my helmet. *Groan*
There are really no laws for adults saying that we must wear a helmet. In my case, it's a self-imposed rule. You see, while Memphis has become much more "bike friendly," not all motorists feel friendly towards us.
There is a saying amongst cyclists in Memphis, "there are two kinds of bikers: those who have been hit by a car, and those who WILL be hit by a car." I actually fall into the first category. I was hit by a car while riding my bike years ago. In the last two years, two of my friends have been hit by cars: neither was the rider's fault.  I know the risks.
I went back inside that fourth time to grab my helmet and strapped it snugly to my head. Time to go!
The ride for the most part was uneventful. We didn't go as far as planned because of "dead legs" from over training and decided to head back to my house for breakfast and then on to work from there.
 I had been having trouble with my back tire for the last couple of days: I had replaced the tube three times because of blow outs and pinch flats. As we were pedaling along I felt something was different about my rear tire. There was something squirrely about the way the bike was handling and I had to work harder to get the same speed. I quick glace down told me all I needed to know: My tire was low; probably a slow leak. Looking back up, I could see my friend was a long way ahead of me now. There wasn't much to be done about a slow leak at that point; we were only about 5 miles from my house. I could check the tire and put more air in it there. I pushed a little harder to catch up with my friend.
That's when it gets hard to explain exactly what happened. I know I was fighting to keep the bike upright and with that fight I was also heading off course and headed for the edge of the path. I let out a yelp and remember thinking to myself: NOT THE  DERAILLEUR SIDE!! NOT THE DERAILLEUR SIDE!! The bike slid off the path and down the embankment of gravel with me still fighting to right the bike. I skidded along the rocks and was really upset about what my bike would look like. Then my head hit the bike path. It hit hard. When the bike and I came to a stop, I didn't jump back up as I had planned. My eyes were closed and I just decided not to move for a bit. My head was throbbing and I wanted to sleep.
Z, my training partner and best friend, heard my yelp and the crack as my head (in my helmet) hit the pavement. He quickly came back to check on me. From here on out things get really fuzzy for me. I remember Z asking me a lot of questions and trying to see if I was ok to continue. When I sat up the world was like a tilt-a-whirl. My head was screaming and I really wanted to nap. I really didn't care about finishing the bike ride. When I opened my eyes to count how many fingers Z was holding up it was hard to focus. I could see his fingers but I had to blink hard to look and it took me a while to make the words come out. 
I closed my eyes. 
Soon I heard a ton of voices. There were suddenly a whole gaggle of riders standing around me. I saw familiar jerseys and wondered if I knew any of them. I ride occasionally with the Memphis Hightailers and there were several Hightailer and Journeymen jerseys among the group.  I remember a nurse, Rachel, trying to clean up some of my road rash and someone who said they were a doctor (Edwin, I think)checking me out and then having me lie back with my head on my camelback.
Someone had called for an ambulance. Z had disappeared- he had gone to my house to grab my car and retrieve my bike.  The paramedics arrived and started checking on my vitals, slapped a collar on my neck and strapped me to a backboard. I remember almost being scared and worried about the bill coming my way but it was hard to think about that. Those thoughts just didn't seems to matter all that much. Thinking about staying awake was hard enough.
Four hours and a CT scan later, the ER doctor sent me home with pain meds, muscle relaxers and the admonishment to not jostle myself too much for a few days.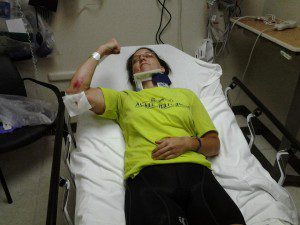 This morning, I am bruised, tired, have some awesome road rash, and my bike needs new bar tape. My shifter is a little scuffed.  I need a new helmet. I missed my marathon training run this morning.
BUT….
I was at home yesterday afternoon when the kids got out of school. I got to hug them and tell them to clean their rooms and do their homework.  I got to watch bad TV, eat comfort food and sleep on the couch so soundly that when Z came by to pick up his bike, I didn't know he was there. 
A lot of people said I was lucky. Yes, I was lucky. But I was also smart enough to wear the helmet. I was lucky  I took the extra few seconds to grab it and strap it on securely and make sure it was on right.  I was lucky that the helmet I was wearing was not compromised already.  
Yes, I was lucky. But I was also lucky that I was responsible – and wore my helmet. We all know what can happen when we walk out that door to train.  We do this triathlon craziness because we love it. We love how it makes us feel, how it changes our outlook on life and our bodies. We love the challenge. We do it for ourselves but that doesn't mean that we should be selfish. We all have family and friends.  Every one of us has a group of people who really care about us and our well being.
Refusing to ride with a helmet is selfish and irresponsible. 
As Z drove me home we had a conversation about this. We have a mutual friend who refuses to wear a helmet, saying that it's his choice and his decision only impacts him. What a lie! We would both be devastated if we lost our friend. We would be scarred with a terrible memory if we were the ones riding with him when he had a life altering accident.
My day could have ended with me in surgery, a long term care facility or worse a coffin. It didn't. I was mildly inconvenienced. I am going to owe the hospital money. I am going to have to pay for new bar tape and I am going to be sore and grumpy for a few days. But I am still here and the people who love me have been commenting on my facebook wall and the picture Z took once it was clear I was out of danger since it was posted.
Wear your helmet every time you ride. Make sure it fits right. Make sure it's snug on your head. Make sure it doesn't have cracks in it and if it does, replace it. 
There is really only one you and you really don't know how many lives you impact on a daily basis. My daughter was able to take me for granted again last night. I am so glad that she can. I am so grateful that she doesn't have to know what it would be like to lose her mom at 14. I'm grateful that my friends can make comments about my needing 'carbon training wheels' for my bike.  I am even grateful that I owe the hospital money.
Be smart. Be safe. Hug your babies. Wear your helmet, wear it properly and wear it every time.
A little humor:            
ASIDE: IF you ever find yourself in a similar situation, and can remember to do so, tell the paramedics if you are training. It seems that while I don't think of myself as an "athlete" my body has a much different opinion. The paramedics won't leave till they are sure you are stable. My BP and heart rate were low: in fact my heart rate was 50! Once I told them I was training for the St. Jude Marathon they relaxed. Turns out that this it is 'normal 'for an athlete to have a lower blood pressure and resting heart rate than other people. Hooray for that!
*  *  *
Thanks, Stephanie for sharing!!