Note: This original post was written in 2012.
The USAT national board just passed this revision of the USAT Rule Book, Article III, General Rules and Conduct, Rule 3.2, regarding the Athena and Clyde class.  The resolution passed on April 2.
"The weight standards will commence in effect on January 1, 2013.
Female weight class (Athena) 165 pounds
<Male weight class (Clydesdale) 220 pounds"
As most of you know, the prior weight minimums for these classes of racing were 150 (Athena) and 200 (Clydesdale). I was blown away by the response I received on Facebook and direct emails about this change.
Generally, the men commented that they needed to eat more doughnuts to make the 220 weight.
The women screeched, "Yes! I'm OUT of this class" ….or "Sigh, still so far to go."
In other words, the men were proud to be Clydes. The women appear to be scrambling to escape the Athena class like it's the 7th circle of triathlon hell.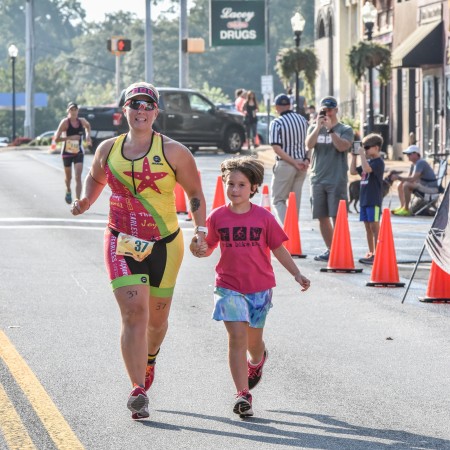 My friend, Carrie H., gave me a magnet a while back that says Athena: Goddess of Kick Ass.  After digesting the many reactions about this weight class change, I had to ponder…Athena: Goddess of Too Fat?I woke up this morning, and gave myself a disgusted look in the mirror.  I've been sidelined for almost seven weeks with a broken foot, so I have done (obviously) no running or biking. I have swam but I have pretty much not used my legs or glutes for six weeks. And it shows. Eeek. As I scowled in the mirror, I quickly snapped out of it.  I have come too far for this crap, I said (out loud).My attitude reminded me of stupid post awhile back on a blog that I will not link to. The blogger asked the question: Did this "Plus-Size Model Betray Us by Losing Weight"?  The blogger later apologized for her post, and like I said, I can't link to it, because well… I hate her blog, her stream of ads and everything it stands for. (Okay, enough of my rant).By the way, this is the woman who "betrayed" us… because now she looks like this. Ha.
Hello. I'd love to betray ALL of you…if it meant I'd be rocking this healthy, athletic body….I was so enraged by the post, that I posted a stinging comment, which I never do. "Stop writing stupid crap like this and write content to EMPOWER women about the bodies they LIVE IN (whether thin, fat or otherwise) and stop staring, analyzing and making a freaking big deal about whether that body changes, and whether you "should" raise applause or eyebrows." I tend to feel the same exact way about the Athena and Clyde "war." People are really passionate about their respective sides, too. I see five angles to this so-called battle.1) The Happy Athenas: I fall into this category.  We are the big(ger) girls, we know it, and we choose to race with our fellow 150+ (soon to be 165+) pounders. Sometimes the "bigger" girls are just very tall and fit girls. 150 pounds is all you gotta be to join the club. I am on the far end of the (+), by the way. I don't care if I see a svelte 6'0″ woman racing and winning the class. I don't care who is in the class, or what they look like. All I know is that I am part of a group of women who do not see 118 pounds on their scales in the morning (and maybe never will), and that's okay – we TRI anyway.2) The Exiting Athenas:  Women on the border of the great weight divide, who race Athena because they can place well in the class, but are ready to escape the group. Just a few more pounds! Athena is goal to pass through, not a lifetime member club. And when they do pass out of the group, they appreciate the hard work and dedication it took to be an official "real" age-grouper, who can't race Athena. (I wouldn't mind this group either, to be honest).3) The Age Group Athenas:  Ladies who think the Athena class is either ridiculous, deplorable, embarrassing, unnecessary, or just can't stomach weighing at athlete check-in. I understand. Weighing-in is horrific. Even though these ladies could race Athena, they would rather ride their bike into oncoming traffic than race this class. Wearing spandex is tough enough without the dreaded "A" on the right calf. They choose to be age groupers versus Athenas, which is precisely why the choice is there.4) The Indifferent / Supporters:  The group of men and women who don't have to worry about ever nearing these weight cutoffs, and are therefore indifferent about the whole Athena/Clyde group and don't spend their time worrying about what others are doing… Or, they think it's great to have the two classes, that it helps encourage participation in triathlon – and that is a good thing. Either way, Athena/Clyde, Tomato/Tomato doesn't matter to these guys.5) The So-Called Purists:  Those who believe triathlon should be closed to Athena-like and Clyde-like people. Those who believe that triathlon is a pure sport where only elite athletes should be allowed to play, blog about and talk about. (These are the ones who send me nasty emails…go ahead, you know you want to.)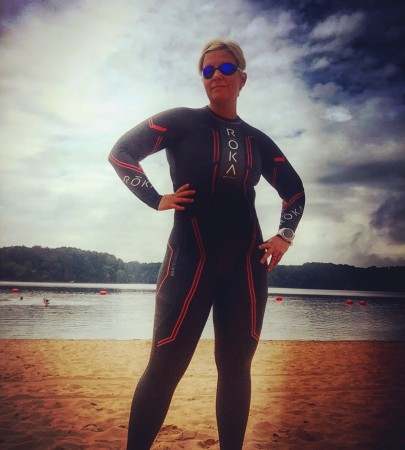 Soooo….where are you?  Do you belong to a "side"? Did I miss any?In light of getting mad at models for losing weight and the great Athena debate, I must ask why… why don't we simply plan to EMPOWER women (and men) to race in the bodies they live in (thin, fat, strong, Athena, Clyde or otherwise).
Especially in triathlon! A sport where people are putting themselves out there, trying to move, and trying to change their lives. Some women (and men) may do triathlon to lose weight. But it seems easier to me to just sit on the couch and stop eating… than to train 6-25 hours a week for weight loss…
Coming out of the water with other Athenas and age-groupers… August 2011.
When a woman begins to swim, bike and run, when she begins to learn the nuances of triathlon, it becomes something bigger (no pun intended) than weight loss. Slowly, she learns to train for the health benefits, the camaraderie, the sense of accomplishment, the mental health break from the job & kids, the pushing-beyond-her-comfort zone rush…and the excitement of crossing a finish line that previously seemed impossible.Same goes for the dudes, except my caveat coming from the Expert … for guys, each triathlon feels like a win, and every guy needs a win sometimes.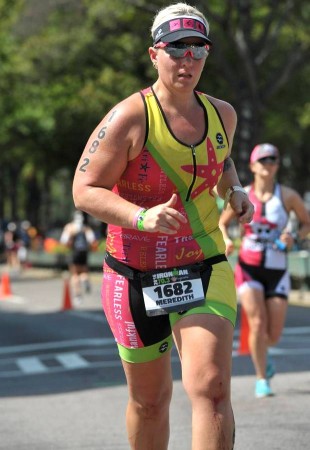 I believe with all of my heart that ANYONE can do a triathlon. ANYONE.The Purists may believe that anyone can, but think that not everyone should do a triathlon.
I disagree.
I think there is a time, race, and place for everyone. Yes, a 250 pound beginner should not take on an Ironman race and bottleneck the swim and cause dangerous conditions on the bike. Should a 250 pound beginner work hard to learn to swim, bike and run… grasp the rules of the race…and head out for a local sprint tri?  YES! Yes! YES!!!! You must start somewhere.  I took on Miami 70.3 because I knew I could hang with a group on the swim and bike, that I may be slower, but I would not be a course hazard. On the run? Hell, no one cares if someone else is walking…
But this is precisely why there are women's only races, local races, fun runs, sprint tris, staggered wave starts.
All of these factors lead to a safer course, but also a welcoming spirit. Can just anyone win the race? No. Will someone finish last? Yes. Will it be you? Could be. Is that your biggest fear? Finishing last? Embarrassing yourself? Is that why the Athena class gets so much resistance and fury and laughs? Because it's embarrassing? We are a funny, fat, jolly bunch who will never amount to anything?  What about the 5'11" fit women who race the Athena class? Is it unfair because they are tall and thus, weigh more…and not short and tubby? Would you rather die than race Athena?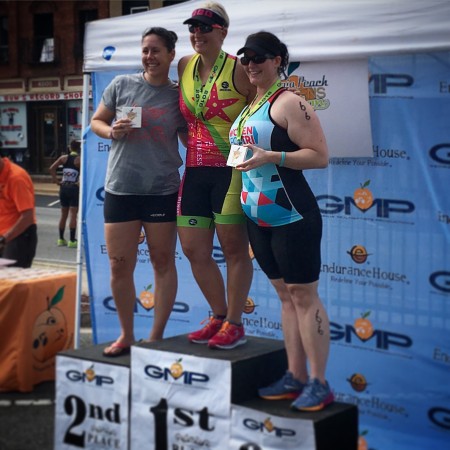 Of course, you are not required to race Athena if you are over 165 pounds. It's merely an option available to you. Which I think is fabulous.
The 70.3 and 140.6 races usually do not have this class, anyway.
Of course, I understand goals and wanting to lose weight to be faster.
Contrary to popular belief, I'm not a complete triathlon moron.  Plus, I would love to be under that cutoff, not to race outside that class – but to simply rock a string bikini (which I have now done, whether or not I am entitled to do so). But I keep moving.
At St. Anthony's Triathlon (in 2011 AND in 2017), I raced Athena and saw women on the course who clearly were in my "group," only they chose to race age group, avoiding the Athena girls.  It's a choice. An individual choice, and an interesting one, at that.
Athena: Goddess of Too Fat? Of course, you know I don't feel that way.
I would LOVE to hear your thoughts…