"[Triathlon for the Every Woman] is truly is amazing, heartwarming, humourous, and inspirational. I love it, and am proud to have been able to…endorse it.  All the very best…
Smiles – Chrissie [Wellington]"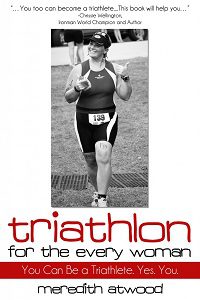 Available in
Paperback, Kindle &
Audio (iTunes & Audible)

Here's what readers are saying about Triathlon for the Every Woman…
[It's the] "The Triathlon Bible" – If only I had had this book a year ago as I started on my journey to become a sprint triathlete at age 59 and with no prior athletic experience. All the hours I spent searching the Internet and ordering other books, CDs, etc. would have been saved because Meredith covers everything a neophyte triathlete could ever need/want to know. This book will without a doubt become the "gold standard" for beginning triathletes. Meredith's humor, candor and inspiration are extras that will make the learning process fun….
No More Excuses! If you are like me and you are good at making excuses for why you can't get to the gym or fit in your training, read this book so you can stop making excuses. Meredith has a full time job, two young kids, a husband that travels and has completed two half irons for goodness sakes! She helps explain how she fits it in which of course is the burning question. While she is indeed a superwoman, she is also an "every woman." Her struggles in parenting, marriage and training are the same struggles that all of us "swim, bike, moms" face but she has a way of writing about them honestly while making you laugh out loud as you read. A fun and fast read that I would highly recommend to anyone who has even thought about triathlon- this book will get you there!
Hey…that's ME! – I'm addicted to everything she writes! I often find myself laughing aloud or crying along – it feels like my own life story (minus the swim bike kids). I'm a plus size triathlete and I find SBM such an inspiration. The book, much like her blog, is entertaining to read and is filled with valuable information for people just starting and those who have several tri's under their belt. I recommend this book wholeheartedly!
Hilarious and informative– This book is a great introduction to triathlon and contains valuable information for those who have some race experience. Meredith's refreshing truthfulness about her life, including both triumphs and struggles, can't help but inspire you to go out and just keep moving forward.
A must read for athletes AND non-athletes – I got my copy and have already shed some tears and laughed my a** off and I'm only at page 42. Meredith is an amazing writer.
Book Reviews of Triathlon for the Every Woman