Optimal

Thrive

Intensive
This program is for:
Hard-working, focused and dedicated adult male and female runners, athletes and triathletes.
Participation in a prior OT program is not required; but an "all-in" attitude and focus is required to make the most of this program. Participants must agree to dedicate five weeks to the program and pledge to make this a priority.
Omnivore, Vegan or Vegetarian athletes are encouraged, as well as those with food sensitivities or intolerances.
There are no "prescribed foods" – you work with what you can eat and like.
There will be daily activity and engagement required of all participants.
This is intensive–so get ready for it!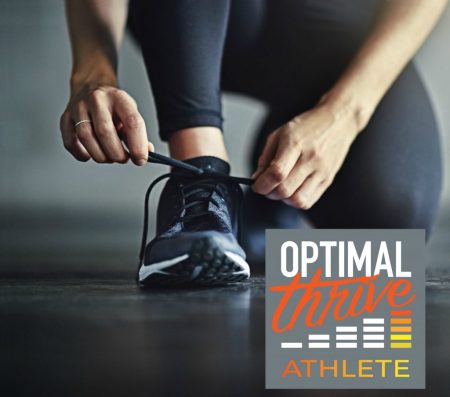 Optimal Thrive Nutrition: Athlete 
This program is for:
Individuals with a good nutrition knowledge base (doesn't need to be advanced, just a decent base)
Types of athletes: new athletes who are ready to move to the next level; advanced athletes who want to take their nutrition to the next level; athletes in endurance sports; athletes in strength-based or HIIT programs (e.g., CrossFit™, Orange Theory™)
Omnivores, Vegetarian or Vegan
Base-season nutrition preparation
Athletes and new athletes desiring a permanent lifestyle for life, athletic and health performance.
Someone wanting non-dieting, non-fad approach to a sustainable way of nutrition that permits flexibility, considers each individual's food preferences in conjunction with athletic goals and performance demands.
Learning nutrition to assist in performance, recovery and body composition/weight loss
Nutrition periodization
Mental training, performance assistance for self-sabotage and serial dieters
 
Optimal Thrive Nutrition: Foundations for Life 
This program is for:
Beginner nutrition-friendly – even those who are new to nutrition, exercise, or off-the couch!
Omnivores, Vegetarian or Vegan
Family members and friends of Optimal Thrive and OTAP participants – your family member or friend can go through the program with you for FREE
Someone who wants to start OR even get back to health and nutrition basics
Yo-yo and serial dieters who are unsure of where to reset their health journey
Someone stuck in self-sabotage, and who wants to be done with the dieting mentality, once and for all
Those who desire lifestyle and behavior foundations designed to make a lasting, lifetime change
Those who are interested in starting (or restarting) to move their body
Individuals who crave a non-dieting, non-fad approach to nutrition that encourages flexibility and considers each individual's food preferences.
Topics and Worksheets General Summary: 
NUTRITION & HEALTH TOPICS
– nutrition principles for Foundations (fluids, proteins, veggies, fruits, fats, "misses," whole grains)
– brush-up nutrition principles for Athlete and Intensive programs (fluids, proteins, veggies, fruits, fats, "misses," whole grains)
– nutrition strategies for your athletic, health and life goals (all programs)
– Your food list (to assess your likes and dislikes and make it work for you!) (all programs)
– Metabolic Efficiency strategies for health and weight loss (if desired) (all programs)
– Metabolic Efficiency strategies for your performance, training and racing (Athlete program, Intensive program)
– Sports nutrition (Athlete and Intensive programs only: periodization, race day, training nutrition, sodium, fueling, etc.)
– snacking  (all programs)
– recipes (all programs)
– movement and exercise (Foundations program)
– blood work & testing: what to test and what to look for (Athlete and Intensive programs only)
– hydration and electrolytes (all programs)
– one-on-one strategies, analysis, assistance and consults with Dina (Intensive program only)
STRATEGIES & LIFE TOPICS (All Programs)
– label reading and ingredient "sleuthing"
– travel, time-saving tips and strategies
– food shares and interaction with peers, Meredith & Dina
– tenets, purpose and strategies for success
– preparation and planning for meals
– goal setting
– how to get "unstuck"
– self-sabotage & emotional eating topics covered