So I haz some big news.
Tomorrow, I am three years sober.
I wrote about this for the first time at day 82 of my sobriety–and it really changed everything for me. Sharing. Telling. Standing in the light.
That's not the big news. But it is also big news too.
I have told the story of my sobriety (and the night the darkness almost got me) so many times that you guys are probably sick of hearing it at this point. Someone told me so, actually. #trollz
However firstly… the news.
I officially went inactive with the Georgia Bar.
Whoops. This is also not the big news because I haven't practiced law in any capacity in over a year in order to focus on writing books and other things that don't pay nearly as well as practicing law, but are rewarding in their own ways—like writing book(s), coaching, podcasting and motherhood.
So back to December–and the news. December is a month that I tend to do very big and shocking things—and always about this time of year—and I don't mean the boxes coming from Amazon.
This time, it's actually not my "fault," this big news thing.
And really it's not a big shocking thing at all… people do it all the time.
And a lot of you might not even care a rip anyhow because it doesn't have to do with you.
But.  I have never lived outside of Georgia.
So I thought it would be fun to traipse our family to a whole other place and state and culture and CrossFit gym and Starbucks.
Toto, I don't think we're in Kansas anymore. 
Oh, but I DO!
The Expert landed a job that made sense for 360 degrees of our lives. There are pinpoint holes in this theory—like leaving our family and the only place we have known. And being damn near 40 (me) and much, much, much older (him—ha ha, I kid, I kid)… something in us knew that if we didn't leap, we never would.
So we are leaping. We are moving from Georgia. The move starts on December 28th, for the love.
Destination: Overland Park, Kansas – a suburb of Kansas City, Missouri
We are starting over in a new place with no family nearby and no soft place to land.
Although from all the people who have already known the news and contacted me–I think this is going to be a very soft, warm and kind place to land.  We have found a house to rent, a Lifetime Fitness to lift weights and swim in… and I have scouted out the Starbucks.  Which to my delight wins the most original spelling yet.
Regardless…  prayers appreciated. Chocolate too.
In these last three years of sobriety, I have learned so much about myself, life and others.
I have learned that stress is compounded by substance abuse; that reality and fears are multiplied and darkened by alcohol; that alcohol is the biggest effing liar on the planet–and don't let anyone tell you differently; I am a different person when I am forced to feel all my feelings; feeling the feelings is hard–but it's better sober, especially the next morning; and our free and secret community of sober warriors is the bomb.com.
I am glad to be moving at a stressful time of year, stone-cold sober and steady. I am encouraged with the confidence that if I can quit drinking before Christmas three years ago–I can certainly move to Kansas and be okay.
The question for me about MY addiction was:  Why am I hanging on to this addiction? Why am I bargaining with myself? Well, I didn't know why. But I now know the freedom of sobriety–the freedom of a voice in my head without that bargaining is true escape, true freedom.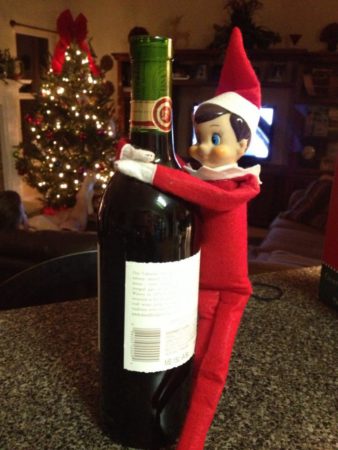 And I am grateful for every single damn sober day that I no longer have to bargain with myself about just one, or I will quit tomorrow, or I can have just two at the party and drive home. Life on the other side of the bargain is better.  If you think you want to quit drinking–you will never regret it. You are missing out on absolutely nothing. I promise you.
So that's the news!
Looks like the book tour will kick off in… Kansas City.  ?
Wish us luck. Normal people have movers coming three days after Christmas right? #thoughtso
Writings about MY Sobriety Journey:
Podcast Resources about Alcohol:
---