I woke up this morning and went to 5:15am CrossFit class.
And I hated myself hard today. Full self-loathing.
This self-loathing behavior is usually on the back end of a food slippery slope, slide, fall and plop–which I have had the last few days.
I was well-aware that I woke up in a bloated sugar coma.
So the workout included two things after warm-up: 7 rounds of 400m running and "Toes to Bar" — the act of pulling your feet up to your hands while hanging from a bar.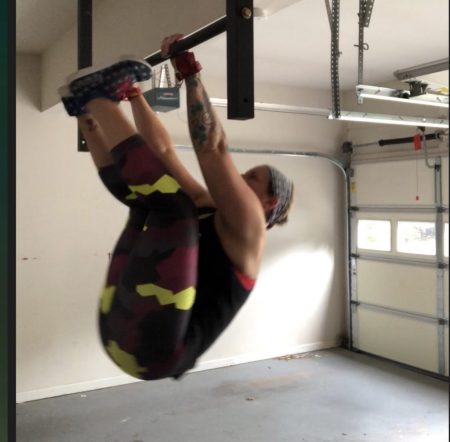 Like most things in CrossFit, there was a time limit to the rounds.  3 minutes for 400m of running and 12 Toes To Bar–lather, rinse, repeat.
I had to scale the workout–which means to cut it down in order to do it at your current fitness level.  So I did 200m of running, and as many T2B as I could. (Scaling workouts, by the way, is the reason that I can  participate in CrossFit most of the time.)
As I took off on the run, everyone was way ahead of me. That's fine. I'm used to that–in Crossfit and in life.
However. Today, the negative talk in my head was really loud. Really devastating. Really mean. It was a voice I hadn't heard in a while, to be honest.
What the…
As I ran back in the gym to do the T2B on the fifth round, my hand tore open and I had to find another exercise to do.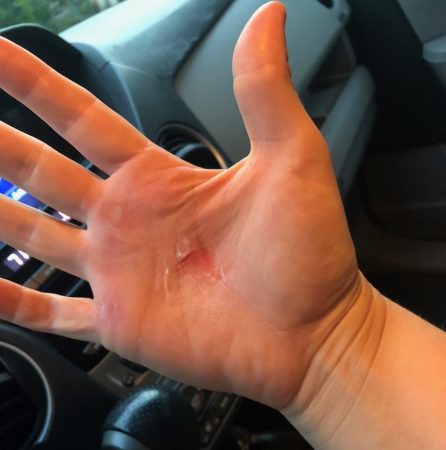 At the end of the 21 minute workout, I had done half (if not 1/4 as much) as the others, and the voices in my head were so loud, so mean and so nasty.
The workout was over, and I hated myself.
So I went back out and ran another 200m.
I came in and did some Toes to Kettlebell (another scaled version).
The voices were louder, meaner.
I went back out and ran another 200m.  I intended to at least do the running distance that the others had done–hoping that would stop the voices.
After two rounds and the negativity continuing, I just said screw it–and I planned to run for an hour. To outrun my horrible running, my awful body, my failure and all the crap pile that I clearly was.
But.
Then I said something to myself that snapped me out of it. I said:
You will repeat this 200m –not until you have run as much as the others, not until you have run an hour–BUT–until you have nothing but 200m of nice things to say to yourself.
I don't know what made me think of that as a solution to the mean girl.
My second thought was, I hope I have the endurance to run as long as it will take me to say something nice.
Here's the thing, though.  200m is only about 1:05-1:20 for me… depending on how fast I go.  So I simply had to say something nice to myself for a little over one minute.
As I took off for the next 200m run, I said:  You get to do this. You have an able body. You are strong. You are fat… shit.
Back inside.
I went back out again. You get to do this. You have an able body. You are strong. You woke up at 4:30 to do this. You get to do this! You are amazing. You are fit… fit… fit… fit…
I repeated the word: fit. 
And then the time was up.
I did it.  One minute of nice things to say to myself, about myself. It wasn't that hard. And it felt better than the alternative.
I'm not sure what the point of that self-imposed rule was today. Maybe because I was out there running as punishment for how shitty of an athlete I felt I was today.
Which is exactly why I did not need to be out there doing it.
The motivation was wrong. I needed to correct it. Am I doing the best I can in my life right now? I am. God knows I am. I am failing sometimes, but for the love, I am doing the best I can.
I am simply tired. I am tired of the life-long internal battle of body image, of not "being a runner." I am tired of the mean, perfectionist-driven idiot that lives in my head.  Today was an interesting way to overcome her–to say nice things, not outrun her–not to punish her.
Running is not punishment. I didn't want to treat it as such.
I decided that the run needed to stop… and for all the right reasons.
"You may be the only person left who believes in you, but it's enough.
It takes just one star to pierce a universe of darkness. Never give up."
– Richelle E. Goodrich