"If we set goals that are too big AND we continually fail at them,
then goal-breaking becomes part of our identity.
Give yourself smaller goals and crush those first." 
– Jon Acuff
Back in 2011 I had a friend, Susan, who told me write your damn book.
I had complained that I wanted to write a book, so she said, write your damn book.
That doesn't seem like an ah-ha moment, but it was.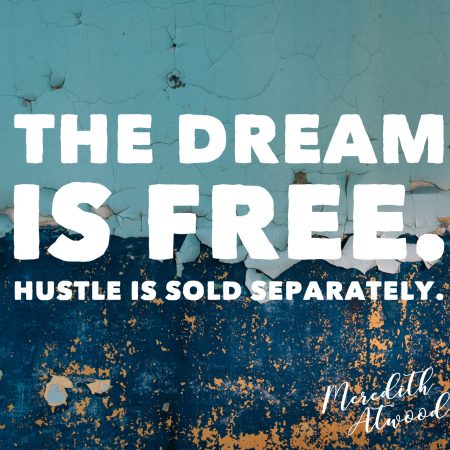 I "tried" to write, but nothing came.
I had this idea to write a book about beginning triathlete as a "every woman."
A book title, while grammatically questionable, was purposeful; it was about capturing the idea that triathlon could be for EVERY woman. And that book had not been written.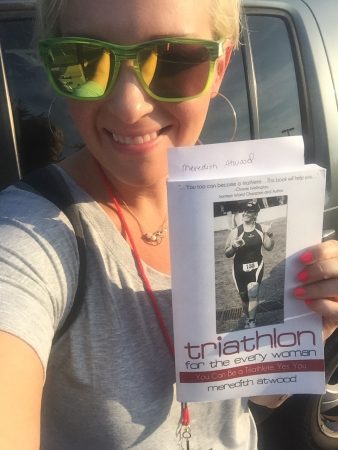 In fact, there were not many "every" women doing triathlon at all Ironman 70.3 Miami in 2011, as was my experience—where I was the only chubby girl racing. For real.
I knew I had to write it.  But how? This was the question.
I had two very young kids, a full-time job as an attorney, pretty much lots of addictions and issues still kicking, and a triathlon habit. What was I thinking? I didn't know.  [By the way, you can get my book FOR FREE right now.  Go here.]
But came across a blogger and writer, Jeff Goins, and he published an eBook called, "The Writer's Manifesto."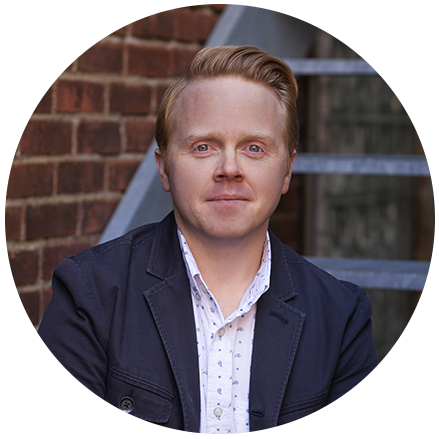 The crux of the short eBook was:  Writers Write. Write FOR YOURSELF.  Don't write to be adored. Just write. If you want to be a writer, then you better get writing.
Sure, I wanted to write a book.  Which, ideally, people will like and read. But I was also writing a book because I needed to write the book.  It was inside of me, and I needed to write it for me.
So. I started. I asked myself, "What do I want to tell about this crazy sport?"
I wrote about things that were now obvious to me.  But these things, at one time, were not so obvious: how to pack a gym bag efficiently in order to transition to the day job after an early morning workout; how many lengths of a pool make up a mile; what are clip-less pedals.
On the podcast, Jeff quoted Derek Sivers: that we should write about things that are obvious to us, because they can be amazing to others. 
When I wrote, I thought, maybe this is obvious, but then I would ask myself the question:  Did I know this when I started?  Nope.
So I kept writing.
"You have to write the book that wants to be written…" – Madeleine L'Engle
Long story short, with Jeff's inspiration (along with the help of others) I published my first book—a massive 400 page tome about triathlon for the "every" woman–because this was the book that wanted to be written. [You can get my book FOR FREE right now.  Go here.]
Here's my advice:  start writing and who knows what then.
When I started the podcast,  I reached out to Jeff  because he was on the short list of people who really made a difference in my life in a major way.
Jeff was (is) easy to talk to. He and I were on the same wavelength about many things.
But he gave me this overwhelming, amazing sense of calm about choices I am making.
Talking with him made me reflect back on the question of "WHO AM I" —an answer that is different from the Meredith who started out as a writer, as a triathlete, as a mom.
The question of "who am I" also grounded me… because I know who I am, right now.
Talking with Jeff gave me a great deal of peace about changing in the way I am needing to change.
That losing readers or "fans" because I change is okay;
That losing people because of other people who are lying, stealing, unethical or whatever is also not my problem; AND
What people think of me is none of my business.
I can keep going. And doing what I do.
And trying what I want to try (and so can you… hello!).
Because of the podcast with Jeff, I signed up for Tribe Conference – his event –  to take place a few months later.
And this past weekend I had the great joy of attending it.  Joy is a true word for it.
What IS Tribe?
Well, I would call it a conference for dreamers and creatives who are interested in meeting with others in that space… and learning how to improve on your terms.
The official conference summary is: "Tribe Conference is a gathering of writers, artists, and creatives who want to grow their craft and get the attention their work deserves."
But "attention" is not actually what drew me to Tribe.
I am starting to book speaking engagements, left and write (pun intended), and I take great joy in watching amazing people give their stories on stage.  I enjoy storytelling and watching stories unfold—this was also a great event to witness some incredible speaking.  [Jon Acuff is a master, y'all.  Just wow.]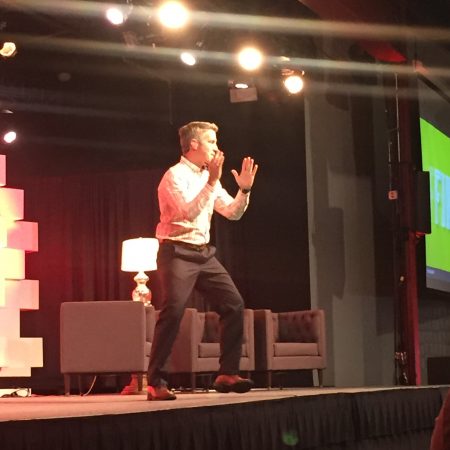 Then, as a writer, I find it difficult to often talk with non-writers about "what I am doing" or how to implement some of my writing ideas.  People listen, but really, unless someone else writes—it's just a hard thing to relate to…
So being in a room with over 200 people who are on the same wavelength?
I felt a buzz and a power in the room that was amazing.
Creativity overload central–but in a good way.
(Much like being at a race start—same type of energy.)
With speakers from Dan Miller to Ryan Holiday to Pam Slim (and many more) to a new writer on the scene, Natalie Brenner, I enjoyed darn near every moment of the event.
I met amazing people off the stage and some great people on the stage, too.
(Tidbit: If you like food, check out my new friend Sarah's food blog – she's awesome and has big things coming:  Sarah Nasello).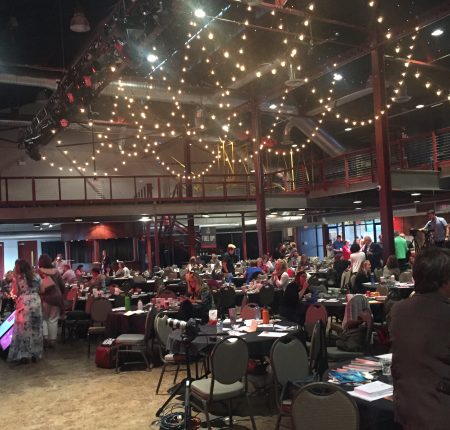 Here are the highlight tidbits for me (ones that are universally applicable):
✅ If we set goals that are too big AND we continually fail at them, then goal-breaking becomes part of our identity. Give yourself smaller goals and crush those first. (Jon Acuff / @jonacuff, author of "Finish")
✅ Think about your work (or goals) in terms of staying power… what will last? (Ryan Holiday / @ryanholiday, author of "Perennial Seller)
✅ Podcasting is not just about sending something out into the world; it's also about changing the two people in the room. (Jonathan Fields / @jonathanfields, @goodlifeproject)
✅ What if we created as much as we consumed? (Sean McCabe / @seanwes, author of Overlap – a book on how to quit your day job after you put all the tools in place.)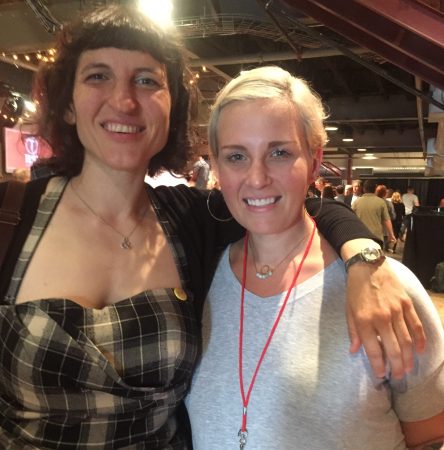 ✅ Careful of your #DorkGoblin. (@yesyesmarsha)
✅ Believe it, until you BECOME it. (Jeff Goins / @jeffgoins, founder of Tribe Conference, author –Real Artists Don't Starve)
✅ You KNOW your dream. You're just afraid to often admit it. (Jeff Goins)
I am full of gratitude for the experience at Tribe Conference in Franklin, TN.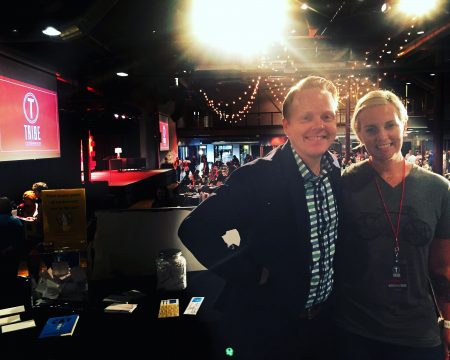 Creative gratitude is how I drove away from Franklin on Sunday night, late.  I felt creative and I felt grateful.
I will say that it is my favorite event I have attended to date. I walked away with a clearer purpose, a more grounded writing habit, and look… the snacks were really amazing too.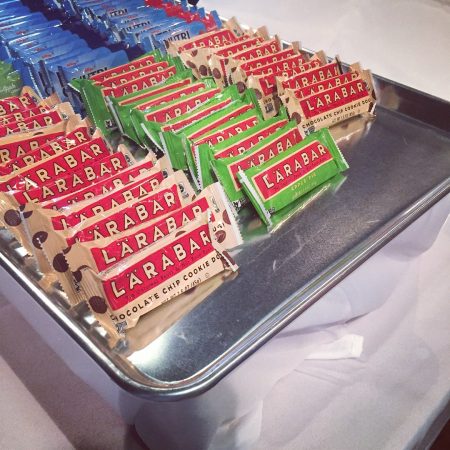 Not that it matters.
(It totally does).
Jeff Goins is a catalyst for creatives everywhere–I am thankful for his impact in my life–now and then. I have written more this week than ever, and I look forward to next year.
Get Triathlon for the Every Woman FOR FREE right now.
Go here.