Marathon Training Update
With Ironman 70.3 Augusta quickly in the rear view mirror, I was jolted back to marathon-training reality with a 6 mile run yesterday—four days after 70.3.  For some, that might not be a big deal, but that's the soonest I have done any sort of speed interval run after a half iron.
Mostly because, in past years I was too busy being hungover for the week after a race and I rarely stacked races on top of each other. Ahhhh, yes. 
Summary for those just joining: I am running Marine Corps Marathon as a wheelchair pusher for my friend, Logan. More below and here.
Running six miles after 70.3?  Well, it's a good "problem" to have, for sure.
On race day on Sunday, I didn't feel super fit, though I had a good time and I recognize that I had a great day despite the limited swim and bike training.
I did, however, feel the fitness yesterday during the run.  I have, what I like to call, super slow endurance fitness right now. Not that I am usually fast—but–this point is a special type of endurance that comes with a ton of volume training… where you train the body to go far, not fast, but for forever.
So I feel that – that I could go forward forever, and I know that's all that I need.
Training Load
To date, I have the following long runs under my belt for this marathon, which I will be honest, is more than I thought my body would tolerate:
15 miles (x2), 16 miles (x2), 17 miles, 18 miles, 20 miles (x2).
I am very grateful for Jeff Galloway – even with my WF (Weird Foot), I am doing great. 
Here's the thing if you are doing Marine Corps also—do 
not 
worry about what other people are doing. Because some are doing much more than you, and others are doing much less… it's about one foot in front of the other, gratitude and racing with a happy heart.
On Tap
I have a semi-long run this weekend… anywhere from 12-16 miles, depending on how I am feeling.
I will likely do one or two more 15-20 milers after that, and then really, it's time to go do this amazing day.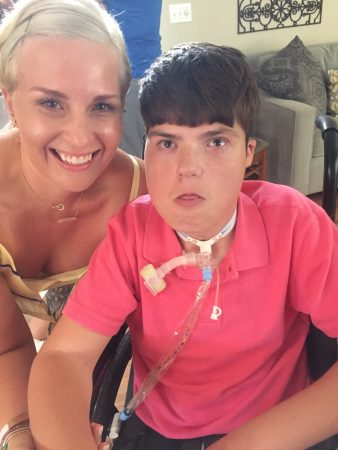 Fundraiser Update
Logan is a super sweet 17 year-old guy with some challenges that will make Marine Corps Marathon fun and interesting—like his love of emoji bouncy balls—I need creative ideas for how to carry 20-30 giant emoji balls on the run course. 🙂  [Flash Back Friday to the Team Logan fundraiser here.]
But I can tell you that I am so excited to share the adventure with him. He has the most amazing spirit, and we are bonded forever through this experience – I can tell you that already!  Thanks to the Kyle Pease Foundation for not only connecting me with Logan, but giving me the joy and privilege of being the legs for Logan's marathon.
We are getting so close to GOOOOOOAL!
If you'd like to make a contribution ($5 or $10 is amazing) to Team Logan benefiting the Kyle Pease Foundation, please go here.
We are raising $12,000—which is just enough to make the dream happen for four kiddos and their runners in the future.
Learn more about the Kyle Pease Foundation, and read about the Pease Brothers here.
---