As I drove home from Franklin, Tennessee last night, I felt compelled to call my triathlon coach, Gerry.  I was secretly hoping for his voicemail, because I felt like what I was going to tell him was super-awkward.
So I got my wish.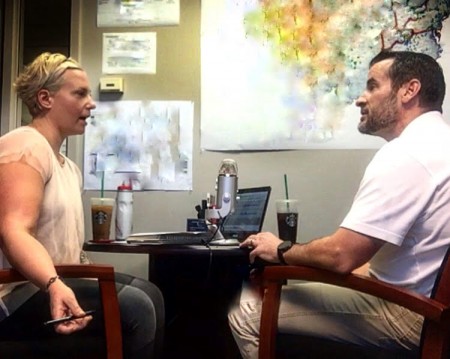 I had a realization as I was driving that he was one of the big influencers in my life.  But I knew that. That wasn't the realization.
Here's what was: our relationship is like a positive, multi-level marketing situation.
Back in 2010, he was kind to me.
He treated me with respect–not like another "fat girl"–like an athlete.
In turn, I was able to create real, sustainable change in my life.
The change was not linear. It was a jagged, compass-less journey to Ironman (1, 2, 3, and 4), then to quitting triathlon (a few times, actually), quitting drinking (and talking about that in many ways), and figuring out how to change my story–once and for all.
In turn, I wrote about it—for a really long time, and with many words.
I tried to treat people the same way that Gerry treated me. I had a fat heart to go nicely with other parts of me and lists of fat jokes a mile long. (No fat-shaming here, just truth telling, people.)
And other people said, "I can change, too!"
And they told their people.
And those people changed, too.
Gerry didn't see the mess in me, as I saw it.  And even if he did, he moved towards it.  (And he never said, "I can't help you.")
So I just left Gerry one of those awkward voicemails, thanking him for creating the spark in me that led to personal change. Thanking him for creating the ripple effect that allowed me to share my story–that meant something to some people, and allowed them the "strange permission" to change too.
I am grateful for that moment, because I have been able to "sell" people, not only on the sport of triathlon—but on change (change is AMAZING, yo!), self-love, and a constant drive towards bettering ourselves.
For that, I support this type of multi-level marketing: one person spreads joy and hope, which spreads to others, which creates a change that makes us all better.
That's the good stuff.