Adapted from Triathlete Article
Our two kiddos were around the wee ages of four and five during the year I tackled my first Ironman in Couer d'Alene.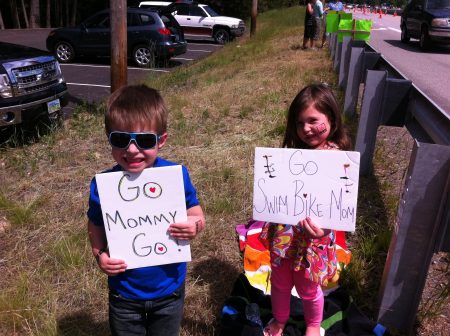 Now, I don't recommend trying to do the insanity that is Ironman training with a four and five year-old, a full-time job, and all the responsibilities that come with life and being a parent.  But, once I committed to the dream I was into it, and the family was thrown onto the roller coaster with me.
[Hindsight really is 20/20.]
Looking back, I can see that while I balanced the kid responsibilities and family fun [reasonably, sometimes] well, many other things seriously fell off the radar.  My marriage struggled big time—we almost called it quits that year.
All-in-all, I would say that the road to that big Ironman dream was paved with tacks, oil, and lots of wounds—training injuries, financial difficulties and emotional scars to boot.
I dragged my family with me straight to my dream—without ever bothering to ask them how they felt about it all.
"It's MY dream, afterall."
Ack.
The culmination of my big year was met at the finish line of Ironman Coeur d'Alene.
My family (parents, the Expert [my husband], and my sweet girl (4) and sweet boy (5)) made the big trip–because, of course, this was going to be my first (and last) Ironman. 
The cannon went off at swim start, and my family began the long day of sit, wait, and cheer for one of the slowest and least accomplished racers out there on the course.  Mile 16 on the bike. "Yaaaaay!!!!"   Mile 50 on the bike, "Wahoooo!"  Tick, tock. Tick, tock.
We had planned everything well, so that the family could go back to the rental house and rest, sleep and hang out while I was climbing the mountains.
But still, Ironman can be a really long day for spectators—no matter how much they love you.  On my first loop of the run, around Mile 6, I saw my Dad against the fence—and I hugged him.  I looked over to the trees to see my mom with one kiddo asleep in her lap and another kiddo stuffing cookies into his face. He waved, I waved. My heart was so full.  These people love me enough to stand out here for literally hours to watch this ridiculousness.  How blessed am I?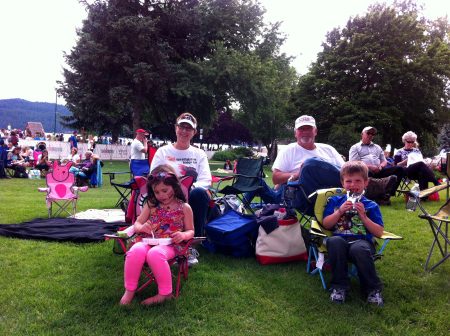 At the Mile 13 turnaround, I was informed by the Expert that I had to hustle in order to make the cutoff, and I was like, "I am hustling, dude. This is my hustle."
But I listened, made note of the pace I had to keep, and I went.  I was going to cross the finish line about sixteen minutes before the 17 hour cut-off time—I had done it.  I turned onto the last street and ran and smiled and cried the seven blocks into the finish chute, hearing those words, "You are an Ironman."
The lights were blinding. And the dream was captured. Yesssssss!
A few minutes after the medal was placed around my neck, I found my family.
My dad looked like he had been through a war zone.
My mom was crying—happy tears, but looked so worn.
The Expert was smiling, but looked beaten.
My daughter was over it, and in full kid-tantrum mode.
And lastly, my five year-old son was crying and clinging to me like it was the end of days.
Apparently, he had been told all day that I would high-five him at the finish.
However, I didn't know that was the actual plan. I didn't think about it, as I had seen them a few times—leaving transition, I kissed them all.  I saw my daughter at Mile 13, and hugged her.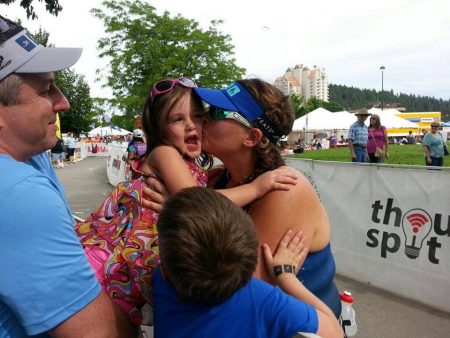 But I missed the memo to stop, look and listen in the finish chute.
Through the blinding lights and the emotion, I just didn't. I didn't stop and look for everyone and high-five in the finish chute.
Again, hindsight is so clear.  Of course, I would stop and search and look for them now.  But this was my first Ironman.  Me. Me. Mine. Mine. Me.
Missing my son's high-five is a recurring nightmare for me.
I sometimes think about it, and I literally weep about it.  I do actually dream about it. How could I have been so selfish and stupid?  The culmination of events leading up to that race was massive, and the crew was all right there with me.  Sometimes fighting me, sometimes accepting me—but always with me.
And leave it up to me to muck it up in the end.  I swung for the wall and hit the proverbial homerun—and yet, I struck out completely.
Because with that first Ironman, I caused a ripple, a wake, and a wave of mess that I can only see now.
A sort of mess from which it has taken years to balance and recover fully.
[The situation isn't helped by the fact that my son, now eight, is the kid with the elephant memory: "Mom, remember that race in the dark when I was five and you forgot to high-five me?"]
Nevermind, that the next race, only twelve weeks later, I carried treats and stopped and hugged and high-fived no less than twelve times, including a massive finish chute victory hug and dance.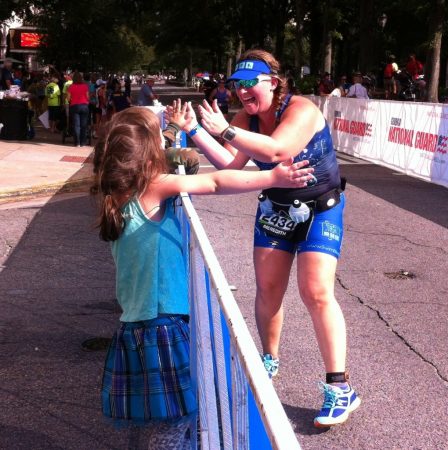 That didn't matter.
That is not what is remembered. Forgetting my sweet family, my sweet boy, in my important moment is what he remembers.
Now, three years later, when I think about Ironman Coeur d'Alene 2013, that's what I remember too.  I remember my first Ironman as a time when I found myself and rose up against the odds to complete one of the most difficult courses in America.
Then, I deeply remember it as a moment where I forgot the most important people in my life, for a span of months, and then really drove it home in the 11th hour.
And that memory completely overshadows the "glory" for me.
Each race since Coeur d'Alene has been different. I crossed the line of Beach2Battleship with both of our kids in 2014, which my daughter thought rocked to no end.  She was thrilled. My son? Not so much.
He still mentions the other one—the one in the dark where I forgot.
Right now, I would trade in all my finishes—every last one of them—to go back and fix that moment.
And of course, I can't.
But I can remember with every workout and every day, that triathlon is not my everything.  It's a lot and it is a big part of me, but it is not me.
Triathlon is not who I am:  I am a wife, a mom, a daughter, a granddaughter, a friend—first—before a triathlete, and long before an Ironman.  I will not forget who is important.  I will not forget what matters.  I will always look for my family or friends in the finish chute of these grueling, all-day races—and going forward, I may stand there, like a statue until I find them.
Sure, I may miss a PR, but I will never (ever) again miss the moment of joy that is so deservedly theirs to share.