Anyone who lives in Atlanta, Georgia knows that the term "Hotlanta" (while annoying) is also a fairly accurate description of our fair city.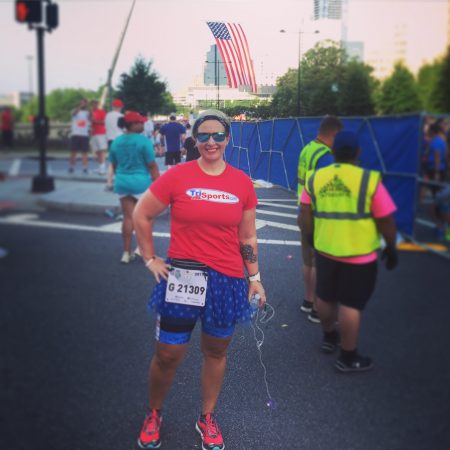 And you gotta love heading out for a race and hearing, "This is the hottest day of the year so far!"
Aw, come on, Hotlanta.
The AJC Peachtree Road Road Race is the world's largest 10k, boasting 60,000 runners each year on July 4th.
One does not typically run the Peachtree for the sole purpose of PR (though many do PR)—the Peachtree is far more for the spectacle, sense of community, and just plain ole 'Merica before you stuff yourself silly with hot dogs and apple pie.
Every time I run the race (this is my fourth), I wonder "why in the world am I doing this again??" – and then I sign up year after year.
Because… you can't help it.
It's too fun and crazy, and "everyone else is doing it" too.
[Literally. 60k people.]
(Prior year reports here: 2o11;  2014; 2016)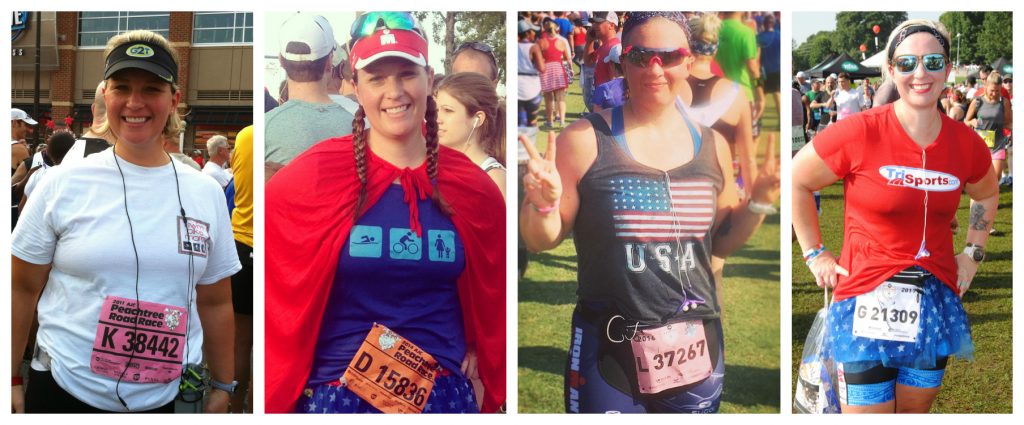 I usually wonder "why am I doing this" the most around Mile 3, when the race course takes a nasty turn for the UP… the first half of the race is a lovely flat or down, then the last half is sort of up.
You set PRs paces on the first half, thinking, "I am amazing!" and then really have to grit your teeth on the back half–at least I do.
Mile 5 gets me every time.
I make it up "Cardiac Hill" and then whatever UP is after that, and then at Mile 5, I go: "Eh. Hot. Tired. Boo."
Dude, and it was hot yesterday.  BUT I'm such a hill-quitter.  [Working on that.]
Proud of the Kyle Pease Foundation and the guys and gals who created such an amazing start to the race.
So my time: 1:09:03… almost 40 seconds slower than last year, but easier at the same time.
I wasn't racing, I was just running.  Not that I was racing at my pace anyway….but … I just went into the day with different expectations.
I smiled and waved. I stopped to high-five the folks spectating outside of the Shepard's Center.  Taking those moments to appreciate the day was certainly worth the 2-3 minutes I might have PR'd.
Sometimes we just need races like that.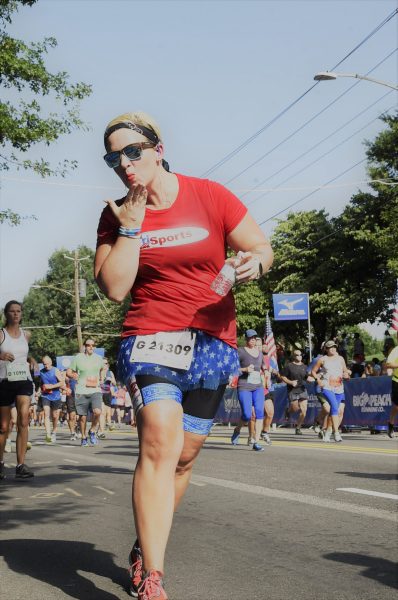 I am in a different place right now when it comes to racing and all the things. I haven't turned inward, per se… because I think that produces a different results. Inward in racing is different than turning inward in other areas.
Inward can mean crazy.
I would almost say that I am turning outward—thinking more about what I can do for others or for a bigger picture—than just me and a race time. Not that either is "right" or "wrong"–it's just a place I am headed.
I think making the decision to do Marine Corps with Logan played a big part.
It's definitely a place of growth, this place where I am.
Also, a quiet space.
I think it's a good thing, even though maybe I'm not going faster. Things are just different surrounding racing and race day and times.  It's not that I am not trying to go fast – trust me, I do want to go faster.
But the ups and down surrounding an arbitrary time just don't seem to hold the same drama (allure? stress?) as before.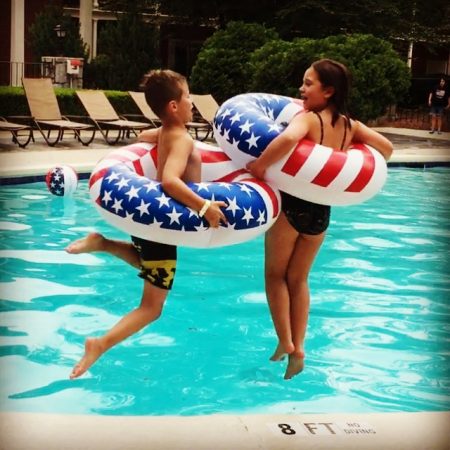 Right now where I am, I am enjoying just being a part of the World's Largest 10k, recording podcasts with absolutely amazing people (!), spending the first summer ever with the kids, and writing my heart out.
There's joy — it's right in front of us, wherever we choose to find it.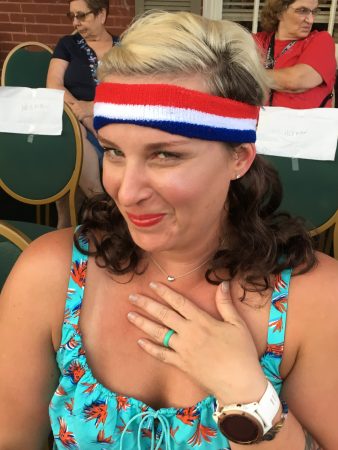 Or in some cases, maybe the joy is the back.